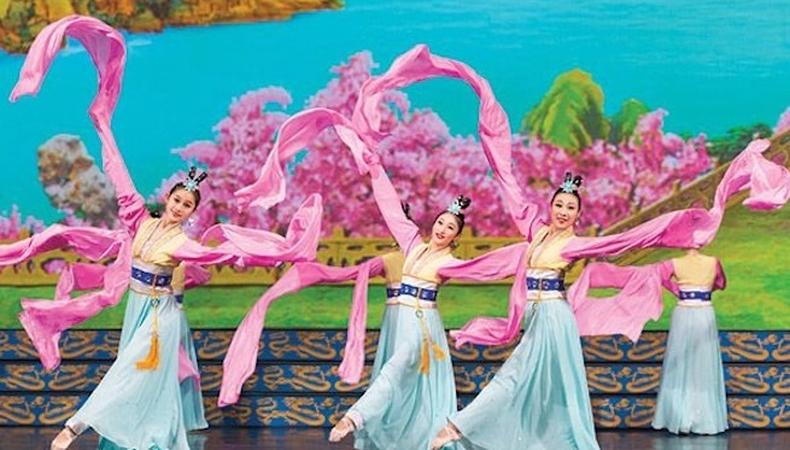 That's right, it's finally February! Kick off this new month by taking in some killer performances around London, taking on a new class, or finally stepping up for that audition you've had your mind on. Here's how you can take advantage of all London has to offer this February:
PERFORMANCES
"Shen Yun", the critically acclaimed show that tells the story of ancient China is coming to London's Dominion Theater from Feb. 16–25. Tickets are selling out quickly so be sure to pick yours up as soon as you can! (Tickets start at £60.)
Watch two drastically different styles of dance blend together in "Beats on Pointe – Masters of Choreography" at the Peacock Theatre in London. Classical ballet and skilled street dancers go toe to toe in this high-energy production. Performances run from Feb. 20–24. (Tickets start at £18)
Get sultry with The Peacocks Theatre's "Tango After Dark." The production showcases "an intimate and sensual performance with exquisitely danced choreography to the wonderful rhythms of the great Astor Piazzolla." It's running from Feb. 28–March 17. (Tickets start at £18.)
AUDITIONS
Are you a male dancer with excellent technique and experience in contemporary, classical, partnering, and contact improvisation? BalletBoyz is looking for a new dancer who checks all those boxes. Applications are due by Feb. 19 and the audition will take place Feb. 26.
Warner Leisure Hotels is looking for male and female dancers and vocalists aged 18–35 to host events, interact with guests, perform in high-standard and challenging productions, and deliver a varied daytime and evening entertainment program. Performances will run at Warne Leisure Hotels throughout 2018 in locations across the UK. Open casting calls take place in London on Feb. 5 and 6. See Backstage for more details.
Get wet and wild with Starlight Productions! The company is looking for male dancers age 18-35 for a water show. Contracts run for 20 months and star in April 2018. To apply, visit Backstage!
The Gary Clarke Company is looking for two female dancers for its new production, "Wasteland". Rehearsals and productions will take place in Yorkshire and at the CAST Theatre in Doncaster. A living allowance for accommodation will be provided for non-Yorkshire-based artists. Applicants should have some experience in rave/club dance, very strong contemporary dance technique, strong physical theatre skills, and more. The first audition takes place on Feb. 17 with a call back the next day. Deadline for applications is Feb. 15.
Lions Entertainment is looking for male and female dancers and singers age 18-35 for contracts throughout 2018 to travel to the best hotels in the Macedonia and Thrace regions of Greece. Auditions will take place on Feb. 12. Visit the Backstage listing for more details!
CHOREOGRAPHIC OPPORTUNITIES
Eos Dance is recruiting new Early Years ballet, tap, and street dance teachers in southeast London. There are slots available for weekdays after school and Saturday and Sunday morning. The position is not suitable if you are still performing or plan to be away. Candidates must hold current DBS and PLI or be willing to obtain those immediately. Experience with very young children is essential. Pay starts at £20p/h but is negotiable.
CLASSES + EVENTS
Get on pointe with an adult ballet class through Ballet4Life. Every Monday from 10:30-2 p.m. starting Feb. 19, this intermediate/advanced class for "adult learners who wish to keep strengthening and honing their ballet technique" will be held at the Greenwich West Community and Arts Centre. Cost is £10 / £8 concession for students (cash only). Space is limited, so be sure to email beatriceghezzi8@gmail.com.
If you're looking for a physical challenge, why not try out 2Rock's Acrobatic Rock 'N' Roll Club? The dance has very high kicks instead of steps or flicks and is danced to modern rock or pop music in addition to older rock 'n' roll music. It's £18 for a two-hour class.
Start moving and grooving with swing classes from Swing Patrol. With locations all over London and classes from Monday-Thursday and on Sundays, you can't go wrong! Also, it's just £7 per class or £10 if you're doing two classes in one night.
Choreographer Anna Watkins, an associate artist at Swindon Dance, is offering a one-hour technique class and one-hour rep for £20. Spaces are limited so book your spot now!