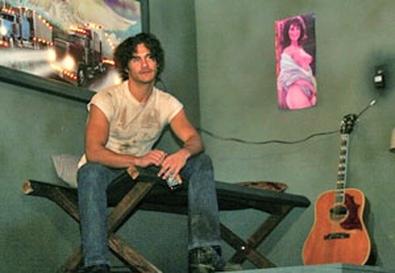 In this world premiere offering, playwright-performer-songwriter Daniel Dean Darst apparently aims to recapture the mix of gritty Americana and soulful lyricism that distinguish the films of Robert Altman. Robert's son Michael Altman directs, co-producing with his spouse, Karon Altman. The set designers are Jade Altman, Robert's grandson, and Jade's wife, Patricia. Furthermore, Darst was a longtime friend of and collaborator with the late filmmaker. Unfortunately, this collaborative family affair is difficult to digest—a curious amalgam of dramaturgic elements that don't mesh. Billed as a semiautobiographical portrait of Darst, the piece comes across as listless, diffuse, and largely inaccessible.
The disparate segments are highlighted by songs and monologues delivered by guitar-strumming Darst, as Mike, a restless post–Dust Bowl drifter with a penchant for whiskey, whose eyes are hidden by dark sunglasses and whose predominant mood is wistful yearning. Darst's monologues are delivered in a monotonously subdued tone. Thankfully his atmospheric songs provide moments of poetic beauty. The piece would likely work better as a solo-song cycle, scuttling its half-baked attempts at dramatic scenes.
Between Darst's melancholy musings are flashbacks to Mike's younger years as a truck-stop mechanic, where the character is played by Paul Teodo with more machismo bluster than nuance. There are mildly funny interactions between young Mike and his fussbudget co-worker (amusingly played by Bryan Bellomo). Toward the end, a laborious scene-change effort takes us to the wonderfully detailed and authentic-looking 1960s diner set: the workplace of waitress Lydia (Mercedes Manning), whom Mike pines for. Jean St. James and Ed Dyer appear in other brief roles.
A lingering puzzlement is the dramatic payoff Darst had in mind by incorporating lengthy and far-from-riveting diatribes about the mundane technical aspects of changing tires. Was he envisioning a theatrical equivalent to Andy Warhol's famous op-art paintings of Campbell's soup cans?

Presented by Altman Darst LLC at Theatre 68, 5419 Sunset Blvd., Hollywood. Dec. 3–Jan. 23, 2011. Fri.–Sat., 8 p.m.; Sun., 7 p.m. (Dark Dec. 23–31.) (323) 501-0511. www.exit10theplay.com.