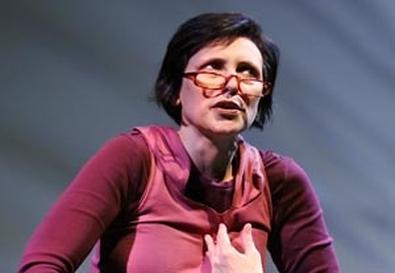 In
Exit Cuckoo
, playwright-performer Lisa Ramirez gives voice to the voiceless. In this informative 80-minute solo show, Ramirez speaks for the nannies of New York. Yes, those women you see pushing strollers on every street and filling every park and playground. The complex picture she presents is as much about the families that hire nannies as the nannies themselves—and the picture is not a pretty one. Based on her own experiences, Ramirez paints a series of portraits of servants and mistresses that would have intrigued Dickens. The play is presented by Working Theater, whose mission is to produce plays for and about working people; if that notion seems quaint to you, the ignored subject examined here will bring you up short.
The play's title refers to the cuckoo, which lays its eggs in a foreign nest and then departs to let another bird raise its offspring. Ramirez, under the direction of Colman Domingo, illustrates the metaphor with compassionate observation, seeking humor where she can to soften the polemic. Entertainingly, she first presents Ms. Sinclair, who runs a nanny agency: "You're looking for a nanny or a housekeeper? Doesn't matter. Uh-huh. A little of both." Next is Rosa from Central America, who after several years' service is deserting her post to return home to raise her own daughter. Then the deserted mistress, Mrs. Johnson, who drinks more than a little, a stereotype that gives the Upper East Side a bad name. There's Fiona, a nanny from Ireland, and Val from Trinidad, who has just been fired because the parents now seek "more stimulation" for their child. And so it goes. Some of these impersonations are more convincing than others.
There is no attempt by Ramirez to present a balanced picture on behalf of the employers—perhaps such a balance does not exist. The only humane beings shown are a couple of gay dads who want their very young child to be taken to the park in order to hear the opera
Faust
. In the process of being a spokesperson for the downtrodden, Ramirez also sketches the minefield that is contemporary motherhood, including an examination of her relationship with her own mother.
Ramirez leaves us with a final image that lingers: on one hand there's a woman with money, on the other hand is a woman seeking money—and in between there is a child.
Presented by Working Theaterat the Clurman Theatre, 410 W. 42nd St
.,
NYC
.
April 23
–
May 17. Tue
.,
7 p.m
.;
Wed
.–
Fri
.,
8 p.m
.;
Sat
.,
2 and 8 p.m
.;
Sun
.,
3 p.m
. (
No performance Wed
.,
April 29, and Thu
.,
May 14
.)
(
212
)
279-4200 or www.ticketcentral.com
.