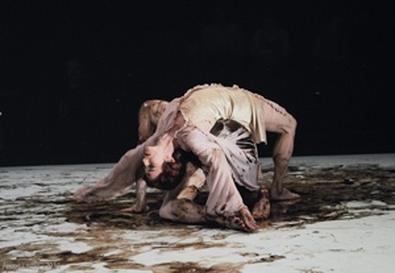 In today's industry, performers are expected to be well-rounded and brimming with special skills. During the summer, unusual classes abound, allowing you to expand your artistic range. Check out the June classes below to add more tools to your veritable belt.
Intention of Movement: Exploring Acting in Dance
June 18-22, daily, 2-4 p.m.
Dance New Amsterdam
www.dnadance.org
Skill level: Dancers with advanced training (in any style).
Lithe-limbed Nina Goldman has performed in Broadway shows, concert dance, and everywhere in between. Susan Misner is a TV and film actor. They've united to help dancers prepare for increasingly wide demands. Each day's workshop is structured around a different goal. "First, we will teach a movement phrase, investigating a new intention every day," Goldman says. "We will return to the phrase, exploring the acting, dynamics, and authenticity from that perspective. The week as a whole will bring the individual's artistry to light."

Alexander Technique
June 6-27, Wednesdays, 12:30 p.m.
Movement Research at Eden's Expressway
www.movementresearch.org
Skill level: Open to all.
An Alexander Technique teacher since 1994, Shelley Senter believes Alexander Technique is helpful in alignment, injury prevention, and understanding how we use (or misuse) the body; she also suggests that "the self-reflection and profound knowing of oneself is helpful for any artist. Alexander enables us to truly make choices instead of being enslaved to our habits, which broadens our palette as artists." Each class begins with Senter explaining the main principles of the genre (observation, generating awareness, and the ideas of inhibition and direction) before tailoring the class to whoever is there that week. "For dancers," she says, "we might dissect a plié."
Heliummm Aerial Dance and Entertainment
Ongoing, Wednesdays, 6:45-7:45 p.m.
Hype Gym
www.heliummm.com
Skill level: Any.
Heather Hammond was both a springboard diver and a dancer before studying trapeze. She transferred all her skills to circus and aerial work and eventually formed Heliummm Aerial Dance and Entertainment, where she performs and teaches aerial work.
Hammond says aerial training is beneficial because "it produces great movement in the air and on the ground. You leave with full-body, integrated strength, dynamics, and a new relation to gravity." Beginners can look forward to classes tailored to the individual: Those without upper-body strength can find serious improvement, and stronger participants will increase performance quality. Climbing the silks to the top and completing foot locks are typical highlights.
Anabella Lenzu/DanceDrama Technique & Repertory
June 11-15, Mon., Wed., Fri., 10 a.m.-1 p.m.; Tue. and Thu., 11:30 a.m.-2:30 p.m.
Peridance Capezio Center
www.anabellalenzu.com
Skill level: Slow intermediate for dancers and performers with physical theater, movement, or theatrical experience.
Argentine firecracker Anabella Lenzu is passionate, communicative, and engaging. Her troupe, Anabella Lenzu/DanceDrama, explores the intersection of dance and theater, often investigating historical and social themes. Throughout the week Lenzu will aim to help dancers "understand that each movement has value," she says. "We learn how to create shapes, but we're not always connected with the meaning behind the gestures."
To help dancers achieve this connection, participants will first complete a technique class (drop-ins are permitted on a daily basis for the technique section only). Then, in the repertoire class, Lenzu will teach a set of phrases she and the dancers will build on to create a dance drama scene. The week will culminate in a resulting informal performance.
hoopDance With Bex
May 30-June 27, Wednesdays, 8:15-9:30 p.m.
Triskelion Arts
www.senseofmotion.com
Skill level: Slow intermediate through advanced.
Bex Burton trained in ballet, modern, and Pilates before going on to hooping. She finds the playful medium particularly fulfilling. "Hooping is like partner dancing," she says. "It involves a communication between your body and the prop. When you get it, it's exciting."
In her basic workshop, Burton fits students to hoops before working on freedom between navel and pubic bone for more fluid movement. Then Burton helps students move from simple Hula-Hooping to hoop dance, a full-body, free-form expression with turns, constant motion, and movement with the hoop on and off the body. Throughout, she layers instructions so students of varying levels can choose their challenge.