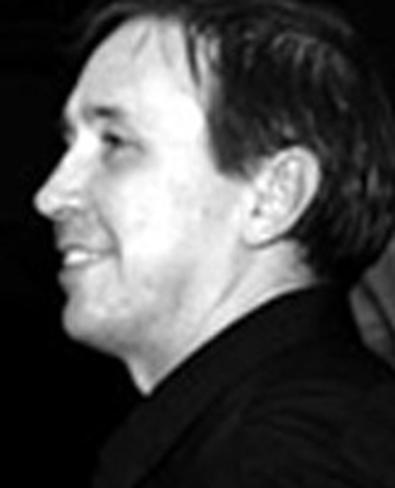 The experimental theatre group 3-Legged Dog is no longer hobbling, thanks to the tireless efforts of its executive artistic director, Kevin Cunningham. In the wake of Sept. 11, the company lost its space when one of the World Trade Center buildings collapsed on top of it. But after five years in temporary quarters, it's back in business at a new multiarts complex, the 3LD Art & Technology Center, at 80 Greenwich St. in Lower Manhattan, not far from its original home. 3-Legged Dog will officially mark the start of the next chapter in its 12-year journey when Cunningham's play Losing Something bows April 6. It's the company's first full production in its new space and a personal triumph for Cunningham.
"While I was writing the play, I was simultaneously raising money and fighting the powers that be," Cunningham says. "That was my biggest challenge. With a combination of public and private funds, we've raised $4.8 million and created a 12,000-square-foot space that houses three theatres. We'll work in the space three to six months and then allow other companies that share our vision to use the space on a sliding rental scale." 3-Legged Dog has a 30-year lease on the facility.
The 52-year-old Denver native, who was raised in Houston, adds, "This is not a road house where various companies move in and out quickly. The space is conceived for long-term use, where each company is given ample time to develop its work, though each company must give at least one public presentation. The road-house approach is jeopardizing experimental arts. You can't build anything of complexity in 10 days. We have to separate the creation of art from moneymaking concerns."
In Cunningham's business model, the space and equipment are underwritten by outside sources. "So far the city has made $500,000 available for equipment," he says. "If the facilities are taken care of, the artists get to keep the proceeds of ticket sales and grant money. Funds go into the work, not the upkeep of the building."
Another key element of his plan is an international afterlife for 3-Legged Dog productions. When Losing Something completes its run in New York, for example, it will move on to Berlin and Hamburg, Germany, and the Belgian city of Ghent, into multimedia venues designed for large-scale experimental work. Cunningham believes that presenting experimental theatre globally -- and planning for it ahead of time with like-minded companies abroad -- is essential for the art to survive.
The Vision
By "experimental," Cunningham means multimedia works created by theatre artists who have a "holistic approach," he says. "I, for example, write, direct, and design. But even if I'm just the writer, I'm still thinking about the lighting plot. All theatre artists who work with us are familiar with sound, video, and lighting, and think in those terms. We often find that the visual elements ultimately work on their own as installations."
In Losing Something, 3-Legged Dog is using a technology called Eyeliner, a high-definition video projection system that can create spectacularly lifelike three-dimensional images of actors. "Gravity is defied," Cunningham says. "The actors 'float' above the stage. There is no rigging. It's less expensive and safer. The new technology makes it possible for us to play with scale and time in ways we couldn't do before." But he emphasizes, "The technology enhances the script, and it's used only in the service of the script."
Technology aside, he continues, "our vision is large-scale. We deal with the big themes, like mortality, morality, and ethics. I believe artists have a role to play in society. We're the ones who make the sacrifice to address the philosophical questions that the people who work around the corner in Wall Street don't have the time to address. We don't come to conclusions, but we ask the questions."
Losing Something, a play several years in the making, is about aging and loss. "I started working on it after a friend of mine unexpectedly committed suicide," Cunningham says. "The play deals with reassessments of friendships and sexual relationships that take place in middle age. It's not autobiographical, at least not anymore." He adds that the company's scripts evolve over time, though they're not collectively written or improvised. Actors do, however, contribute significantly to the staging.
To date, 3-Legged Dog has produced 17 works, with each one taking approximately two years to create, Cunningham says. "Over the years, we've worked with a core of actors, though we do like to bring in new blood and will occasionally do a casting call. Actors who work with us have to have a broad set of skills, from traditional Method acting to performance art. They have to be comfortable with nonlinear storytelling and language that runs the gamut from gutter talk to high-level scientific discussions. A strong team ethic is also important. We don't have stars."
So who comes to 3-Legged Dog productions? According to Cunningham, it's a cross section of young adults, from Williamsburg, Brooklyn, artists to young Wall Streeters who live in the neighborhood and have lots of discretionary income.
Multitalented Multitasker
Cunningham's early ambition was to be a sculptor. At the University of Houston, he majored in art before turning his attention to the literary arts, earning an MFA in creative writing and studying with Edward Albee and Donald Barthelme, both of whom became his mentors. After graduation, he furthered his eclectic training by working as a production stage manager with Blue Man Group. "I left after six months and began freelancing, doing everything from technical directing to production design to media design," he says. "I worked with Mabou Mines, the Kitchen, La MaMa, P.S. 122, and Bang on a Can, among others." During this time he also continued to write.
The turning point for Cunningham was when he served as technical director and designer at experimental playwright Richard Foreman's Ontological-Hysteric Theater. Cunningham's first play was produced there, and his experience with the company shaped his aesthetic and his work ethic. Inspired by Foreman, he came to believe that all theatre artists should be multitalented and multitaskers, able to work in all areas of theatre. It's a lesson that has served him well. Still, he never saw himself as a businessman, having to raise millions of dollars and build a new arts complex from the ground up.
But for now, Cunningham is hoping that audiences leave the theatre "thinking. Though I won't tell them what they should be thinking about. I'll be pleased if we've triggered a thought process."