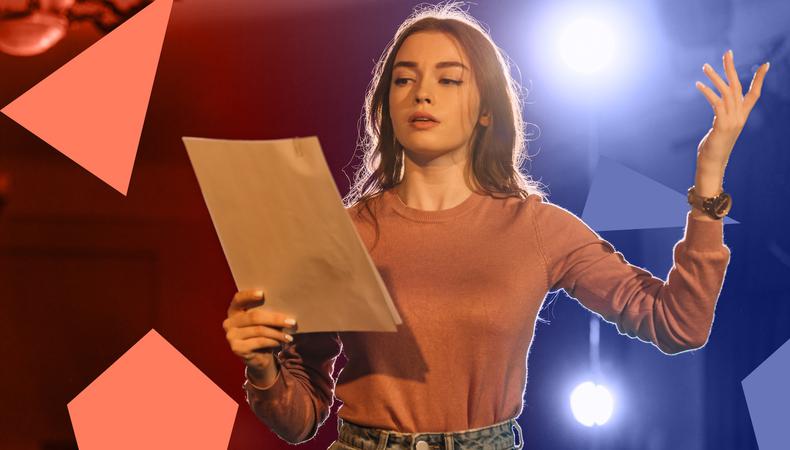 Content warning: The following article contains mentions of disordered eating.
Q: How can I improve my self-esteem and body image?
"Even though you may feel pressure to have a 'perfect' body as an actor, the truth is that this is not a requirement. If anything, focusing on maintaining or achieving a perfect body detracts from the trajectory of your career. If you're at an audition and you're distracted by the way your thighs look, you can't fully focus on your character's wants and needs. Furthermore, if you're restricting your food, you'll be hungry and weak during an audition or rehearsal. You can't properly do your work in this state. Ask yourself: Is this useful? Is focusing on diet and weight loss before your next audition a good use of your time and energy? Or would doing practice auditions be better?" —Kate Huffman
"Performers seem to be at a higher risk for developing eating disorders due to the level of perfectionism and drive one must possess to succeed in showbiz, as well as the public body scrutiny. Food, or lack thereof, can give a sense of control or a means of 'checking out' as a way to cope with stress. If you've struggled with an eating disorder in the past or have a predisposition to one, it's worth keeping an eye on how you're relating to food. Some signs to watch out for include trying to numb yourself with eating, excessively thinking about food, avoiding eating or being very rigid with what you allow yourself to eat, or eating in secret. If you notice any of these behaviors or thoughts coming up, be sure to seek help. Look for a registered dietitian, therapist, or physician who specializes in eating disorders." —Libby Parker
This story originally appeared in the Jan. 27 issue of Backstage Magazine. Subscribe here.