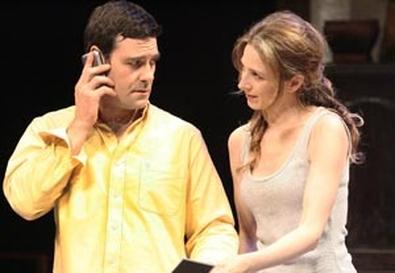 Serendipity is in the air when a play makes its debut precisely when current news headlines report on the aftermath of the story's historical backdrop. David Wiener's thoughtful drama, set in modern-day Phnom Penh, Cambodia, explores the psychological legacy of the genocide committed in that nation by the communist regime, the Khmer Rouge, which ravaged the country during the late 1970s. Under the skillful direction of Pam MacKinnon, this production eloquently blends political intrigue with profound personal drama.
Wiener's work has the flavor of a political thriller in a John Frankenheimer or Costa-Gavras vein. The nail-biting tension derives from an atmosphere of paranoia, as citizens still trying to recover from a history of unimaginable brutality live among suspected perpetrators of the atrocities. As an argumentative American couple on a business trip (Marin Hinkle as Mara and Mather Zickel as phone equipment executive Carter) meets with a mysterious businessman (François Chau as Dr. Heng), called a "Facilitator," we learn of a tragedy in the couple's recent past. The duo's personal concerns and the lingering unrest in Cambodia intertwine as the couple becomes drawn into a crisis of conscience. Dr. Heng makes an unusual proposition to them, just as authorities prepare to close in on him as a suspected war criminal. Wiener intelligently explores the complexities of worldwide political events as they relate to the everyday concerns of seemingly uninvolved citizens across the globe. How far do we explore our personal areas of comfort and contentment, and when does the larger well-being of humanity become a higher priority?
Wiener challenges audiences on several levels, including portions of dialogue delivered in French and Khmer. The playwright often deliberately keeps us in the dark about precisely what's going on. He doesn't want us to make definitive value judgments on the characters, which makes their motives uncertain. This supports his themes of moral ambiguity in the modern world, but that occasionally makes it frustrating in finding a hook to engage us in the narrative. There's also a lot of plot and history packed in. The play feels a bit overstuffed.
Yet there's nothing to be faulted in the wondrous performances. As the high-strung wife and the husband who habitually condescends, Hinkle and Zickel are highly credible and enlist our empathy in their plight despite their characters' quirks. Chau is masterful as the gracious yet foreboding business associate, a constant source of fascination and subtle chills. As his embittered and defensive wife, Kimiko Gelman is a powerhouse; her up-front aura of danger is as riveting as Chau's more layered approach. Playing a tour guide who witnessed the genocide yet survived, Greg Watanabe gives a deeply poignant portrayal, relating harrowing details in a series of monologues.
Presented by Geffen Playhouse at the Audrey Skirball Kenis Theater, 10886 Le Conte Ave., Westwood. June 1–July 3. Tue.–Fri., 8 p.m.; Sat., 3 & 8 p.m.; Sun., 2 & 7 p.m. (310) 208-5454. www.geffenplayhouse.com.