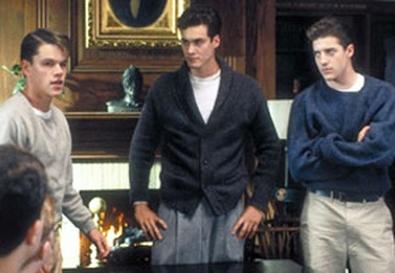 As the founder and CEO of McCorkle Casting, Patricia McCorkle has worked on hundreds of projects for stage and screen since 1979. She cast a pool of undiscovered young actors in Stanley Jaffe's film "School Ties"—including Ben Affleck, Matt Damon, Brendan Fraser, and Chris O'Donnell—and has tagged a long list of actors early in their careers, from Holly Hunter and Samuel L. Jackson to Kelsey Grammer and Calista Flockhart. Her film and TV credits include "Ghost Town," "Funny Money," the remake of "The Thomas Crown Affair," "Die Hard: With a Vengeance," "Splash," "All the Right Moves," "Californication," "The L Word," "Strangers With Candy," and "Hack." Her Broadway credits include Martin McDonagh's "The Lieutenant of Inishmore," two revivals of "The Glass Menagerie" (one starring Jessica Lange and one starring Julie Harris), Arthur Miller's "The Ride Down Mt. Morgan," "Blood Brothers," Aaron Sorkin's "A Few Good Men," Herb Gardner's "I'm Not Rappaport," and the Roundabout Theatre Company productions of "Cabaret," "Company," and "She Loves Me."
Stage vs. Screen
Stage and screen roles both require the same techniques of an actor. But in the theater you have to be able to project the character in a much bigger space, where in TV it's much more intimate. That's the difference between the two mediums, simply. There's an intimacy in the film world that's not necessary in the theater.
What's most important to me is that you know how to translate what you've learned into what the medium is. You might find a wonderful actor who seems to not be able to fill the space but has an interesting talent. The way he or she works might be more intimate. The actor might just not be able to project. In that case, if you like them, you'd hope to find the right project in the right forum.
Dress for Success
In an audition, I like actors to be familiar with the material and have done their homework with the script and any other material. Remember that the audition is very much a job interview, and I'm looking to solve a problem and to see if there's a solution. So be professional: Do the homework and look appropriate.
I like actors to look appropriate for the role. Just a little something to indicate that they understand the style and period of the project adds a lot. Touches like that also help the actor to get into the character and the setting more effectively and convincingly.
What you wear should be what's appropriate to you as the actor as well as to the character you're auditioning for. At the end of the day, I'm looking to hire the performance, though. So you don't want to wear anything that distracts me from the text or your interpretation.
Bad Call
There was one time, I was doing an open call in Cleveland, doing a local EPA, and we had to do one whole day of non-Equity. A guy came in and started on a monologue. Next thing you know, he pulled out a gun and started aiming it at everyone. I think I was the only one who didn't dive down and hit the deck. I stood up and told him to get out of the theater.
I think they think stunts like that are dramatic. I don't think there was any evil intent, but you don't bring a gun or a knife or a weapon of any kind. Actors might think it will be dramatic—and I guess it is. But that mainly just stands out as not professional.
Team Effort
When my office has you come in, I'm showing you to a director, so be prepared. We want actors to be good, because when they aren't, that makes us look bad and we can lose the job. It's not fun to have an unhappy creative team before you after an audition. To come in and not be prepared just makes us all look bad for having delivered you as a choice.
In casting, we're like personal shoppers for directors and producers. We listen to what they want and how they work and try to find the best fit to fill the need. If you're chosen to come in, that means we think you have a shot. I want you to be good. I'm absolutely rooting for you.
Also, through the résumé we can see how you perform, from the theaters you've worked in and what directors you've worked for. There have been actors who couldn't make it to a callback because they were doing shows in another city, and we could tell what director they were working for, so we've called and asked how they're doing and how they are to work with. We've sent people out to do the audition where the actor is as a result. We want to get it right, whatever it takes. The reputation of the casting director or their theater depends on it—they have to do what it takes to find the best person.
Cultivating Big Talent
I found Kelsey; I did not cast him. But the boys in "School Ties" and many of the other actors I've cast and who became big names were just very talented people. You find these people when they're out of school or very young, and you can just tell that they have so much talent. You just hope you can find a project that can support them. The projects have to be right.
With Calista, I cast her in a lot of roles, but it was in "The Glass Menagerie" that she really took off. It's the right place at the right time—it's luck, it really is. Most of the casting directors are friends, so if you really think they're the right person, you might drop a line and say, "Did you look at so-and-so yet?" Those kinds of calls are for something very specific, though, not in general.
Creative Solutions
I cast Linda Hunt in "The Year of Living Dangerously," and she won the Oscar. So I'd say it was a pretty good audition. They'd wanted a man who was a little person, and she isn't technically a little person and she isn't a man. But the director was open to seeing a woman.
You talk to the director and see what he or she is looking for, and sometimes your ideas can fit into the framework. Some things in the script and the vision can be changed. As a casting director, you're part of the creative solution. That's what you work to find: creative solutions.