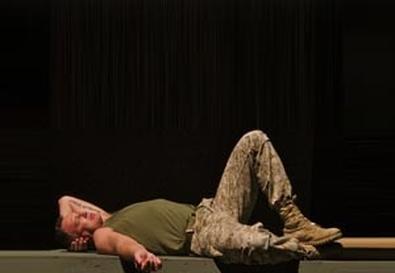 Sometimes there is truth in advertising. Jeff Key, author-actor of the one-man show "The Eyes of Babylon," is exactly what the tattoos on his forearms combine to label him: a warrior poet. An out and proud gay man from West Hollywood, Calif., who went back into the closet so he could serve his country as a Marine, Key has based his play on his own journals, kept during his tour of duty in the Iraq war. It's immediately clear that he's a born writer, and this intelligent, evocative, psychologically shrewd work is one of the finest solo shows I have ever encountered.
Key begins already a Marine, on the morning of Sept. 11, awakened by a call from his schoolteacher mother in Alabama. It's not long before his unit is off to Iraq, and he articulately explicates his gung-ho frame of mind when that occurs. He speaks eloquently of the beauty of the country and its people and brings some of his comrades to vivid life while meticulously charting his own journey to disillusionment with America's motives and actions. The gay issue stays largely in the background, as it would for someone who chose to comply with the "don't ask, don't tell" policy, until Key is sent back to the States for surgery to repair a hernia. There, learning more and more about the Bush administration's lies and manipulations and falling into such a deep depression that he contemplates suicide, he finally concludes that he can no longer continue under the policy and writes a letter to his commanding officer informing him that he is gay.
Though obviously playing himself, Key shows considerable skill as an actor, delivering his tale with feeling, wit, and emotional precision, all filtered through a charming, slightly Southern demeanor. Though clearly up to the demanding physical standards of the macho Marine Corps, Key refuses to submerge his more sensitive side in that cliché (though he can when needed), demonstrating that vulnerability is not weakness. We are left with a sense of bewildered disgust at the thought that the American military ultimately considered this extraordinary man not good enough to be one of them. The Marines were damn lucky to have him.
Among numerous effective set pieces are Key's description of his friendship with a young Iraqi boy named Mehadi, Key's fleeting public encounter with a gay Iraqi man with whom he still manages a moment of affection, and, surprisingly, an account of a masturbatory episode one night in his tent that is neither prurient nor lurid but instead glows with an intense beauty.
Yuval Hadadi's imaginative direction ensures that the proceedings are never static and makes effectively spare use of both film clips and tone-enhancing color washes projected on a back-wall screen by lighting designer Lee Terry. The focus is never allowed to stray from Key and his compelling words, whose greatest strength is in the mature humanity and hard-won wisdom with which they paint a soldier's experience of war.
Presented by Semaphore Projects and the Mehadi Foundation as part of Americas Off Broadway at 59E59 Theaters, 59 E. 59th St., NYC. June 21–July 3. Tue.–Thu., 7:15 p.m.; Fri., 8:15 p.m.; Sat., 2:15 and 8:15 p.m.; Sun., 3:15 and 7:15 p.m. (212) 279-4200 or www.ticketcentral.com.