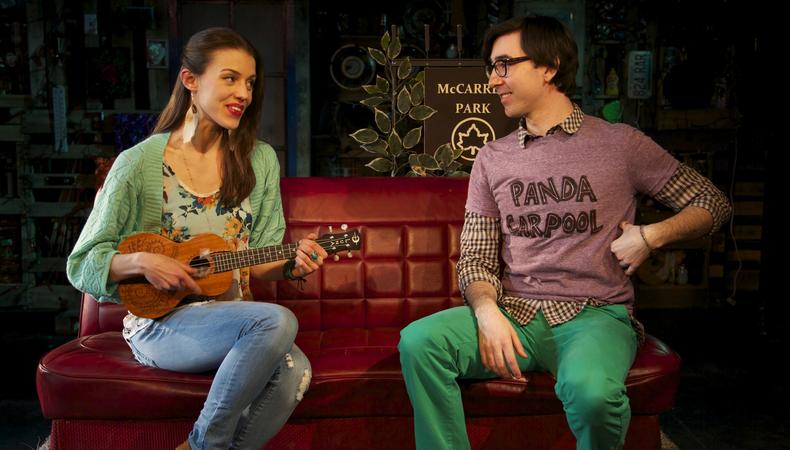 "F#%king Up Everything" does not fulfill the promise of its title. David Eric Davis and Sam Forman's rock musical stays safely within the realm of musical comedy—hardly crossing the line into any controversial territory—and their book exercises little imagination. Davis' exuberant songs, however, executed by a vibrant young cast, keep the show from veering into hipster melodrama.
The show premiered at the New York Musical Theatre Festival in 2009, and Jen Wineman directs it for exactly what it is: a high-energy, mostly humorous musical about hipsters in Brooklyn. Christian, a Jewish self-proclaimed Michael Cera type who works as a puppeteer, stands in the shadow of his too-cool-for-school ladies man of a best friend, Jake. Christian is immediately smitten with new girl on the block Juliana, who plays the ukelele (of course), but the only catch is that Christian needs to woo her before Jake steals her away. (It is a little tough to believe that Christian would stay friends with Jake, who makes quick attempts to pursue Juliana while knowing of his buddy's feelings, but Christian's deep insecurities make the relationship somewhat plausible.)
The B-story couple consists of Tony the stoner—what hipster show is complete without one?—who's in a long-term (read: dull) relationship with Jake's best friend, Ivy. Tony is the drummer in Jake's band, Ironic Maiden, but Ivy is bored and secretly in love with Jake, while Tony is so in love with his bong that he sings about it, in the aptly titled "Me and My Bong."
The star of the show is Davis' varied and upbeat score, which falls nicely in the uncategorizable category of indie rock. Davis has translated the tunes well for dramatic purposes, and the most interesting storytelling happens through songs and not in scenes in which people kiss, say things they don't mean, or walk in on others when they shouldn't.
Max Crumm effuses awkward likability and mad puppeteering skills as Christian, while Katharine Cozumel, making her New York stage debut as Juliana, radiates stage presence. Jason Gotay finds some depth in Jake's shallowness and manages to make a largely unappealing character, well, appealing. Douglas Widick resorts to stoner conventions as Tony, albeit hilariously, and Dawn Cantwell gives Ivy impressive dimension. George Salazar gets just a few lines as the monosyllabic drummer yet wins many laughs. Finally, Lisa Birnbaum makes the most of fun-loving Arielle and relishes her character's audacity and outrageous costumes, designed by Melissa Trn.
The only real problem with "F#%king Up Everything" is that it risks becoming mainstream. Should the show achieve commercial success, its target hipster demographic will probably turn. Fortunately, there are plenty of other people to please out there, and everyone loves to parody a hipster.
Presented by Jeremy Handelman/Off the Leash Productions, in association with Joe Lavezzo, at Elektra Theatre, 673 Eighth Ave., NYC. March 24–May 19. (212) 352-3101, (866) 811-4111, www.theatermania.com, or www.fueonstage.com. Casting by Daryl Eisenberg.
Critic's Score: B