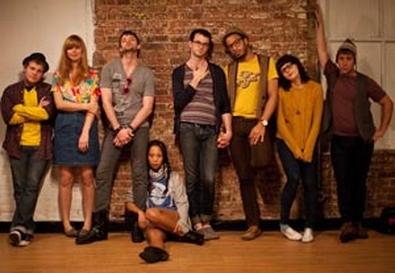 "Frustrating" is the word that best describes "F**king Hipsters," one of the offerings in this year's edition of the New York Musical Theatre Festival. No sooner does an exciting character, scene, or song lift the show off the ground than a wooden one follows it and drags it back down.
The story begins with Lars, the lead singer of Mark Twain's Moustache, an up-and-coming band in the Williamsburg music scene, falling in love with a young woman named Josie. Their romance causes strains in the quartet and threatens to break them up, until Josie reveals that she is ill with cancer. Lars puts together a benefit to pay for her treatment, but just as he hands her a fat check, she collapses and has to be rushed to a hospital, dying on the way there. But a bit of poking around by one of the band members unearths the fact that Josie isn't dead; rather, she is a grifter who has been conning Lars all along. Lars and the band trail Josie to a hotel, confront her, and retrieve the benefit money. In the end, the Moustache is tighter—and wiser—than ever.
Keythe Farley brings much of the same off-kilter sensibility to "F**king Hipsters" that he brought to his book for "Bat Boy." But where that musical hung together as a unified piece, "F**king Hipsters" is disjointed and patchy. Lori Scarlett's lyrics are often clever, but the rapid-fire delivery they require and the theater's muddy sound system work against them. Her music, co-written with John Ballinger, is original and fun at one moment and graceless the next.
The cast is excellent all around, but special note must be given to Emily Borromeo, who finds complexities in Josie that make her more than a cardboard villain, and Brandon Wardell, whose Lars is a smart and open man, not a stupid and gullible boy. Director-choreographer John Carrafa keeps the action flowing, occasionally throwing in clever dancing and stage business so we don't get bogged down in the uneven and unlikely story.
There is so much promise in "F**king Hipsters" that I hope the reason the show is only half-realized is that its creators ran out of writing time, rather than being unable to forge an entire good musical. Unfortunately, there's no way to tell, and what we're left with is an unsatisfying experience.
Presented by Johnny Roscoe Productions as part of the New York Musical Theatre Festival at the Signature Theatre Company's Peter Norton Space, 555 W. 42nd St., NYC. Sept. 28–Oct. 8. Remaining performances: Sat., Oct. 1, 1 and 5 p.m.; Sun., Oct. 2, 9 p.m.; Wed., Oct. 5, 9 p.m.; Sat., Oct. 8, 1 p.m. (212) 352-3101, (866) 811-4111, www.theatermania.com, or www.nymf.org. Casting by Michael Cassara Casting.