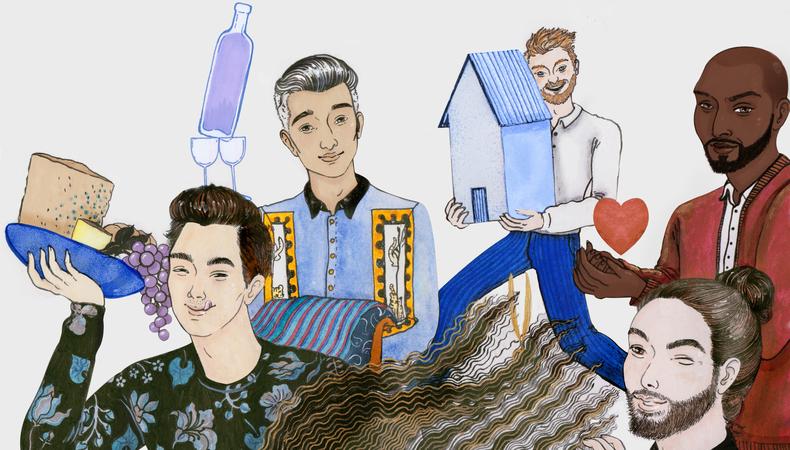 Season 1 of "Queer Eye" came to Netflix in February and became an instant pop culture sensation. Each member of the Fab Five—Jonathan Van Ness, Antoni Porowski, Tan France, Bobby Berk, and Karamo Brown—turned into a household name and when Season 2 was released in June, it cemented the celebrity status of the core cast. Their chemistry with each other, unique points of view, diverse makeup, and the way they relate to the shows "heroes" struck a chord with the show's audience. Their onscreen bond makes it seem like assembling the group of five was a no-brainer, but it was actually the result of a multi-part, five-month casting process. When casting during fall of 2016 and winter of 2017, Gretchen Palek was the SVP of Casting and Talent and Danielle Gervais was VP of Casting and Talent for ITV. They hand-picked a team of CDs to help find the Fab Five ahead of seeking out the show's makeover heroes for an Emmy-nominated casting job.
What was the casting process like?
Danielle Gervais: It was long. We looked at any and everyone who ticked the boxes that we needed across each vertical. The challenge for us was not only finding people who had the personality, that's obviously number one, but was also really credentialed in their vertical. They had to be masters of their craft. For us, that was just as key as personality.
Gretchen Palek: When finding experts in their field, the thing you can't test for is the chemistry. We always knew going into it that it would be a twofold process: one to see and meet as many people as possible, then hone in on 60–70 favorites, bring them all to California, and see what shaped out. Some people didn't have the right chemistry with the others, which doesn't mean they weren't great individuals, but the chemistry was just as important as the individual talent.
DG: The chemistry was half the battle. We would put them together five at a time and watch. Who let the others speak? Who just gelled off of one another? Who was able to dig deep with their own experiences? These five stood out for us right from the go.
What personality qualities that stuck out to you?
GP: Humor and the ability to listen. If someone was constantly talking over another or they weren't listening and paying attention, those are things that don't work on a show like this. We needed someone that can connect with people from all walks of life and look for that common ground. We always knew this show was going to be about connections.
DG: Confidence. Knowing who they are, knowing their experience, knowing the work that they've done, and what they bring to the table for us.
What did you look for in the chemistry?
GP: We weren't sure what the magic measurements would be, but with five people, you can't have five peacocks, because then there'd be no room. Once we started seeing Karamo and Jonathan start to bond, and then Bobby, we knew their energy. Then we cycled people in and out that complemented their energy.
How is what you do different from casting a scripted show?
GP: One of the challenges for us is finding the real people. Sometimes we have a smaller pool. We pride ourselves on the authenticity; we don't like people to fake that they are a certain thing. But we're in the business of finding real people. Sometimes they don't have agents and they may live anywhere, so we've got to convince them that they should tell their story on TV. It requires a very sensitive hand.
READ: How to Audition for Netflix
How did people prove their expertise in their category? Did they have to do something to prove they were qualified enough?
DG: We definitely took a very proactive approach. We weren't allowed to tell the candidates what network or show we were scouting for. When you don't know the series or the network, certainly you can't go out with that information, we had to do a very pointed approach, so we would look for people that had written books, we looked for people that the work exists. You can look at Bobby, for example, and you can see his breadth of work and how accomplished he was in interior design. So for that, that vertical was slightly easier. With a culture category, for example, it was a little trickier because culture is so many different things. We had quite a varied pool of amazing experts, and ultimately I think with Karamo, what was so special about him, his life is experience is incredible. The way he's able to dig back on those experiences and relate them to people.
GP: We just had to make sure with every conversation we had that we felt confident in the way that we could justify why we were putting them up for consideration.
What were the auditions like? What is an audition for a reality show?
GP: From the beginning, there's the proactive and the reactive. The reactive strategy is as casting people, we pulled all the normal places and tried bringing people in. And then the proactive approach is hitting the streets, going into furniture stores in New York City and seeing if they have anyone they can recommend. Looking through morning show appearances to see if someone may have popped. Going to the bookstore, seeing an interesting title within the vertical and then looking them up and seeing if they could be interesting. Referrals were really, really big for us, so touching the community in different places and different cities, explaining what we were looking for and seeing if they themselves wanted to submit, or did they have someone to suggest.
The chemistry test piece of it, the audition so to speak was everybody sat down, each one of us was paired with a member of Scout (the production company), and it was almost like a speed dating event, where each one of them would sit down with a couple of us, and we would just talk. That was really the first day, where we tried to learn a little bit about each person, where they came from, and get them excited and loosened up for the remainder of the chemistry test, which went for a total of three days. A lot of the chemistry test is just being patient, and when it is your time to shine and come in, just be ready. I think we looked as much for listeners, people that gave other folks the chance to speak as we did for the people that spoke.
Why do you think this group has resonated with audiences in the way that they have?
DG: This has everything to do with the five of them, and I also think the timing of the five of them going to Atlanta, Georgia and spreading a message of acceptance at a time when politically, we're very divided. I think it has resonated because we all need it. When you're reading the news and it can feel very dark and a little depressing, I think it's just so nice to be able to turn on a show and completely indulge yourself in it and laugh and then cry at the end. I think that's really why they've just shot up the way that they have and because they also just genuinely have fun together.
Check out Backstage's TV audition listings!