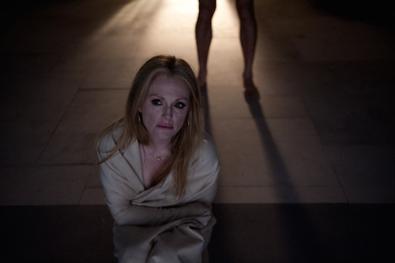 February is the shortest month of the year, so moviegoers better watch out for those premiere dates before they fly by! From big-budget blockbusters like "Jupiter Ascending" and "Seventh Son" to a certain intimate Valentine's Day treat, here are nine films worth the price of admission.
"Jupiter Ascending," Feb. 6
The same writer-director-producers who gave us "The Matrix" and "Cloud Atlas" are this time making an intergalactic gambit. The cast of this eye-popping space opera includes Mila Kunis as a janitor-turned-princess, "Foxcatcher" star Channing Tatum as a genetically engineered warrior, and SAG Award winner Eddie Redmayne as an extraterrestrial villain threatening to harvest Earth.
"The SpongeBob Movie: Sponge Out of Water," Feb. 6
A sequel to 2004's "The SpongeBob SquarePants Movie," this big-screen showcase for everyone's favorite pineapple-dwelling sponge features a mixture of 3-D CGI, traditional animation, and live action. The Nickelodeon show's original voiceover cast is joined by Antonio Banderas, who plays a character called Burger-Beard the Pirate, of course.
"Seventh Son," Feb. 6
Based on Joseph Delaney's beloved fantasy novel "The Spook's Apprentice," this fiery epic centers on a seventh son of a seventh son who must brave witchcraft and war. Up-and-comer Ben Barnes is bolstered by a cast that includes a sword-wielding Jeff Bridges and a sinister turn from recent SAG Award winner Julianne Moore.
"Kingsman: The Secret Service," Feb. 13
Matthew Vaughn, the director behind the newest "X-Men" franchise, brings this British spy flick across the Atlantic this month. Based on a comic book full of Bond-like espionage and boisterous action sequences, the film features Colin Firth, Samuel L. Jackson, and Welsh actor Taron Egerton in top form.
"Fifty Shades of Grey," Feb. 13
Is it getting hot in here? Released just in time for Valentine's Day, this highly anticipated adaptation of that book you definitely either read or saw people reading is expected to smash the box office. If you've somehow managed to avoid the phenomenon, the story follows a young woman's foray into the darker—let's say more interesting?—side of desire. Dakota Johnson and Jamie Dornan star, along with a sizzling soundtrack.
"The Last Five Years," Feb. 13
Musical theater geeks, your time has come! This adaptation of Jason Robert Brown's popular two-hander features the charming Anna Kendrick and Jeremy Jordan showing off their vocal chops. The story of their five-year relationship is told both backwards and forwards. See it if you prefer your romance musical rather than kinky.
"Hot Tub Time Machine 2," Feb. 20
Craig Robinson, Rob Corddry, Clark Duke, and Chevy Chase return, this time joined by Gillian Jacobs and Adam Scott in this sequel to the 2010 jacuzzi-fueled comedy. When one of the gang is killed by a mysterious assassin, it's back in the tub and into the space-time continuum to get to the bottom of it.
"Focus," Feb. 27
This crime dramedy features thrills, intrigue, and two of the most attractive movie stars you could hope to see. Will Smith plays a seasoned con artist to Margot Robbie's inexperienced "intern" and their nefarious relationship takes several dark and unexpected turns.
"Maps to the Stars," Feb. 27
David Cronenberg's latest mindfuck earned Julianne Moore top honors at the Cannes Film Festival, as well as praise for Mia Wasikowska, John Cusack, and Robert Pattinson. The twisted satire throws dark humor, schizophrenia, hallucinated ghosts, and contemporary Hollywood into a pot and brings things to quite a boil.
Inspired by this post? Check out our film audition listings!