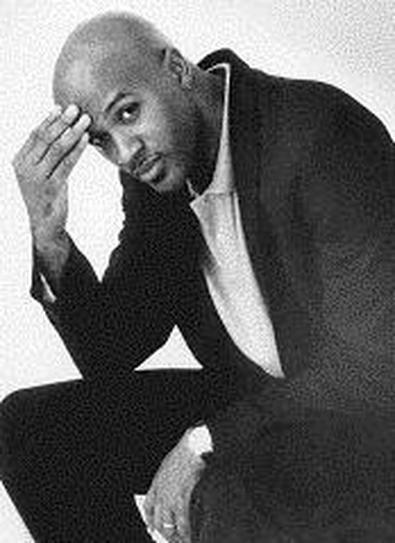 "Thunder Knocking on the Door," a comic blues musical (of all things), is unabashedly light. Some might say daffy; others might say folkloric. Perhaps it's a little of both.
One thing is certain: There's no shortage of "crossroads-of-life" themes here, not to mention mythic duality. "Thunder Knocking," which bowed Off-Broadway at the Minetta Lane on June 20, presents two sets of twins (with their benign and not-so-benign members, respectively), and considers what happens when a pair is broken (no good can come of it). In addition, there's a blind girl who gains her sight through, yes, love, and a supernatural figure who loses his power--becomes human--through, you guessed it, love!
"This is a fairytale, a fantasy," asserts book writer Keith Glover, a cheerful, 40-ish Bessemmer, Ala. native, who is chatting with us over the phone. "My purpose is to entertain an audience. I want people to have fun. I like it when they leave the theatre humming the tunes. The play is life-affirming and a celebration of family, love, tradition, and the groove. And by that I mean music that moves you, something that we can all tap into, regardless of race, ethnicity, and gender."
The music--blues music, that is--by Grammy Award-winning headliner Keb' Mo' is, of course, the key, Glover continues. " 'Thunder Knocking' is about how music filters through our lives. The music is African-American. I wanted to write this piece from the perspective of my father, grandfather, and uncles. It's their music, the music they played. But it is inclusive. It's B.B King, but it's also Sheldon Harnick and Rodgers and Hammerstein."
Set in rural Alabama in 1966, "Thunder Knocking" tells the story of the Dupree family (Leslie Uggams, Chuck Cooper, Marva Hicks, and Michael McElroy), whose lives run riot when a sinister and seductive stranger, not unlike the Devil (Peter Jay Fernandez), challenges the blind girl (Hicks) to a blues guitar "cuttin' contest." The latter is an improvised guitar riff, usually with a judge overseeing the competition and naming the best player. In "Thunder," it becomes a high-risk game. Nothing short of emotional survival is at stake. So, too, are musical and family legacies.
"The biggest challenge in writing a musical like this was battling the preconceptions audiences may have about fairytales, that somehow they can't be taken seriously," Glover suggests. "Some may even believe the story cheapens the music. But then some people felt 'Amadeus' cheapened Mozart."
Glover, who also contributed some music and lyrics, is indeed a multiple talent. He also acts and directs, in addition to writing. His first play, "Dancing on Moonlight," was produced at The Joseph Papp Public Theater/New York Shakespeare Festival in 1995. The same year, a second work, "Coming of the Hurricane," debuted at the Denver Center Theatre Company and has since been mounted at the Arena Stage (Washington, D.C.) and the Crossroads Theatre Company (Brunswick, N.J.). "Hurricane" was a finalist for the American Theatre Critics' Award for Best Play in 1995. Another play, "In Walks Ed," which Glover directed, was nominated for the 1997 Pulitzer Prize.
Despite his achievements, Glover is strikingly devoid of pomposity and airs. He is downright good-humored. Nonetheless, a philosophy is in place. Glover evokes a man who refuses--it seems on principle--to be pessimistic, negative, or even angry. "Inclusiveness" is a word he uses a lot. He believes, for example--and makes a point of mentioning it--that what unites people of different backgrounds is far stronger than what divides them. More striking, a play like "Thunder Knocking," he insists, will speak no differently to African-Americans than to their white counterparts.
"I've had black people in the audience--or even black critics--who have had no idea what it's all about, whereas some white people get it immediately. Race has nothing to do with the response."
On another front, Glover refuses to compete with others, be menaced by someone else's success, or even crave accolades or kudos, as much as he may enjoy them when they're forthcoming.
"I've done very well, so I can't complain. But the biggest thrill for me is when I've approached the work from a pure place [written it to express himself as opposed to advancing his career] and then see the completed play come out of the printer." He adds, "As satisfying as it is for me to move ahead, I've recently realized--and this was a turning point--that if I can help someone else achieve his or her dreams, that makes me much happier." He is specifically talking about the wildly enthusiastic ovation Marva Hicks receives when she sings her big number in his show.
A Man of Many Hyphenates
The son of a luthier--"that's a guitar maker"--Glover always knew he wanted a career in the performing arts. He attended Bowling Green College in Ohio, where he majored in theatre, although before graduating he dropped out (a decision he regrets) to try his luck as an actor in New York City. Within short order he had a regular gig on "As the World Turns," and was with the soap "playing a walking Ken doll for a year and a half."