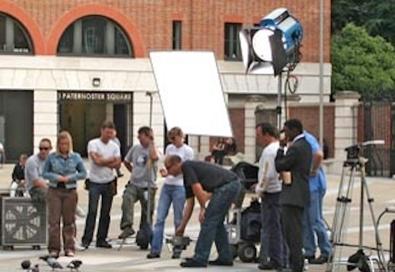 halley.bondy@backstage.com
When actor and filmmaker Andrew Okpeaha MacLean was growing up in Fairbanks and Barrow, Alaska, the English language dominated his film and TV viewing—and his vocabulary—at the expense of his mother's native Inuit dialect, Inupiaq. "My mom tried to teach me with varying degrees of success," he said. "But my generation was absorbed in English.... Now I feel like I lost something."
MacLean became interested in theatre in high school, and though still not fluent in Inupiaq, he made it a mission to incorporate the language on stage and film. This year, his efforts have paid off. His short film Sikumi, the first movie in which actors speak exclusively Inupiaq, has earned several awards and festival screenings and will be featured at the Sundance Institute showcase at New York's Brooklyn Academy of Music and at the Los Angeles Film Festival.
Sikumi, which means "on the ice," is the story of Apuna (Brad Weyiouanna), who is crossing the tundra on his dogsled when he witnesses an acquaintance, Miqu (Tony Bryant), committing a brutal murder. The two men are forced to question their morality in an isolated, lawless environment. Deemed an "arctic Western" by MacLean, the film was shot in six days on the Arctic tundra of Barrow—in temperatures 20 degrees below zero and under the threat of polar bears.
"One of them came within a mile of us," said MacLean. "I hired a friend of mine to help carry film equipment, and his other job was to patrol the place with a rifle." Working on the tundra was more of a hassle for the crew than the actors, who were accustomed to the harsh climate. "The crew had no idea what to expect," he said. "For one, our pens all froze on set, which caused complaint."
Sikumi was an official selection of this year's Sundance Film Festival. It later won the top prize, as well as awards for screenwriting and directing, at the First Run Film Festival at New York University, where MacLean was a graduate student.
Although he studied theatre and film outside Alaska, MacLean has always brought his talents home. He graduated from the University of Washington, becoming one of the few formally trained actors of Inupiaq descent, and in 2001 he co-founded the Inupiat Theatre in Barrow, the first theatre company performing entirely in the Inupiaq language. (MacLean said there is no difference between Inupiaq and Inupiat; he just preferred the latter for the name of the theatre.)
The short-lived company, the only theatre group in Barrow, operated out of a school auditorium and produced adaptations of traditional Inupiaq folk tales. Apart from MacLean, the 15 actors and other participants were locals with little to no acting experience. Two of them, Bryant and Olemaun Rexford, would later star in Sikumi. "Working with nonactors was the most challenging part about working at the Inupiat," MacLean said. "When you're with professionally trained actors, you use a vocabulary that's been developed.... In the Inupiat, I had to find a different way of communicating, and that would inform my directing later on."
The theatre's performances attracted about 100 locals from Barrow's population of less than 5,000. MacLean recalled the community's reaction to the first production, an adaptation of the folk tale "The Poor Hunter and the Raven": "The elders from the community who came to see it were just blown away. Everyone was inspired just to see and hear the language on stage, because they had never seen it before."
According to the 2000 U.S. census, about 6,000 people in the United States over the age of 5 speak Inupiaq in their homes—about 97 percent of whom live in Alaska. And the population of native Inupiaq speakers is aging and the dialect is declining in overall use, according to the Alaska Native Language Center at the University of Alaska in Fairbanks. Noting the statistics, MacLean started to think bigger. Though the Inupiat Theatre had a solid following and he had landed acting and directing jobs at the esteemed Perseverance Theatre in Juneau, his thoughts turned to film.
Having never seen a movie camera in his life, MacLean nonetheless got a full scholarship to study film at NYU. The theatre faded away after he left, but he continued to work with Inupiaq-speaking actors in Alaska for his student films, including Seal Hunting With Dad, which premiered at the 2005 Sundance Film Festival.
"It was rewarding to do shows, but Alaska is isolated and limited," said MacLean, who hopes the Inupiat Theatre will be revived in the future. "There's a real permanence to film, and it can reach a far wider audience."
Sikumi will be shown June 1 as part of the Sundance Institute at BAM in Brooklyn, N.Y., and June 25 and 29 at the Los Angeles Film Festival. For further screenings, go to www.sikumifilm.net.