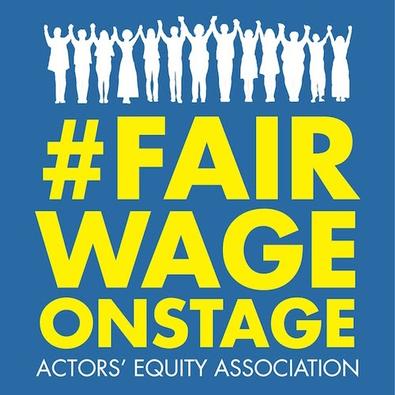 The Actors' Equity Association and the League of Off-Broadway Theatres and Producers were unable to agree upon terms to a new four-year contract. The parties have extended negotiations until Nov. 20, two weeks past the initial Nov. 6 expiration date. While there has been no public comment from either party on specifics, the issue of actor compensation has emerged as a priority. Equity theater professionals covered under the current contract have advanced a strong social media campaign, #FairWageOnstage, advocating for Off-Broadway actors and stage managers to be afforded a wage appropriate for New York City's cost of living. The Off-Broadway circuit has fostered such recent hits as "Hamilton," "Clybourne Park," and "Once," yet #FairWageOnstage advocates assert that their pay does not reflect their cultural importance.
In the lead-up to the negotiations, over 1,100 Equity members signed a petition addressed to Off-Broadway producers and managers, arguing that the existing compensation model has been unable to satisfy basic fundamental expenses. "Our successes boost your sales and enhance your fundraising efforts, while some of us are declaring bankruptcy. The current Off-Broadway model does not support us, nor does it adequately value us as working professionals," the letter reads.
The Off-Broadway contract traditionally encompassed over 100 commercial employers as well as New York's "Big Six" nonprofit theaters, whose annual operating budgets fell between $6 million and $41 million, while the Association of Non Profit Theatre Companies contract covered smaller theaters budgeted around $2 million. However, when ANTC joined Off-Broadway contract negotiations, Equity worried it would bring an ill-advised "one-size-fits-all" salary structure to theaters with disparate financial and fundraising resources. According to #FairWageOnstage, Equity actors in small theaters may earn gross wages below minimum wage and comparable to New York unemployment insurance benefits, while NYC housing costs in the last decade have increased at more than twice the rate of Off-Broadway salaries.
The movement has attracted loads of support and video testimonials from stars throughout the theater world, including Lupita Nyong'o: "More often than not, the most exciting, the most modern, diverse, and original stories come out of Off-Broadway theater. It is those stories and those artists that have fed my creative soul. These are artists who give their time, their heart, and their soul to their craft, but unfortunately the wages are anemic"; Finn Wittrock:"There's only so much you can do purely for the love of it. No one's asking for a huge salary bump. No one's doing this for the paycheck. But there comes a point at which the money needs to reflect the quality of the work"; and a sock puppet–sporting Tony Kushner: "Playwrights can't do their work without the kind of brilliant actors available in the Off-Broadway theater community, who are chronically underpaid. Without actors, [I] would have to cast [my] plays with sock puppets."
A new #FairWageOnstage petition counts over 7,000 signatures.
Click here for more union news! And for more insight on theater casting, watch below.