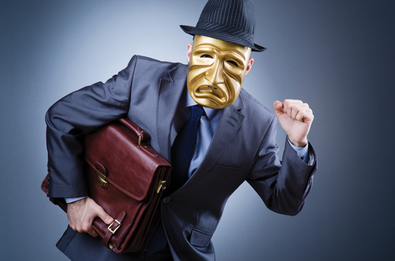 Stephanie Warren seemed nervous when she stepped into the conference room at the Hilton in Universal City last fall. The actor had flown in to Los Angeles for a networking event that would put her in front of several casting professionals, including Russell Scott (the real Russell Scott is shown in the picture below), an associate casting director with Bialy/Thomas, whom Warren thought she'd have some rapport with. After all, she'd met him at a bar in Philadelphia in June. But when they spoke, Scott looked different from what she remembered. Warren became confused. Still, she pressed their connection.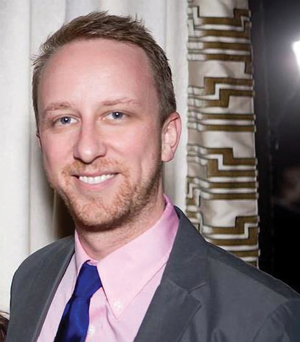 "What are you talking about?" Scott said. "I never met you in June."
They tried to move past the awkward exchange. "I wasn't sure if she was just confused or something like that," Scott told Backstage. "But then later I got more and more people contacting me on Twitter, on Facebook, people calling the office asking me if I was going to be in Boston.
"I got in touch with some of these people and found out that it was much larger than I had ever thought possible."
Since last fall, Scott has been hearing stories from actors up and down the East Coast who recall meeting him, who say that he offered them roles on AMC's "Breaking Bad" and "The Walking Dead," which he casts, and in films, which he doesn't. They say that he has told them about his uncle, the famous director Ridley Scott, whom he is not actually related to. In Warren's case, she says the meeting happened at a $20-cover-charge event at a bar in Philadelphia; in others, it was over drinks with a group of aspiring actors in Hoboken.
One thing all the stories have in common: Scott was never there. At least, the Russell Scott who has worked at Bialy/Thomas in Los Angeles for the last four years was never there. Somebody else calling himself Russell Scott was. Who the impostor is and why he chose to impersonate Scott remains a mystery.
Those who spoke with Backstage described being initially approached through Facebook or email by someone claiming to know Russell Scott. The person then suggested that the actor get in touch with the impostor to help further his or her career.
"It's very frustrating," said Scott. "I'm stuck over here; I can't do anything about it, really, and it's a tough case for police to pursue because there aren't large sums of money involved and no one has been physically harmed that we know of."
It's common for people in the entertainment industry to inflate their résumés and credits. A case of this kind, though, is thought to be unprecedented. "Impersonating a casting director and doing workshops as that person? No, that's never happened before," said Richard Hicks, president of the Casting Society of America. "It's against every ethical standard that the CSA stands for."
Kelly Barrett, an aspiring actor based in Connecticut, said she was contacted through Facebook by a third party who suggested that she contact Russell Scott. Barrett subsequently met the impostor for drinks in Hoboken around Thanksgiving last year. "Why wouldn't he get in touch with me—I'm an up-and-coming actress," she remembers thinking. "He was very respectable when I met him out for drinks."
But the impostor's tales of casting a feature starring Sean Penn for the Weinstein Company, and of industry connections such as Ridley Scott, eventually unraveled.
Barrett became suspicious and contacted the real Russell Scott through Twitter. "I put two and two together and realized, holy shit, I'm not dealing with the real Russell Scott," she said. About a month ago Barrett filed an incident report with the Hoboken Police Department, but she hasn't heard anything about the case. "I just kind of let it go," she said. A detective with the Hoboken police told Backstage, "There's nothing to investigate. She wasn't made to do anything, and she wasn't defrauded. A guy lied to her."
The distress caused by the impostor's fraud hasn't been confined to a few individuals with personal interactions with him. In August, a crowd of people showed up for a casting event that the fake Russell Scott set up in West Palm Beach, Fla. It was billed as a "Big Break Party" and promised an appearance by actor Steve Martin.
As local media and attendees who had paid between $30 and $80 started showing up at the West Palm Beach Event Hall, the event was suddenly canceled. Fake Russell Scott and his accomplice, who calls himself David Desandro and says he casts "General Hospital," fled out the back door, according to a report by WPBF, the local ABC affiliate. The publicist for the event, Natalie Caruso, told WPBF that she thought the event, which organizers said would be filmed by VH1, was legitimate. Caruso did not respond to requests for comment from Backstage.
The impersonation was addressed at a recent board meeting of the CSA, but there wasn't a consensus over how the organization should react. One way to avoid fraud, Hicks noted, was for actors to get receipts for casting workshops and be wary of cash-only events. As for casting directors, posting their photos online was one option brought up at the CSA board meeting, but many in the industry are reluctant to sacrifice their privacy.
The real Russell Scott does have several photos posted online, including on his Twitter and Facebook pages. But that didn't deter the impostor, as actor Kirkryan McFarland discovered. Like Barrett, McFarland was approached by a third party through Facebook who suggested that he reach out to the impostor.
The third party, which was supposedly the Facebook account of Russell Scott's girlfriend, then suggested that he introduce the impostor to his friends in Hoboken and Brooklyn. "I was like, 'Sure,' " said McFarland. "I know a lot of people in the industry. I just started setting him up with meetings because, you know, this guy was going to help me get work. And I had this feeling like, if I can help people I know, it couldn't be a more rewarding situation. Because this doesn't ever happen."
McFarland also heard stories of the impostor's connections in the entertainment industry but grew suspicious when he had trouble getting into night spots in New York City. He reached out to the industry contacts the impostor gave him but noticed a pattern in their replies. "It just seemed like it was him," he said.
McFarland found the real Russell Scott's photo online and questioned the impostor about it. "He said that this guy was this quote-unquote 'surfer-boy actor' that had stolen his identity," McFarland said. "Basically, he'd come to a workshop and he didn't consider him for a role, or something like that. It seemed very strange, but I just kind of believed him."
McFarland finally started calling the offices of the people he thought he'd exchanged email with. After reaching casting director Beth Bowling's secretary, who confirmed it wasn't the casting director's email he'd been writing to, McFarland realized he'd been duped.
He contacted the real Russell Scott and tried to get the word out about the impostor. "I feel very badly about this whole incident, especially that Russell Scott was [made] a victim by this impostor and that I accidentally misled my group of friends," he said. "In my opinion, people that prey on [the] hopes and dreams of others are just sad individuals."
Warren, who went to the Philadelphia event in the hope of getting cast in a short film, said about 100 actors showed up to meet the fake Russell Scott in June. The impostor brought along two accomplices, one of whom was billed as a casting director for "Gossip Girl."
"There was just something odd about it," said Warren. "They didn't seem like casting directors, but what do I know?"
The fraud has continued into 2013. While investigating the fraud, Scott found online advertisements for a Feb. 24 event in Boston featuring him that he never planned to attend. It, too, was being promoted by Caruso, who has been sent cease-and-desist letters from the legal department of AMC.
It may have long-term repercussions for Scott.
"Russell Scott has the right to go out one day and teach a class, because he has a lot of knowledge and professional expertise to give to actors, but that might be complicated for him in the future," said Sharon Bialy, Scott's boss.
In the meantime, the West Hollywood Sheriff's Station told Scott it would start investigating the case. A spokeswoman for the FBI in Philadelphia told Backstage that opening a federal investigation would require large-scale interstate fraud.
"It is my hope that this impostor is soon brought to justice," said Scott. "Until then, I hope that we can spread awareness of this scam and prevent others from falling victim."