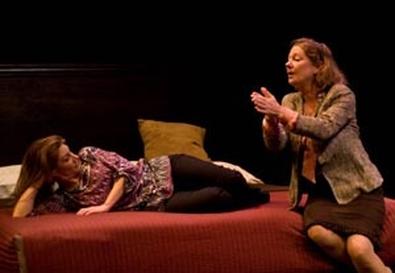 Before Fay and Rachel enter, we know what kind of relationship they have. As the quarrelsome mother and passive daughter bicker about the use of motel keycards—"Does this make the world a better place?" Fay shouts in her grating tones—playwright Joel Drake Johnson illustrates more than just the generational divide between the pair. When they burst into a dark, manicured motel room (pristine set design by James J. Fenton), it's clear that there's a loaded history here.

As Johnson slowly reveals, the women have traveled to this nondescript small town to retrieve the body of Fay's son—and Rachel's brother—who died under questionable circumstances. Fay is distraught by the loss, a distress that Rachel refuses to humor, and as Fay's psychological and emotional problems become more apparent, they gradually expose her as somewhat monstrous.

Fay's incessant ramblings begin as endearing and increasingly become annoying, but Deborah Hedwall doesn't falter in an unwavering performance. She makes a screwed-up character relatable and fully commits to Fay's disintegration. Johnson wisely never confirms or denies Fay and Rachel's past, though Rachel has the stronger, more reasonable voice in their arguments. As Terry, the police officer assigned to the case, Amelia Campbell initially comes across as stilted and then slowly melts into a multifaceted portrayal of this small-town cop struggling to balance work and family. In a scene in which Terry brings Fay dinner, Campbell ricochets among sympathetic companion, powerful law offer, and insecure woman with ease, even though Johnson establishes the characters' relationship through forced and coincidental occurrences, right down to sons who have the same name. Jolie Curtsinger's Rachel is an outsider for most of the play, but her level-headedness keeps the audience guessing about Fay. Curtsinger fills the role adequately but does not stand out next to Campbell and Hedwall.

Director Joe Brancato maintains a steady rhythm, and with so many shifting emotions floating around, he makes sure that every actor hits her mark. However, while I was compelled by the performances and the sharp dialogue, I couldn't help feeling that the scenario was rather contrived.

Presented by InProximity Theatre Company at 59E59 Theatres, 59 E. 59th St., NYC. Jan. 18–Feb. 5. Tue.–Thu., 7:15 p.m.; Fri., 8:15 p.m.; Sat., 2:15 and 8:15 p.m.; Sun., 3:15 p.m. (212) 279-4200 or www.ticketcentral.com. Casting by Cindi Rush Casting.