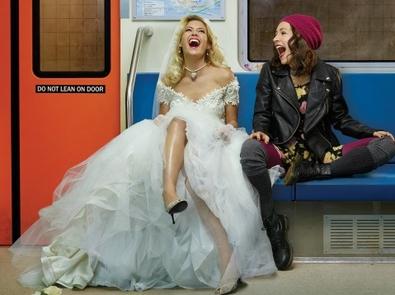 The irresistible hook of VH1's "Hindsight"—the Wednesday night hour-long dramedy about Becca Brady, who time travels on the eve of her second wedding back to the eve of her first wedding in 1995—may be its nostalgia-inducing setting. But that's just a reason to tune into the pilot; for the season's nine other episodes, creator Emily Fox's job was to offer a slew of reasons to return. And offer them she did.
"I originally just conceived it as a story of this girl and her chance to go back and revisit the decision she made to marry this guy," Fox says. "And when we wrote the script, the leap through time was not too dramatic: She was supposed to go from 2009 to 1999." It wasn't until VH1 picked up the show to series that Fox realized the potential for making it a period piece in the more recognizably '90s 1995. "It was something we realized was there after we built the story and the characters," she explains. "And that's why I think it's really effective as a period piece. It was like, 'Let's do a show about some people and put the '90s in it!'"
Among those people are Becca (Laura Ramsey) and her best friend, Lolly (Sarah Goldberg). Estranged in the present day, when Becca awakens 20 years in the past she finds that their friendship is as strong as ever. And while "Hindsight" deals with second chances, the wild joy and bottomless terror of being "an adult" for the first time post-college, and what taking the road less traveled can mean, the real, clap-your-hands-in-glee pleasure of it is in seeing the relationship between Becca and Lolly in all its giddy glory—though always with a knife's edge of sorrow underneath for Becca, who worries she won't be able to prevent their eventual falling out.
"When I picked up the script and I read these two girls, it read so true to me," Goldberg says. "I read it with my friend, my real life Becca, and he was like, 'This is good. You have to go in.' And so I went in and read and then went in again and read for one of our producers, and they sent the tape to Emily, and I think it was really Emily who got me hired. And it's nice to go in for something where you're at the core, and you're not the girlfriend with two lines who looks great in her underwear. This relationship is so beautiful and rich to me and felt so grounded in the area of female friendship. And working with Laura was a dream and a half. Our first day we had to shoot the final scene of the pilot, and she grabbed my hand and started screaming and jumping up and down before the first take and I thought, OK, I'm safe here. I feel like life was imitating art and there was a love story happening between us."
Inspired by this post? Check out our television audition listings!