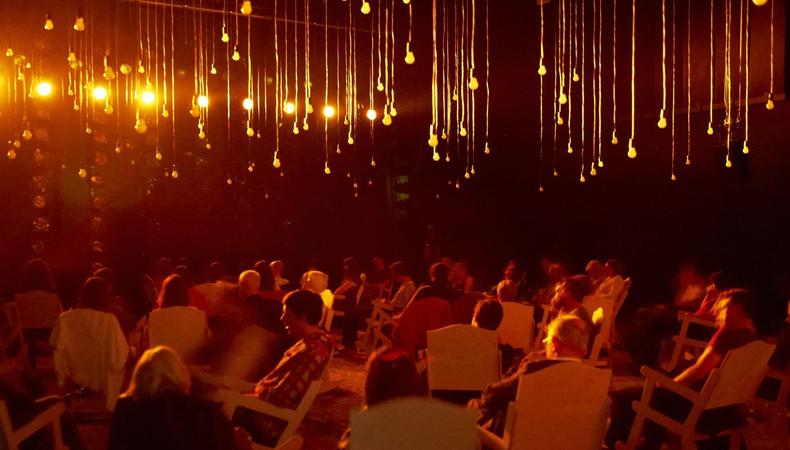 Just when it seems that there are no new ways to experience theater, the BAM Next Wave Festival finds an innovative company ready to reinvent the communal event. Dublin's Pan Pan Theatre Company is occupying the new BAM Fishman Space with an immersive and overpowering production of Samuel Beckett's rarely performed 1957 radio play "All That Fall." The audience is ushered into a large room filled with white rocking chairs facing in different directions. One wall is covered with hundreds of large lights, and sets of smaller bulbs dangle from the ceiling. Once everyone is settled the lights dim, and Beckett's bleak and eerie poetry is broadcast over 12 speakers as the illumination above and in front of the audience fades on and off in shifting patterns.
There's little plot in the recorded story. Overweight, tired Maddy Rooney is walking from her rural home to meet her blind husband, Dan, at the train station. Everyone she encounters along the way has an ill relative. Each is "not well, but no worse." When she reaches the station, the train is mysteriously delayed for 15 minutes. On the walk home Dan refuses to tell his inquiring wife the reason for the lateness. We can hear the heavy breathing of the couple as they trudge along. Maddy begs Dan to be kind to her as he gruffly contemplates taking to his bed and never leaving it. Finally, a little boy runs after the pair and returns an item Dan left on the train. Maddy asks him if he knows the reason for the delay, and the boy explains that a little child fell onto the tracks. The rumbling sound of an approaching train crashes into our ears, the lights blindingly blaze on, and the play is over.
Like the tramps in "Waiting for Godot," the Rooneys and the people they meet say they cannot go on, but they do anyway. The difficult walk home and the tragic train ride are Beckett's metaphors for the lonely journey of life each of us must take.
With no live actors or scenery to distract us, director Gavin Quinn has stripped the play down to its essence. There are only sound and light to convey the devastatingly empty landscape the Rooneys traverse; by placing the audience in individual rocking chairs, it becomes an intensely personal journey. It's as if the characters were speaking to each patron alone. Though their voices are recorded, Áine Ní Mhuirí, as Maddy, and Andrew Bennett, as Dan, inhabit this desperate couple so deeply that you feel as if you are taking every step with them.
Presented by Brooklyn Academy of Music as part of the BAM Next Wave Festival at BAM Fishman Space, 321 Ashland Place, Brooklyn, N.Y. Dec. 19–23. (718) 636-4100 or www.bam.org.
Critic's Score: A