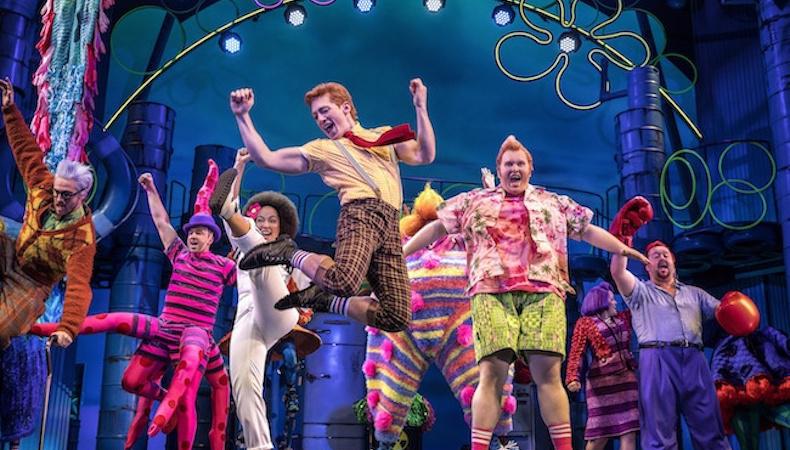 While spring is revered as the time to debut a Broadway show, the fall is not devoid of openings. This fall, in particular, saw the curtain rise on a robust number of plays and musicals, including front-runners in several Tony acting categories, as well as the coveted best musical prize. While the Tony Awards are not for another six months (June 10, to be exact), here's the state of the race as it stands now.
Musicals
"The Band's Visit"
Not since "Hamilton" has a musical received such universally rapturous praise, and there's no arguing that this critical darling, with its Middle Eastern–influenced score and impactfully slow-burning storyline, is the one to beat. Composer David Yazbek, too, seems a lock to finally get his due with a Tony win for his tour de force score. Essentially guaranteed nominations and plausible wins are also in store for book writer Itamar Moses and director David Cromer.
On the acting front, there are three shoo-ins for nominations: Ari'el Stachel, who plays Chet Baker–loving ladies' man Haled, should be nominated in the featured category, with a win within reach. Three-time Emmy winner Tony Shalhoub is also in line to get a nomination for his first-ever musical role. But, as anyone who's seen the gentle piece can attest, the ethereal force behind it is breakout star Katrina Lenk. As the yearnful Dina, Lenk exudes a heartbreak and humor that elevate the performance to legendary, and she's positioned to see that work awarded with the statue in June.
"SpongeBob SquarePants"
Just a year ago, one might have scoffed at the notion that a Broadway musical version of "SpongeBob SquarePants" would be in the mix for Tonys consideration. But director Tina Landau, with her singular vision for unearthing artistry in this loopy adaptation, has rendered it one of the season's most delightful surprises, and it should certainly be recognized with a best musical nomination. Landau, too, should deservedly garner a nod. And the hodgepodge score, pieced together with songs by numerous big-name musicians, including Cyndi Lauper and Steven Tyler, fits the show like a glittering glove and will likely get a nomination for its many artists.
There are also a number of standout performances, namely Lilli Cooper as subdued Sandy and Wes Taylor's maniacal Plankton. But a betting person would put their money on a nomination for Ethan Slater, playing the titular sponge and exerting a physical dexterity and vigor that is unprecedented on a Broadway stage this season.
"Once on This Island"
The final musical to open this fall was the first Broadway revival of the Caribbean-infused "Once on This Island." Eighteen-year-old newcomer Hailey Kilgore is likely to receive a leading nomination, and Alex Newell, who very literally stops the show with the big number "Mama Will Provide," should be nominated in the featured category. The star of this show, however, is Michael Arden's direction, which is innovative while allowing the tuner's incandescent heart to go unencumbered. His transformation of the Circle in the Square Theatre into an island enclave will easily earn him another nomination (he received his first for 2015's "Spring Awakening" revival) and could well see him walk away with the Tony. The show itself will have stiff competition on the revival front from spring additions "My Fair Lady" and "Carousel."
Plays
"Time and the Conways"
A limited engagement that's come and gone, Roundabout Theatre Company's revival of "Time and the Conways" provided beautiful performances by stars Elizabeth McGovern, Anna Camp, and Charlotte Parry, though it's a tossup whether nominators will remember their work more than half a year later; the same can be said for the piece in the revival category. Very plausible is a nomination for helmer Rebecca Taichman, who is currently riding the momentum of her directing Tony for last season's "Indecent."
"The Parisian Woman"
This political drama marked two prominent Broadway debuts: one for playwright and "House of Cards" creator Beau Willimon, and another for Uma Thurman. With its mixed critical response, it's unclear if the show itself will be nominated for best play, and will depend mainly on how it holds up against spring installments. Thurman, though, who's known for her work in film and appears in every single scene of the 100-minute piece, is poised to be recognized in the leading category.
"Farinelli and the King"
This play with music was the final show to open in 2017 and has all the requisites for a great theater story. It is the Broadway playwriting debut of Claire van Kampen, as well as a return to the stage for Oscar and Tony winner Mark Rylance—the duo also happen to be married. That the piece has been lauded critically makes it the new play to beat, with a nomination all but guaranteed for Rylance.
"Meteor Shower"
Following his last Broadway outing, "Bright Star," which earned an impressive five Tony nominations in 2016, including one for best musical, Steve Martin probably shouldn't expect similar accolades for his new play, "Meteor Shower." That said, the effervescent comedy is a crowd-pleaser that's been selling out at top-tier Broadway prices—thanks in large part to screen stars Amy Schumer and Keegan-Michael Key—and could be recognized in a few categories. Tony winner Laura Benanti gives a masterful comedic performance that exemplifies her many years onstage, and four-time Tony-winning director Jerry Zaks ensures the absurdist piece moves like a well-oiled machine through its 70-minute running time.
Odds and ends:
The biggest bit of controversy to come out of the fall theater season came from the very first show to open. Following its first meeting of the year, the Tony nominating committee announced that the Broadway adaptation of George Orwell's "1984" would be ineligible for all Tonys consideration. With a high-profile Broadway debut for Olivia Wilde and a gruesome return to the stage for Tony nominee Tom Sturridge, the news came as a shock to many, including those associated with the production. No reason was given for the decision.
Inspired? Check out Backstage's theater audition listings!