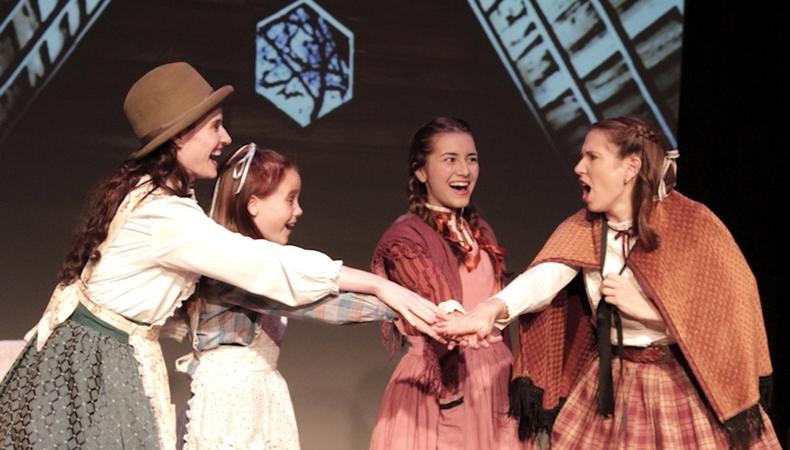 Louisa May Alcott's "Little Women" has been adapted countless times, primarily for film and television, so a stage production was inevitable and a musicalized version even more so. Since Allan Knee's book is more or less self-contained, the show could have even been a non-musical. Its sugary-sweet sentimentality will always appeal to families in general, children in particular. Just as Mindi Dickstein's lyrics serve the plot, Jason Howland's rather unremarkable music exists mainly in service to the lyrics. That combination makes "Little Women – The Broadway Musical" something of a theatrical trifle.
Director Casey Long wisely and correctly puts the emphasis on Knee's script and Erika C. Miller's portrayal of protagonist Jo. Whereas Jo (Alcott's alter ego) is typically described as a tomboy, Long and Miller stress the character's truly progressive search for gender equality in American society at a time when women were still viewed as baby factories. Prominent are Jo's stubborn independence, blunt candor, defiance of society's conventions, fierce loyalty to family and friends, and yearning to become a published author. Miller highlights the character's joie de vivre, and her emotion-packed vocals soar above her cast mates' while expressing Jo's personality, choices, and actions.
Marmee and younger sister Amy excepted, most of the characters surrounding Jo are more like archetypal sketches than real people. Amy is the only character whose arc is portrayed first as a young child (played by Valerie Sloan), then a more mature young lady (Kelsey Jones). Sloan stresses child Amy's resentment of Jo and her own surprising self-loathing, while Jones as the older Amy is exceedingly polite, the character having been transformed into something entirely conventional, all traces of ferocity removed. But Meg (Laura M. Hathaway) is simply the eldest sister, a hopeless romantic, and Beth (Tasha Tormey) is aptly defined by her sweet, kind, and unimposing nature.
Eloise Coopersmith gives the part of supportive and wise Marmee a sense of world-weariness and sorrow she keeps hidden from her daughters. Laurie is also a well fleshed-out character, and in the role, Brandon Sanchez is endearingly conceited and credibly lovesick for Jo. Chris Caputo's Professor Bhaer is erudite and courtly in his courting of Jo, while privately (and in song) impassioned about his love for her. Sherry Domerego's no-nonsense Aunt March tries to steer Jo toward becoming a society belle before she moves on to remaking Amy in her own image. Glenn Koppel's Mr. Laurence is an aristocratic, proper old gent softened by Beth's love of playing his piano.
Playing the entire score on an onstage piano, musical director Bill Strongin provides a firm yet delicate underpinning for the vocalists. Jessie McLean's choreography is well integrated into the song scenes. Masako Tobaru's set design features pages from the Alcott novel, blown up into huge age-yellowed panels, while muted color still photos that are projected onto an upstage screen provide a pleasing variety of interior and exterior backdrops to the action. Miller's period costumes for herself and the show's women are especially lovely, with the gents clothed in handsome finery as well.
Presented by and at the Chance Theater, 5552 E. La Palma Ave., Anaheim Hills. Nov. 17–Dec. 23. (714) 777-3033 or www.chancetheater.com.
Critic's Score: B+