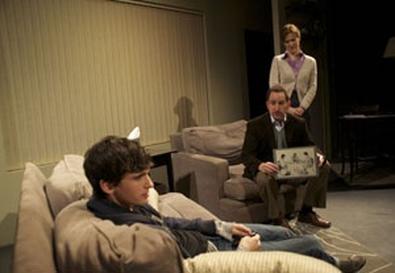 What happens when two psychiatrists have a son? In the case of sullen, troubled 15-year-old David (Tyler Lea), the focal point of Aron Eli Coleite's dramedy "The Family Room," there's lots of therapy going on around the house. And when psychiatrists have to see other psychiatrists in order to retain their licenses, the amount of couch time is nearly suffocating. As smart and well-executed as the play is, all the "How do you feel about that?" onstage is a lot to digest.
We're repeatedly told that David is a smart kid, and indeed, in Lea's meticulously detailed performance, we can see there's a lot going on in his head. But he's failing in school and uncommunicative much of the time, though when he does open up, it's with an articulateness and self-awareness that are hard to believe in a moody teen. Ditto for his soon-to-be-girlfriend, the bipolar and borderline suicidal Jennifer (Leah Barker), but unlike David, she's always able to voice her feelings. Jennifer's shrink is David's dad, the tough-love Dr. Campbell (David M. Pincus), who's more devoted to his work than to his family, to the resentment of David's unhappy mom, Liz (Nancy Stone). Each parent has a shrink of his or her own: Campbell's is a grandmotherly type dying of lung cancer (Jacqueline Sydney), and Liz's is a smart-ass but entertaining egotist (Jonathan Tindle). Meantime, David sees Dr. Goodwin (Coco Medvitz), not long out of Stanford and uncertain at relating to patients not much younger than herself. Like I said, a lot of therapy.
David is convinced that "therapy keeps you sick," and that may be the author's point. None of these characters is very likable. All are complex: No one's entirely the good or bad guy, and the delicate emotional shading is to Coleite's credit. So is David's gradual progress, as we see him credibly accept responsibility, screw up, and suffer the consequences. But boy, does Coleite leave us hanging: Nothing's resolved, and worse, no one is sympathetic enough to make you care what happens to them.
Coleite writes clever, realistic-sounding dialogue, and his dissection of seven characters in manifold degrees of pain is never uninteresting. Director Gwenyth Reitz paces the play just right, and the actors make the most of the florid psychologizing, though Pincus might consider dialing his anger down a notch. They're helped by Jian Jung's modest but ingenious set, a living room with a large central window, whose Levolor blinds part to reveal various real and abstract scenes.
"The Family Room" is a worthy and perceptive analysis of analysis, but what with all the Freud and Jung and shrinks-on-shrinks crossing the stage, I can't say it's a very good time.

Presented by Steve Margetis and Ethos Performing Arts at the Arclight Theater, 152 W. 71st St., NYC. Oct. 1–23. Thu.–Sat., 8 p.m.; Sun., 2 p.m.; additional performance Wed., Oct. 19, 8 p.m. (800) 838-3006 or www.brownpapertickets.com. Casting by Ioanna Chasta.