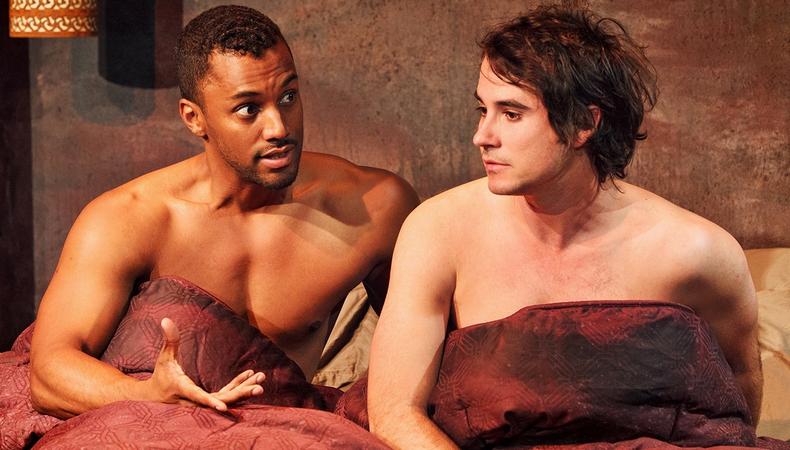 In his new play "A Family Thing," Gary Lennon employs just about every cliché in the book, but he forgets the old one about the key to good writing: "Show. Don't tell." For 90 minutes Lennon tells us all about the characters and their troubles without showing us anything to prove it. The consequence is a work that feels more like a summary than a story.
At least Lennon begins with an action: Sean, a troubled young alcoholic, is preparing to jump off a bridge. We soon find out that Sean's brother Jim has just gotten out of prison and has threatened to come after him. Meanwhile, Sean's and Jim's elder brother, Frank, has lost his job and is having a personal breakdown of his own.
The story has high potential for drama and tension, but Lennon doesn't trust his actors to develop the characters on their own or the audience to figure out any subtleties. Instead, he writes into the script every detailed aspect of the characters' psyches. Rather than creating any scenes to demonstrate Sean's newfound confidence, Lennon has him yell, "I'm not afraid of you anymore!" at Jim. Lennon doesn't include any action to build Frank and Sean's relationship but repeatedly tells us they haven't spoken for years. Then, when Lennon does put them face-to-face, the characters are oddly open about their deep emotional scars. "People always said you were the weakest brother. They were wrong. You were the strongest," Frank says.
Lennon's flimsy writing puts the actors in a tough situation. Talented performers though they may be, no one looks good playing a caricature. Worse, the characters are built on unflattering stereotypes sure to offend African Americans, women, gay men, Catholics, and anyone who has struggled with substance abuse. Still, a few performances register. Sean Wing comes across as a lovable, sensitive underdog as Sean. Maria Cina plays Tess, Frank's hired escort, with a refreshing touch of world-weary wisdom. As tough guy Jim, Johnny Messner is appropriately rough around the edges.
Director Chris Fields effectively makes up for the script's constant scene changes with simple, straightforward blocking. Stephen Gifford's minimalist set helps by creating a strong atmosphere that allows for unencumbered staging. Between long soliloquies about the characters' childhoods, the play does have a few moments of real action that are made exciting by Matt Turner's frighteningly realistic fight choreography.
As it is now "A Family Thing" gives everything about its characters away. The result is a story that has a few interesting ideas but is for the most part predictable and boring. Lennon needs to leave a little more to the imagination in his next draft.
Presented by the Echo Theater Company at Stage 52, 5299 W Washington Blvd., L.A. Feb. 16–March 17. (877) 369-9112 or www.echotheatercompany.com. Casting by bass/casting.
Critic's Score: D-