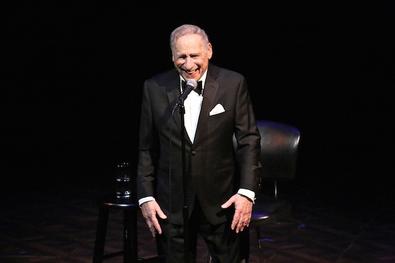 What do Sir Ian McKellen, Joy Behar, and Billy Crystal have in common? Other than the obvious talent, charisma, and fame, these three legends—along with the 10 others on this list—have put it all on the line (and the stage) with autobiographical one-person shows. Drawing from their early years, storied careers, and adventurous lives, these famous actors have shared themselves with audiences across the country while doing what they do best.
Mel Brooks
One of only 12 EGOTs (Emmy, Grammy, Oscar, and Tony winners) this comedic luminary took to the stage in Los Angeles for "Mel Brooks: Live at the Geffen," a one-man, one-night "introspective retrospective" of the director's life and work. The creator of "The Producers," "Young Frankenstein," and many more American comedy classics hit the boards to share stories from his long (and hilarious) career. Missed the live show? HBO is airing a special recording of the legendary event on Saturday, Jan. 31.
Joy Behar
This comedian and former "The View" co-host entertained New York audiences with the recent Off-Broadway production of her one-woman show "Me, My Mouth & I." The play followed Behar's vibrant journey from her Brooklyn upbringing to 16 years on ABC, with plenty of hilarious anecdotes in between.
Bea Arthur
Alone but for her onstage pianist and collaborator Billy Goldenberg, the late, great Bea Arthur charmed audiences with her 2002 one-woman show "Bea Arthur on Broadway: Just Between Friends." The Emmy and Tony Award-winning star of "The Golden Girls" and "Maude" took to the stage (barefoot!) to share songs and stories reflecting her life and career. "Just Between Friends" was recorded live and released on CD after the production closed; fans can download the show on iTunes and Amazon.
Billy Crystal
Billy Crystal's Tony Award-winning solo show "700 Sundays" played not once, but twice on Broadway (in 2005 and 2013) and toured across the country and abroad. The title refers to the number of Sunday's the actor was able to spend with his late father–Jack Crystal died when the actor was only 15–and traces Crystal's life and family from his childhood in New York through his adult years. The play was adapted into a bestselling memoir, and was also aired as a special on HBO.
John Leguizamo
Known for his stand up comedy and roles in films like "Spawn" and "To Wong Foo, Thanks for Everything! Julie Newmar," John Leguizamo is also an accomplished writer and solo performer. His first two plays "Mambo Mouth" and "Spic-O-Rama" (Obie and Drama Desk Award-winning, respectively) were mostly fictional, but his 1998 play "Freak" (later directed by Spike Lee as part of an HBO special) was subtitled "A Semi Demi-Quasi Pseudo Autobiography." Years later, 2002's "Sexaholix...A Love Story," and his latest work "Ghetto Klown" are both autobiographical looks at different facets of Leguizamo's life, image, and career. In addition to delighting audiences and garnering awards, all five one-man shows had Broadway debuts and were recorded and aired on HBO.
Carol Burnett
The crowd is part of the show in this beloved comedian-actor's "Laughter and Reflection with Carol Burnett." Rather than following a traditional, pre-arranged script, the night is formatted as an impromptu conversation with the audience; Burnett performs a question and answer session reminiscent of those on her long-running TV program "The Carol Burnett Show," and banters with lucky audience members in the way that only she can. "Laughter and Reflection" is currently on tour nationwide (with upcoming dates in May) and was adapted into a memoir titled "This Time Together: Laughter and Reflection."
Lily Tomlin
Lily Tomlin is known for her Tony Award-winning performances in one-woman Broadway shows "Appearing Nitely" and "The Search for Signs of Intelligent Life in the Universe," both devised with wife Jane Wagner, but her latest solo work marks her first foray into autobiographical storytelling. "Not Playing With a Full Deck," another Wagner collaboration, premiered at the MGM Grand in Las Vegas in 2009, and offered a sweet (and funny) window into the great actor's life.
Carrie Fisher
"I feel I'm very sane about how crazy I am." So goes a quote from Carrie Fisher's memoir "Wishful Drinking," adapted from her hit stage play of the same name. The frank and funny solo show digs into Fisher's adventures in Hollywood, including her life-changing turn as Princess Leia at the age of 19. "Wishful Drinking" was developed at Los Angeles' Geffen Playhouse, and enjoyed a popular tour before sitting down on Broadway in 2009. It was also adapted by HBO as a documentary, featuring clips from the live show alongside archival footage of Fisher's life.
Rita Moreno
Another EGOT winner, Rita Moreno's autobiographical show "Life Without Makeup" delved into the actor's legendary career. Though not technically a one-woman show (Moreno was joined by a band and two dancers) Moreno did most of the heavy lifting in this part cabaret act, part live memoir, written by Tony Taccone and based on interviews with Moreno about her life. The production premiered to great acclaim at Berkeley Rep, and had the actor singing, dancing, and entertaining at the age of 80!
Chazz Palminteri
Chazz Palminteri wrote "A Bronx Tale" in 1990 as the semi-autobiographical coming-of-age story of an Italian-American boy caught between his parents and a local mobster. The play ran in Los Angeles and Off-Broadway (with Palminteri in every role) before being picked up by Robert De Niro for the film adaptation of the same name. The film was De Niro's first foray into directing, and turned Palminteri into a household name. "A Bronx Tale" debuted on Broadway in 2007 and was followed by a national tour. It has been published in full, and continues to tour the country with upcoming dates January through October of this year.
Jason Alexander
The hilariously named "An Evening with Jason Alexander and His Hair" features audience participation, standup, music…and a toupée. The one-man variety show debuted at Harrah's in Las Vegas, and continues to tour nationally and internationally.
Sir Ian McKellen
Accepted as one of the greatest Shakespearean actors of all time, Sir Ian McKellen's one-man show "Acting Shakespeare" was a revolutionary approach to working with the Bard and all that his text entails. Part master class, part performance and autobiography, "Acting Shakespeare" was released as a TV movie in 1982 and won McKellen a 1984 Drama Desk for outstanding solo performance. McKellen's second solo show "A Knight Out at the Lyceum" hit Broadway in 1994, and explored his coming of age as a gay man and artist.
Elaine Stritch
The theater world was crushed by the loss of beloved Broadway performer Elaine Stritch last year, but lucky audience members got to see Stritch at her finest in her 2001 solo show "At Liberty." The tour-de-force performance offered an inside look into Stritch's adventurous life on and off the stage. The show combined song and dance with hilarious and soul-baring storytelling, and won the 2002 Tony Award for best special theatrical event along with the Drama Desk for outstanding solo performance. "At Liberty" was also recorded and released as an Emmy Award-winning film of the same name.
Inspired by this post? Check out our audition listings!