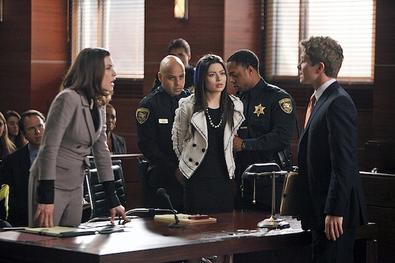 Starring Julianna Margulies, Matt Czuchry, Christine Baranski, and others, "The Good Wife" has been one of the smartest, most well-crafted shows on network television since 2009.
While several famous actors have appeared in small roles on the show (Michael J. Fox and Nathan Lane among them), we're looking at the actors who've surprised us with their roles as lawyers, criminals, judges, and the likes.
Who's been your favorite "Good Wife" guest star? (If you don't have one, that's fine. But if you don't have one because you don't watch "The Good Wife," call in sick tomorrow and get started!)
Matthew Perry
The "Friends" star had a small arc during the show's third and fourth seasons as Mike Kresteva, who runs again Peter (Chris Noth) for Illinois governor, and who Peter epically punches in the face.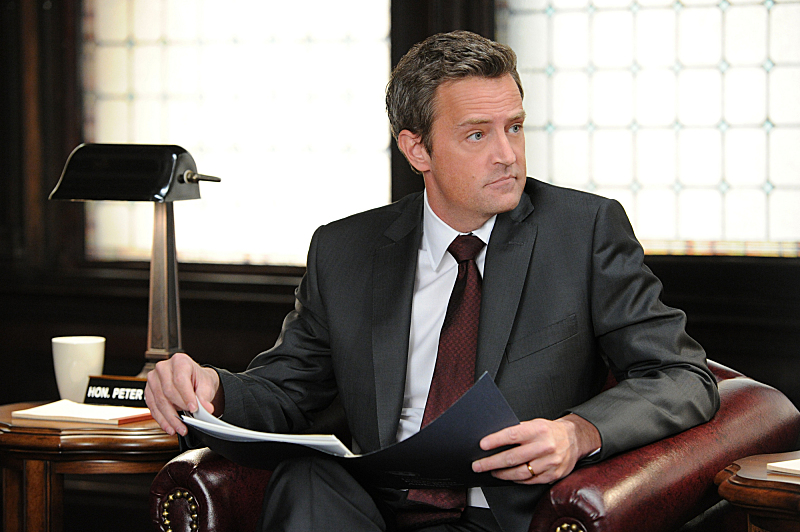 David M. Russell/CBS
Jonathan Groff
The former Backstage cover star and "Looking" actor graced "The Good Wife" on the Season 3 episode "Live from Damascus." Jonathan Groff plays Jimmy Fellner, the brother of a girl who was captured while studying Arabic in Syria.
Laura Benanti
On the Season 5 episode "Tying the Knot," Tony winner Laura Benanti plays Renata Ellard, the most recent lover of "The Good Wife's" most devious killer, Colin Sweeney. When Alicia (Julianna Margulies) stops by the lovebirds' engagement party to get legal papers signed, she finds herself at a murder scene again, and Benanti is not as sweet and innocent as she seems.
Martha Plimpton
Though Martha Plimpton is a recurring character, she's just too hysterical to ignore. As defense attorney Patti Nyholm, Plimpton uses her character's pregnancy and motherhood as a tactic for delaying hearings, being late, etc. Plimpton took home an Emmy in 2009 for outstanding guest actress in a drama series for the role.
Rita Wilson
Rita Wilson pops up every once in a while as Viola Walsh, a competing defense lawyer and acquaintance of Diane's (Christine Baranski). And when Walsh's character comes into town from California, you know there's gonna be trouble.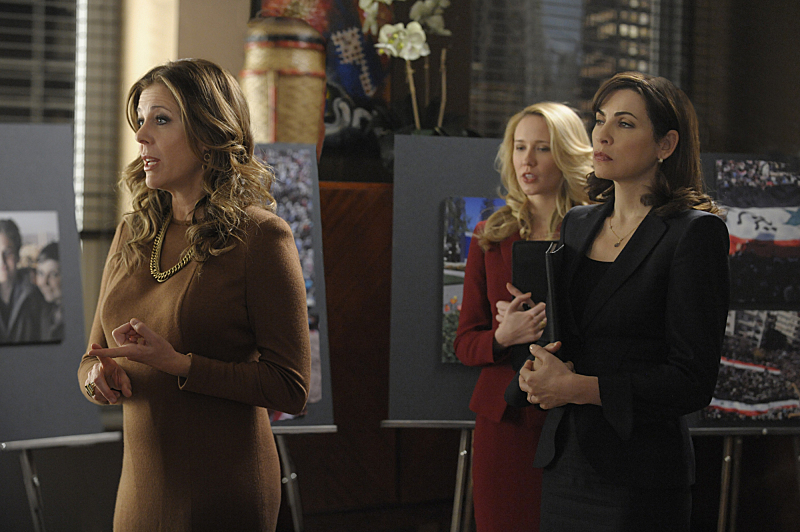 Jeff Neira/CBS
Kelli Giddish
The "Law & Order: Special Victims Unit" actor guest stars on four episodes of the show as Sophia Russo, a private sector investigator who's romantically involved with Kalinda (Archie Panjabi).
Nestor Carbonell
In the Season 5 episode "The Deep Web," Nestor Carbonell plays a flirtatious juror with whom Alicia later goes out to lunch.
Aaron Tveit
The "Graceland" actor took his turn on "The Good Wife," as lawyer Spencer Zschau in the Season 3 episode "Executive Order 13224."
Audra McDonald
Six-time Tony winner Audra McDonald play Liz Lawrence on the Season 4 episode "Runnin' with the Devil." As Alicia's law school nemesis, McDonald's character goes up against her in a case involving Lemond Bishop (Mike Colter).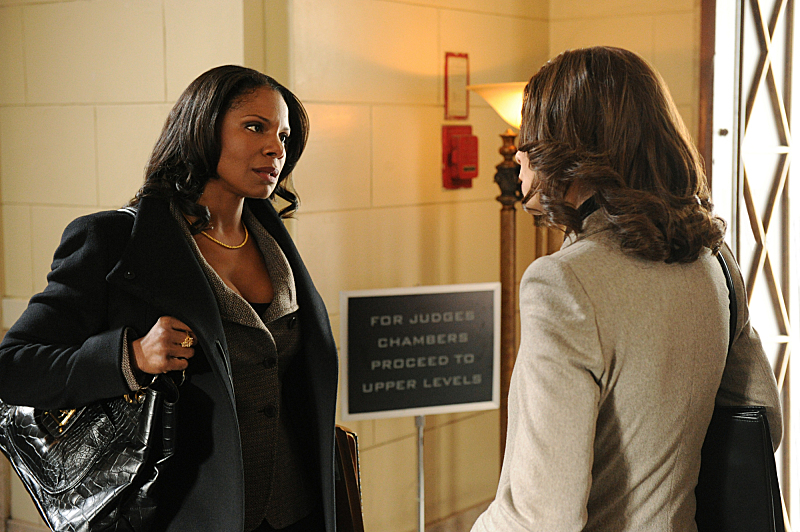 David M. Russell/CBS
Linda Emond
This two-time Tony nominee appears in three episodes of "The Good Wife" (thus far) as Judge Leora Kuhn, a military judge whom Alicia argues in front of, and later helps on a case.
Kate Burton
The "Scandal" and "Grey's Anatomy" actor portrays Chief Justice of Illinois Victoria Adler who respects Diane deeply and tries to help her become a judge, though she later retracts the offer.
America Ferrera
The actor formerly known as Ugly Betty appears in four episodes as Natalie Flores, a college student who worked for Peter's state's attorney opponent Wendy Scott-Carr (Anika Noni Rose). When Eli (Alan Cumming) tries to expose her as an illegal immigrant, he finds something attractive in her instead. The whole unrequited love situation brings out the surprisingly endearing side of Eli.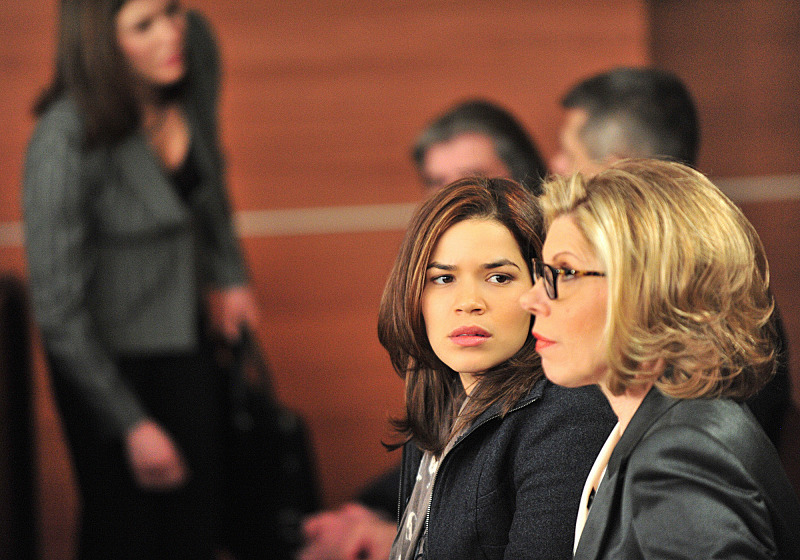 JP Filo

Parker Posey
Parker Posey plays Eli's ex-wife for three episodes throughout Season 3. The "House of Yes" actor is a perfect match to Eli, making us wish the two would rekindle their love.
Amy Sedaris
Amy Sedaris licks whipped cream off of Alan Cumming's fingers. And yes, you read that correctly. Sedaris plays Stacie Hall for three episodes during Season 3, a lobbyist who appears to be Eli's match. However, when she becomes his ex-wife's campaign manager, her manipulative (and sexual) tricks are too powerful for Eli to fight.
Bebe Neuwirth
What kind of show would "The Good Wife" be without a Bebe Neuwirth guest role? The two-time Emmy winner plays one of the many judges we see our favorite defense attorneys argue in front of.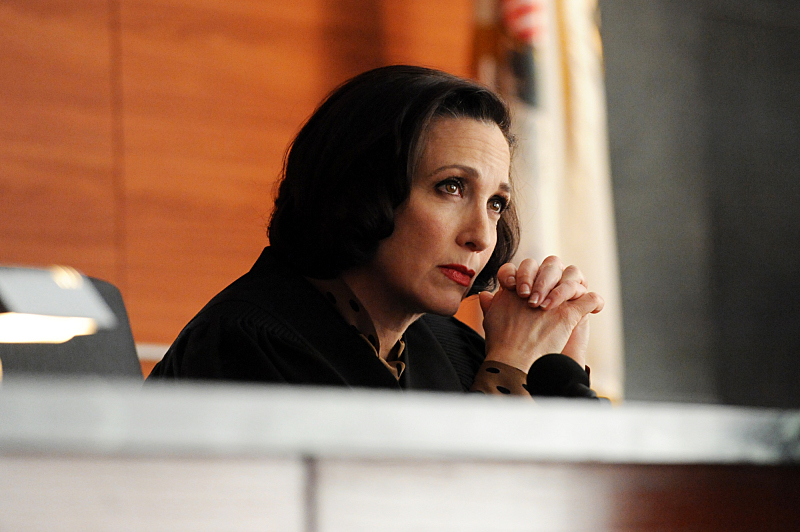 David M. Russell/CBS
F. Murray Abraham
Most recently seen in Wes Anderson's "The Grand Budapest Hotel" and on "Homeland," F. Murray Abraham plays Burl Preston on "The Good Wife," a big shot lawyer from Los Angeles.
Lisa Edelstein
The "House" actor appears in three episodes of "The Good Wife" including "Get a Room," "Feed the Rat," and "Marthas and Caitlins."
Eric Bogosian
Eric Bogosian spends three episodes on the show in Season 5 as an agent with the Office of Public integrity who's determined to prove someone rigged Peter's election for governor of Illinois.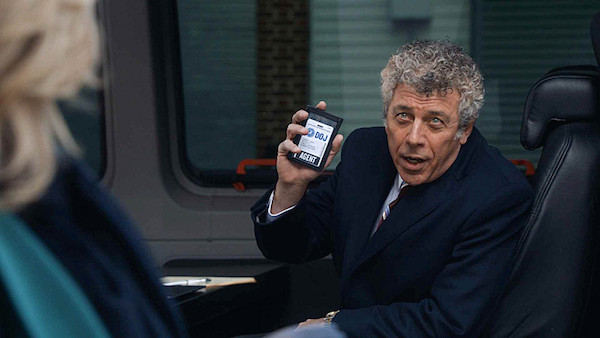 CBS
Gillian Jacobs
The "Community" star guest-starred on "The Good Wife" before the Emmy noms and critical acclaim. Gillian Jacobs plays Sonia on the pilot episode!
Jerry Stiller
The "King of Queens" actor made an appearance as one of the show's many judges. (Among them are Denise O'Hare, David Paymer, Peter Riegert, and Jeffrey Tambor, to name a few.) Stiller plays Judge Felix Afterman on the Season 2 episode "Silver Bullet."
Christina Ricci
In the Season 4 episode "Anatomy of a Joke," Christina Ricci plays Therese Dodd, a vulgar comedian who never apologizes for anything. When she gets sued for taking her top off on live TV (supposedly to perform a breast exam), the network decides to sue her for damages. However, the case is only made more difficult for Alicia and Cary (Matt Czuchry) when she can't keep her potty mouth closed.
Sarah Silverman
Most recently with a guest-starring role on "Masters of Sex," Sarah Silverman was a "Good Wife" guest star as well. In a part so perfectly fitting with her unapologetic/often sexual stand-up routines, Silverman plays Stephanie Engler, a woman who runs a website that allows users to have affairs with random matches.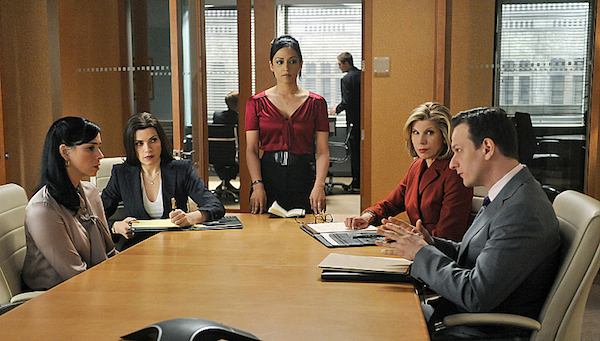 Jeff Neira/CBS
Lily Rabe
The "American Horror Story" actor has a teeny, tiny role on "The Good Wife." As Petra Moritz, a reporter first appearing in the show's second season, Rabe's role is the kind of quick take that makes you say, "Is that Lily Rabe?!?!"
Matt Letscher
Currently recurring on "Castle" and "Boardwalk Empire," Matt Letscher guest-starred on "The Good Wife" on the Season 2 episode "Two Courts." Letscher plays former campaign manager Adam Boras who attempts to go over Eli's head and bring Peter big cash donors to his cash-poor campaign.
Hunter Parrish
In the Season 5 episode "Dramatics, Your Honor,' Hunter Parrish plays…I…I can't. This one's too painful for any fan of the show to discuss. See why here.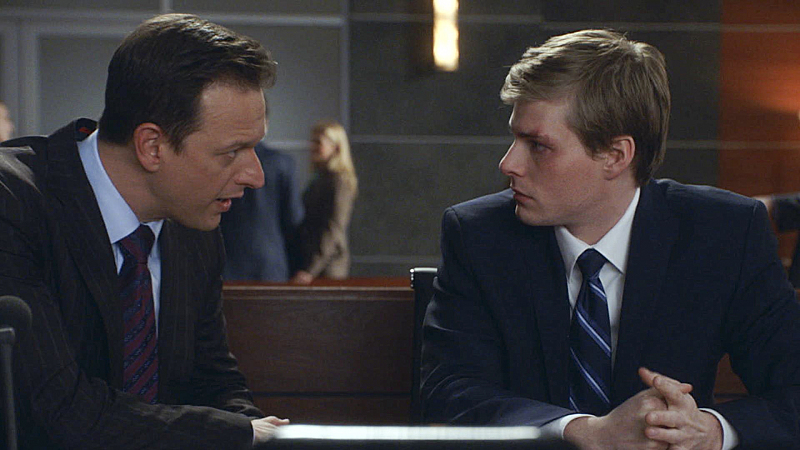 Courtesy of CBS
Richard Kind
Currently on Fox's "Gotham," Richard Kind first guest-starred in one of the most pivotal and nail-biting episodes of "The Good Wife" as Judge Alan Davies on the Season 5 episode, "The Next Day"; it's the one after the shit hits the fan, as any "Good Wife" fan remembers.
Tracy Thoms
Known for playing Joanne in "Rent," Tracy Thoms appears on one episode of the show (Season 4's "Runnin' with the Devil") as Lemond Bishop's sister, Judy.
Corey Stoll
Most recently seen in "This Is Where I Leave You," the "House of Cards" actor plays Collin Grant in the second episode of "The Good Wife."
Wallace Shawn
Every so often, Wallace Shawn ("Toy Story") pops up as Lemond Bishop's (the biggest drug dealer in Chicago) personal (and most definitely crooked) attorney.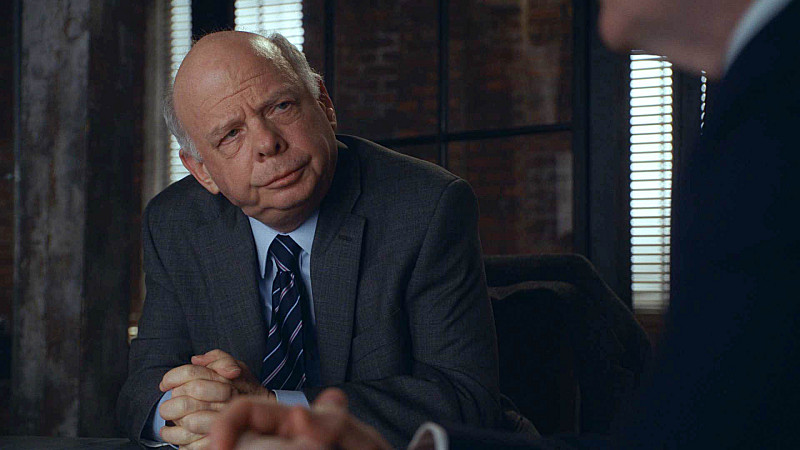 Courtesy of CBS
Kyle MacLachlan
In two Season 4 episodes, Kyle MacLachlan ("Twin Peaks" is coming back!) play Josh Perotti who has Eli on tape committing a felony regarding political donations. He and David LaGuardia (Hamish Linklater) offer to make Eli a deal if he wears a wire and gets Peter confessing to the crime as well.
Kristin Chenoweth
As Peggy Byrne in two Season 4 episodes, this Tony winner is a political reporter who gets a bit too personal with her questions but is quick to quiet reporters when they dig into her personal life.
Jason Biggs
Before his epic "Orange Is the New Black" comeback, Jason Biggs appeared on two episodes of "The Good Wife" as Dylan Stack in Seasons 3 and 4. He first posed as the lawyer for the creator of online currency Bitcoin, but it's later discovered that he's one of its three inventors.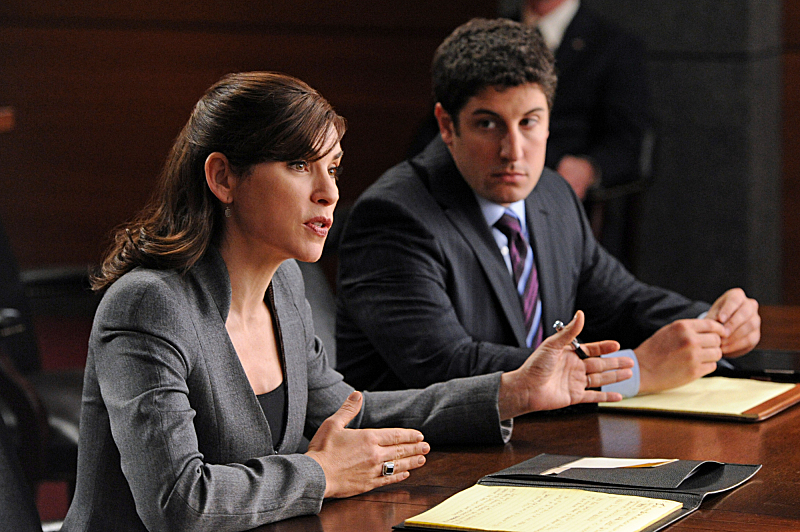 David M. Russell/CBS
Miranda Cosgrove
On the Season 2 episode "Bad Girls," the actor formerly known as Carly Shay ("iCarly"), plays Alicia's pop star client Sloan Burchfield who's accused of attempted murder after allegedly driving drunk.
Tamara Tunie
Amidst her 14 years playing Dr. Melinda Warner on "Law & Order: Special Victims Unit," Tamara Tunie guest-starred on one Season 4 episode of the hit CBS show as Serafina Norvy where the lawyers battle a West Nile Virus case.
Bryce Pinkham
Tony nominee for "A Gentleman's Guide to Love and Murder" Bryce Pinkham plays Dr. Hanson on the Season 1 episode "Unplugged," about a case involving the wife of a comatose musician.
Pablo Schreiber
The "Orange Is the New Black" villain appears on the Season 2 episode "Ham Sandwich" as Gregory Mars. The episode follows Lemond Bishop's divorce, Kalinda's grand jury subpoena, and Peter's campaign (The first one!).
Inspired by this post? Check out our television audition listings!