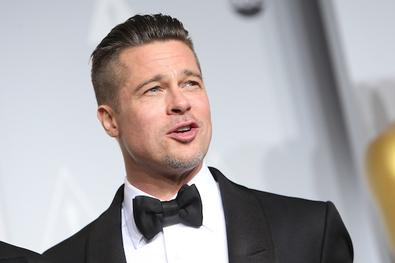 Since the 1960s, the Hollywood Walk of Fame has become a marker of sorts of who's made it in American entertainment. Everyone from Bette Davis to Greta Garbo to Pee-wee Herman is represented—and yet, there are many who are not.
To earn a star on Hollywood Boulevard, however, isn't just about fame and power. You have to raise $30,000, express your desire to have a star (and promise you'll attend its unveiling), and wow the selection committee, among other requirements.
For one reason or another, the following influential actors don't have stars with their names on them.
Robert De Niro
Can you believe two-time Oscar winner De Niro, best known for "The Godfather: Part II," "Goodfellas," "Casino," and "Taxi Driver," does not have a star on the Hollywood Walk of Fame? Aside from his legendary performances, De Niro founded the Tribeca Film Festival in NYC, and has left a last impression on the film industry for generations to come.
Leonardo DiCaprio
Well yeah, if they're not going to give him an Oscar for one of his performances, why should he have to earn $30,000 worth of recognition for a star on Hollywood Boulevard? Agreed.
Judi Dench
This list just gets crazier and crazier. If Dame Judi Dench, Tony and Oscar and six-time Olivier winner—still killing it as of late in 2013's "Philomena"—isn't safe, who is?
Tina Fey
The wildly talented Fey spent years on "Saturday Night Live" before giving the world "30 Rock," "Mean Girls," and now, "Unbreakable Kimmy Schmidt." And yes, yes, earning a star isn't just about talent and whether or not you deserve one—but Fey really does.
Diane Keaton
Keaton has been acting since the 1970s, so it's a real shock she's yet to receive a star on this famed boulevard. "Annie Hall," all of the "Godfather" films—she even directed an episode of "Twin Peaks"!
Brad Pitt
"Fight Club," "Moneyball," "Twelve Monkeys," that amazing guest-starring role on "Friends"—Pitt is one of the most famous and respected actors of his time. Having just won an Oscar as part of the team behind "12 Years a Slave," you'd think this iconic performer has done more than enough to earn his star already!
Julia Roberts
Arguably one of the most famous female actors of her time, Roberts continues to deliver groundbreaking performances. From "Pretty Woman" to "Notting Hill" to her Oscar-winning role in "Erin Brockovich," to name a few, Roberts shows no sign of slowing down. However, part of the application to get a star is promising you want one and will attend the unveiling ceremony, and apparently, Roberts just isn't interested.
Jerry Seinfeld
It's fine, "Seinfeld" isn't widely considered the most iconic sitcom of all time or anything. Psh, Hollywood Boulevard would be lucky to have this native New Yorker!
Denzel Washington
Washington has won two Oscars, and has been nominated another four times since 1988, so this one comes as another surprise. You might not be able to visit him on the Strip, but at least you'll be able to see him in theaters; the actor has both "The Magnificent Seven" and "The Equalizer 2" in the works.
Inspired by this post? Check out our audition listings!