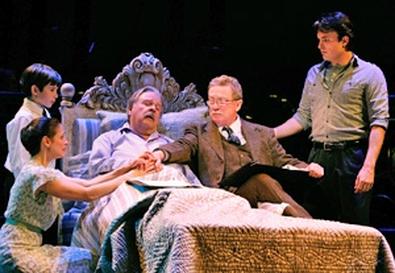 Producer David Merrick and producer-director-co-author Joshua Logan were unable to assemble a top-tier team for their 1954 musical stage adaptation of Marcel Pagnol's classic play trilogy about young (and older) love on the wharves of Marseilles. Rodgers and Hammerstein wanted to do it but turned them down, not wanting to mess with the volatile Merrick, and the producers ended up with playwright S.N. Behrman (not known for his expertise in musicals) and songwriter Harold Rome (more successful writing contemporary revues). The result, "Fanny," managed a run of more than two years but failed to join the ranks of often-performed Golden Age musicals. The film version went so far as to cut all the songs. As a work of art, "Fanny" aspires more than it succeeds, despite arresting moments. The wan Encores! concert version manages neither.
Despite its title, the star of "Fanny" is not the 18-year-old daughter of a shellfish vendor who loves Marius, a bar owner's son, only to be left alone and pregnant by him after Marius pursues his long-standing desire to go to sea. The real stars are Cesar, Marius' father, and his childhood friend, the wealthy recent widower Panisse, who longs to marry Fanny. Panisse finally wins his suit, giving a name to Fanny and Marius' child, and husband and wife set up a loving if chaste household. Cesar is named godfather and thus can see his grandson whenever he wishes. All is well until Marius returns and threatens to upend everything. Fanny, you see, still loves him.
If "Fanny" had second-tier writers, it sported a first-rate cast, led by Walter Slezak as Panisse and Ezio Pinza as Cesar. As evidenced by an "Ed Sullivan Show" appearance, these two stage veterans combined oodles of charm with acting of considerable depth. Encores! has inexplicably cast the fine supporting character actor Fred Applegate as Panisse. Though he seems to understand more than anyone else on stage just who his character is and gives the most honest performance, the uninventive Applegate lacks the star power necessary to elevate the character to the required level. It's just not an arrow in his quiver. George Hearn's perfunctory Cesar is charm-deficient, and the relentless comic sparring between the two, which hides an emotional connection, falls flat.
The rest of the principals are undone by director Marc Bruni's callow, tone-deaf direction—this could just as easily be Monterey as Marseilles, for all the European flavor we get—and adapter David Ives, the demon barber of 55th Street, who cuts efficiently but ignorantly. (What he does to Hearn and Applegate in his edits for the scene in which Cesar finds out about the baby and the marriage should be actionable.) James Snyder's excessively boyish, one-note Marius doesn't even have the virtue of being sung well, considering all the pop voice-breaking and scooping going on in the impassioned title song. Elena Shaddow's Fanny sings prettily but is more suburban mall rat than French wharf rat: You expect to hear her burst into "How Lovely to Be a Woman" at any moment. Indeed, Bruni seems to have given his leading lady only one acting note: "You've become a woman in Act 2." Shaddow handles it well enough. As Fanny's blowsy, randy, but socially conservative mother, the authoritative Priscilla Lopez, stepping in at the last minute for an ailing Rondi Reed, is miscast, altogether too chic and attractive for the part.
Philip J. Lang's robust orchestrations and Trude Rittman's miles of dramatic underscoring impress under Rob Berman's baton and go far in covering up the fact that Rome's score is more a series of one-idea songs than a satisfyingly integrated dramatic work. This inbred, cookie-cutter production by Encores! not only doesn't try to obscure the show's weaknesses; it adds to them. "Sound good and they will come" seems to be the motto, which is depressing for an institution that by fiat is increasingly the custodian of our Broadway musical heritage.
Presented by Encores! at New York City Center, 131 W. 55th St., NYC. Feb. 4–7. Thu. and Fri., 8 p.m.; Sat., 2 and 8 p.m.; Sun., 6:30 p.m. (212) 581-1212 or www.citycenter.org. Casting by Jay Binder/Mark Brandon.