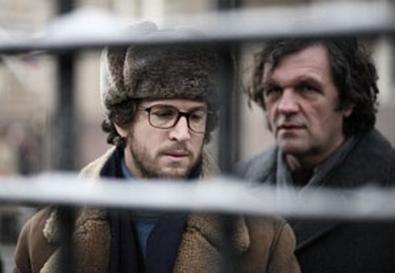 Intelligent international Cold War espionage sagas seemed to have peaked in the 1960s and '70s. Which makes the emergence of Christian Carion's engrossing spy thriller "Farewell" ("L'affaire Farewell") all the more welcome. In this incredibly true Reagan-era character study about a spy who tries to come in from the cold, Carion has cleverly cast two actors (Emir Kusturica and Guillaume Canet) who are as well-known for their directorial talents lately as they are for their thesping.
Kusturica plays Col. Sergei Grigoriev, a KGB agent who becomes discouraged with the Soviet Union's Communist ways and secretly hatches a plan that ultimately contributes to the downfall of the USSR and the emergence of a new Russia. The operation involves Sergei handing off important documents to a French go-between named Pierre (Canet), a Moscow-based engineer with no political agenda. Pierre is enlisted in this cat-and-mouse game designed to thaw U.S.-USSR relations by showing that the Russkies aren't as bad as President Reagan makes them out to be. Over the course of two years, Farewell (Sergei's spy handle), with the help of Pierre, gets these documents into the hands of Reagan (Fred Ward) and new French President Francois Mitterand (Philippe Magnan). But entrenched political views (particularly from Reagan) and red tape nearly run Sergei's operation aground. This is clearly a man with an idealized notion of a new Russia, one he can be proud of for his beloved but troubled teen son.
The film cuts from fascinating exchanges between Pierre and Sergei in Moscow and the various CIA operations of France and the U.S. to the offices of the U.S. and French presidents. But at its heart is a terrific performance by the enormously likable Kusturica, the Serbian director and sometimes actor who is the perfect choice for the character. Remarkably, this all supposedly happened, and it gives you hope in a world still dominated by strife and political conflict. Canet ("Tell No One") is also wonderfully expressive and spot-on as a man suddenly thrust into the world of espionage for a stranger's unique vision. They memorably play this chess match with style and humanity. Magnan makes an acceptable Mitterand; Ward parlays his striking resemblance to Reagan into a reasonably convincing impersonation, although these scenes are the least intriguing in the whole film.
Carion has not played loose with the facts, but he clearly had to imagine much of the dialogue between the principals. We can only hope it's true to life, because the tale of Farewell, with its momentous world-changing events, is worth savoring—and remembering in these troubled times.

Genre: Drama

Written and directed by: Christian Carion

Starring: Emir Kusturica, Guillaume Canet, Alexandra Maria Lara, Dina Korzun, Fred Ward, Willem Dafoe, David Soul, Niels Arestrup, Philippe Magnan.