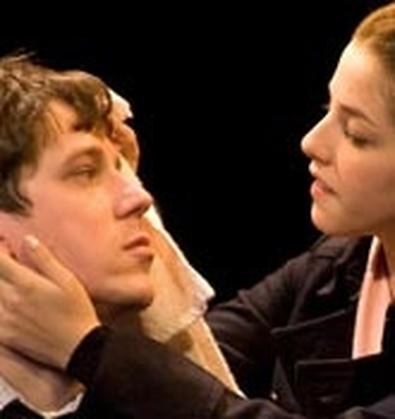 Named for a Metro stop on the Washington underground, the one closest to K Street lobbyists and think tanks, Farragut North is a shallow play given an absorbing production. Written by Beau Willimon, who once served on Gov. Howard Dean's staff, this roman à clef wants to give audiences a behind-the-scenes insight into the shenanigans of a primary campaign. (It takes place during the Iowa caucuses.) Yet, though it's filled with colorful characters who delight in deceit, the plot is too tired and familiar to impart much meaning to one of democracy's most volatile and exciting events.
Starting promisingly with rat-a-tat, scatological dialogue à la David Mamet, the play devolves into a less-than-enlightening chronicle of the downfall of a hotshot, seemingly "bullet-proof" press spokesman named Stephen, played with frightening intensity by John Gallagher Jr. The 25-year-old Stephen is both idealistic ("Every day is a chance to change history") and manipulative ("I'm not a good person," he says about himself). Ambitious and clever, he carelessly lets himself be sidetracked by an offer from Tom, an official in a rival candidate's campaign, to jump ship. That indiscreet encounter, and a one-night stand with Molly, a 19-year-old intern, gets him in trouble with his boss, Paul. Stephen, in turn, gets Paul in trouble, although the whole tumult seems insignificant. In this "politics makes strange bedfellows" atmosphere, trust is the great leveler; break it, seek revenge, and all fall down. But unlike, say, State of the Union or The Best Man, the play's various personal strands don't mesh with the political ones. The wrong turns taken seem miniscule and unimportant. Separated from the action, the candidates themselves are ciphers, merely a frame around petty incidents. Only the sequence involving Tom's underhanded wooing of Stephen is urgent and intriguing enough to rise above the unremarkable.
The production is impressive physically, and Doug Hughes' meticulous direction makes the evening seem more imperative than it is. Gallagher's innate charm works to make his smarmy character into an engaging young man who misses a few rungs in his climb up the ladder. As the pragmatic Paul, Chris Noth has a gravitas made more piercing by suggestions that he's on the verge of being over the hill, while Olivia Thirlby is an enigmatic Molly. As enterprising reporter Ida, Kate Blumberg balances threat with entreaty, while Isiah Whitlock Jr. runs with the role of Tom. In his hands, the character's machinations are a model of the kinds of ambiguity and complexity that the evening needs.
Presented by and at Atlantic Theater Company,
336 W. 20th St., NYC.
Nov. 12-29. Tue.-Fri., 8 p.m.; Sat., 2 and 8 p.m.; Sun., 3 and 7 p.m.
(212) 279-4200 or www.ticketcentral.com.
Casting by Telsey + Company.