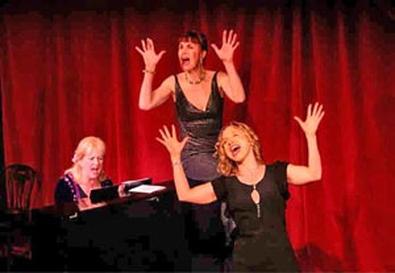 Not-too-cynical silliness from three in-your-face British ladies is warming on these cold, dark days. "Fascinating Aïda: Absolutely Miraculous!" consists of two "Absolutely Fabulous"–aged comedian-singers plus one bright young thing in an evening of satirical songs and deadpan comedy. There's no real plot in this musical revue, just a series of send-ups written by the two founding members, Dillie Keane and Adèle Anderson, and directed with élan by Frank Thompson.
"I Just Want to Be Famous," the opening number, shows us each performer's style. Keane, in a blond pageboy, has a perpetually nervous look on her face and a "Can you believe this?" expression. She's the main player of the Steinway grand on stage. In this song, she claims to be the Duchess of York's emergency nutritionist. Liza Pullman breezes in wearing a satin dress and boasting shrilly that she's just flown in from Marrakesh, where she's been "sucking the life force out of a small Indian child." Anderson, in a severe bright-red bun, has a comic sneer and a strong alto; in the opener she says she's seeking to have her own "reality show where I beat my eating disorder."
Other numbers include "Getting It," a happy song about Viagra and its benefits to women, and "The Markets," in which the ladies teach us about the economic crunch. A song cycle done in Bulgarian style (think of the popular "Le Mystère des Voix Bulgares" CDs), consisting of short ditties about celebrities sung in three-part harmony punctuated with little yips, is so successful that it's a delight to have it continue in Act 2. It includes a ditty about Paul McCartney's divorce from Heather Mills, with the lines "Vengeful monopod/He is very glad/She is hopping mad/Hoppity, hoppity, hop."
Pullman's big smiles and mugging sometimes seem at odds with the low-key styles of Keane and Anderson, but she makes up for it with her pure soprano, especially in the serious torch song "I Watched Two People." It's particularly gratifying that the comedy is smart. One rarely hears the word "assiduously" used so well in comic patter.
Presented by Theatre Projects Trust, London, in association with Nick Brooke Ltd., as part of Brits Off Broadway 2009 at 59E59 Theaters, 59 E. 59th St., NYC. Dec. 17–Jan. 3. Tue., Thu., and Sun., 7 p.m.; Wed. and Sat., 8 p.m.; Sat., 2 p.m.; Sun., 3 p.m. (Additional performance Fri., Dec. 18, 8 p.m.) (212) 279-4200 or www.ticketcentral.com.