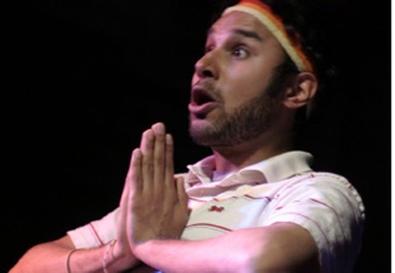 Identity, culture, and race can be as vast as the universe and as nebulous as the clouds in the sky. The members of Brownstar use this concept to their advantage by turning their self-exploration into a space voyage in the thrilling "Faster Than the Speed of White."
In 70 engaging minutes, Captain Northstar (Pushkar Sharma) and Ensign Southstar (Sathya Sridharan) probe their South Asian roots with spoken word, science fiction, classic hip-hop, and pop culture. Although it's not always a smooth blend, the different components create an exciting, innovative funnel that the recent college grads use to voice their frustrations on Hollywood portrayals and societal opinions.
Staged seamlessly, with carefully inserted sound clips and a live score provided by Chuck AKA The 3rd Dimension (Charles Kim), this show sometimes errs on the side of poetry and asks silly questions. Nevertheless, it's funny, introspective, and will appeal to the young at heart.
Presented by Brownstar as part of the New York International Fringe Festival at the 4th St. Theatre, 83 E. Fourth St., NYC. Aug. 20–26. Remaining performances: Sun., Aug. 22, 5:30 p.m.; Wed., Aug. 25, 3:45 p.m.; Thu., Aug. 26, 8:45pm. (866) 468-7619 or www.fringenyc.org.