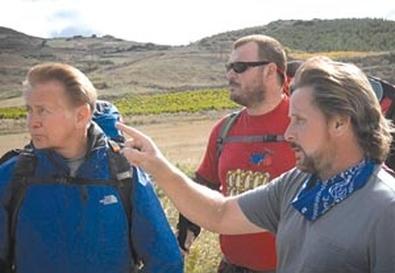 In the inspiring new film "The Way," a father travels to France to retrieve the body of his son, who died while making a pilgrimage on El Camino de Santiago. The estranged father and son are played by real-life father and son Martin Sheen and Emilio Estevez, who are as close as can be. This film is the third project actor-writer-director Estevez has directed his father in (after "The War at Home" and "Bobby").
"Frankly, there's nothing I love doing more than working with this guy," says Sheen, who may finally get his first Oscar nomination with this moving performance.
The two spoke to Back Stage while traveling together on a bus to Virginia for their latest adventure. As the poster for "The Way" puts it, "Life is too big to walk it alone."
Back Stage: When did you realize you wanted to be an actor?Martin Sheen:
Honestly I don't have any memory of not being an actor: when I was a little kid until I started going to the movies and then gradually it dawned on me that I was like those people up on the screen. I knew that I would never be happy if I didn't pursue acting, because it possessed me so and gave me such joy and confidence.
Emilio Estevez:
The first few years of my life we were in New York, and I'd go to the Living Theatre or the Public Theater where my dad would be performing, or Shakespeare in the Park, and watch him. I was always fascinated by what he did.
Sheen:
I remember he had written a play while he was a senior in high school, and he invited [my wife and me] to come and see it. He was going to be in the play as well. He had a very emotional scene, and he did it so brilliantly and so naturally. I said to my wife, "Oh, my God, he has it too." He was an instinctual actor.
Back Stage: Emilio, did you ever read Back Stage, or its predecessor in L.A., Drama-Logue [acquired by Back Stage in 1998] when you were younger?Estevez:
Man, I used to scour the pages of Drama-Logue looking for work. Back in 1979 and 1980 I used to get Drama-Logue and circle the potential jobs and then call my agents at the time and scream at them, "Why am I not going out for this? Don't tell me there's nothing going on in town. You can't lie to me. I saw so-and-so is casting and this movie is casting." It was a great, great resource.
Back Stage: Martin, how do you typically prepare for a role?Sheen:
I try to relate it to myself. If I get a character, it's like being given a license to explore parts of my own personal makeup. All actors, all artists really, have a well of emotional goods at their disposal. When you get a job it's like you've been given a license to go into that well and to conjure up the necessary emotional life of the character. In a sense, you bring a personal or private pain public. But if I have difficulty relating to a character, if it's something outside of myself, then I try to imagine an actor that I admire doing the part and I pretend that I'm that actor. Then eventually I try to overtake that actor and make the part my own. George C. Scott was a great friend of mine, God rest him, and whenever I got a part that I didn't think I could get a handle on I would start to interpret myself being George playing the part. Then eventually the part would become mine. George would sort of pinch-hit for me. It would make me go outside of myself. Acting is something that we go deep within ourselves to achieve, but sometimes we have to start on the outside.
Back Stage: What's your best advice for the actors reading Back Stage?Estevez:
There are a million people out there I call "dream crushers." If you allow them to get to you, then you'll never be fulfilled. Follow your dreams even in the face of adversity because that is the only way that you become truly whole and truly happy. You only want people around that are going to encourage you. Not falsely, but you just want people that are not going to crush your dreams.
Sheen:
I would just say that being an actor has been the greatest grace of my life. I could not have had a happier life. I could not have been any more fortunate. I couldn't have asked for anything better. It led me to my wife and allowed me to have a family. It led me to myself and allowed me to become myself. And it has been the source of the greatest pleasure to my spirit and my imagination. I love being an actor. And I give thanks and praise every day that I was lucky enough to do it all of my life.