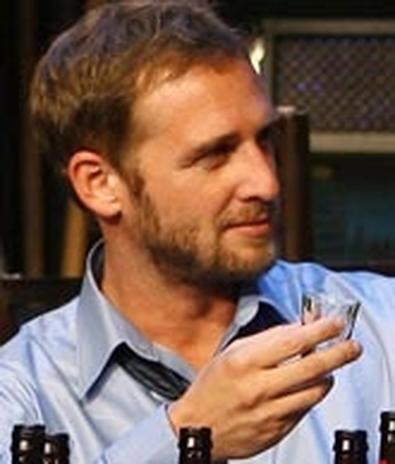 This has been a big year for Edward Albee. The 80-year-old Pulitzer Prize winner has had three plays make their New York debuts in 2008. Granted, the prolific Albee didn't actually write Fault Lines, Stephen Belber did, but make no mistake — it's an Albee play.
Just look around the stage and you'll see Albee's familiar target — the middle-class milquetoast — attacked by an interlocutor armed with the tested tools of Albee's trade: booze, aggression, and gamesmanship. The evening, which unfolds in 80 real-time minutes, begins as a reunion between two friends, both pushing 40. Bill (Josh Lucas) is the solid citizen, Jim (Dominic Fumusa) the overgrown child, and they spend the first third of the play in a manly mix of banter that's both heartwarming and dick-swinging. But beneath the jocularity lurks individual ennui ("I spent like 20 grand at Whole Foods last year — that's indicative of something") and mutual frustration ("You can stop calling me dude now — feels a little dated"). Enter Joe (Noah Emmerich), a catalyst who tests the fissures of their friendship in grotesquely humorous ways.
At its best, Fault Lines re-creates the squirmy discomfort one must have felt sitting through the original productions of Albee's once shocking plays, many of which premiered at Fault Lines's current home, the Cherry Lane Theatre. Joe is a combination of Zoo Story's Jerry and Virginia Woolf's Martha — he is both violent stranger and party host, with an out-of-nowhere menace that seems oddly justified. At first I wanted him to stop picking at poor Bill, then he picked a little deeper and I wondered how thoroughly Bill deserved my sympathies, and then I stopped caring.
The play's final third detours through marital fidelity before concluding with a tediously tidy pair of revelations. In this last stretch, everyone stumbles. The excellent acting ensemble — which also includes Jennifer Mudge as Bill's wife — strains. The steady directorial hand of David Schwimmer (yes, that David Schwimmer) shakes. And Belber looks not like he's working in homage but in ill-fitting, borrowed robes.
Presented by Dark Harbor Stories, Olympus Theatricals, and the Araca Group, in association with New York Stage and Film,
at the Cherry Lane Theatre, 38 Commerce St., NYC.
Sept. 30-Nov. 9. Schedule varies.
(212) 239-6200 or (800) 432-7250 or www.telecharge.com.
Casting by Howie Cherpakov.