To celebrate both National Teacher Appreciation Day and Teacher Appreciation Week, take a look at these iconic educators from film and television. Which teachers left an impression on you during your school days?
Ms. Norbury, "Mean Girls" (Played by Tina Fey)
Sporting a vest cluttered with colorful pins and snacking on some cookies mid-motivational speech, Ms. Norbury is certainly one of the coolest teachers in recent films—even if Regina George (Rachel McAdams) doesn't think so. A heartbreaking moment in "Mean Girls" comes when her entry in the Burn Book is revealed to the entire student body. This is a testament to Fey's warm and nuanced portrayal of the lovable math teacher, who could have easily been an overlooked character.
Severus Snape & Albus Dumbledore, The "Harry Potter" Series (Played by Alan Rickman, Richard Harris, and Michael Gambon)
As potions master-turned-defense against the dark arts professor, Severus Snape was always the character we loved to hate—until we started loving him, that is. The final arc of the series unveils Snape as one of the franchise's most complex, heartbreaking characters, and the late Rickman's performance is all the more extraordinary for its premonitory grasp on those complexities. While Snape was mostly perceived as a series' antagonist, Dumbledore never strayed as its beating heart and Harry Potter's (Daniel Radcliffe) moral compass. The late Harris was a fine originator of the role. Then as the "Harry Potter" world grew darker, Gambon took the reins and directed Hogwarts' headmaster into heftier emotional terrain—including (spoiler alert) his death.
Mr. Feeny, "Boy Meets World" (Played by William Daniels)
Think back to high school. Do you remember that teacher that turned everything into a lesson? Well, for Cory, Sean, Topanga, and Eric, that teacher was George Feeny. Old school in his ways, Mr. Feeny filled every day with an opportunity for the gang to learn and grow. And while at times they might have grown tired of him—What teenager likes his or her teacher?—Mr. Feeny was ultimately part of the gang.
Ms. Frizzle, "The Magic School Bus" (Voiced by Lily Tomlin)
Although a valuable life lesson is embedded within each of her wacky field trips, safety doesn't always come first for Ms. Frizzle. With her fiery locks and passion for knowledge, she often plunges her students into sticky situations. Whether that quintessential school bus is shrunken down to the size of a bee or launched into piping hot lava, there is always an adventure to be had at Walkerville Elementary.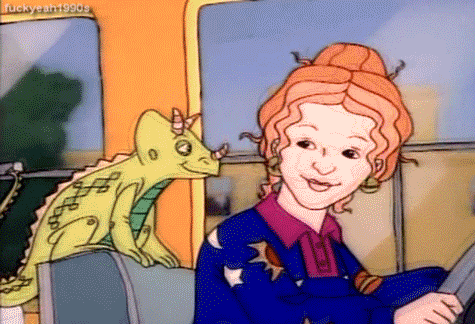 Mr. Kotter, "Welcome Back Kotter" (Played by Gabe Kaplan)
The 1970s were defined by this primetime sitcom centered on Gabe Kotter, a teacher who goes back to his inner city high school to teach its current generation of troublemakers. The show earned four Emmy nominations, and was instrumental in launching John Travolta's career.
Melvin B. Tolson, "The Great Debaters" (Played by Denzel Washington)
There's a whole day dedicated to appreciating teachers because they do amazing things (though we should do it every day)! Take the true story at the center of "The Great Debaters," for example. Portrayed by the great Washington, Melvin B. Tolson inspired the students at a predominately black college to start a debate team. They rise up and become the first black debate team to battle Harvard's group of champions. Look no further for a story of determination and inspiration (and phenomenal performances from Washington, Forest Whitaker, Nate Parker, and more).
The Economics Teacher, "Ferris Bueller's Day Off" (Played by Ben Stein)
Roll call has never been the same since this economics teacher's monotonous drone hit the big screen in 1986. Stein's performance remains a definitive standout in the classic comedic film. His deadpan deliveries of "Bueller? Bueller?" and "Anyone? Anyone?" had audiences in stitches while also finding themselves grateful not to be a sitting in that classroom.
Professor Keating, "Dead Poet's Society" (Played by Robin Williams)
Portrayed by the incomparable Williams, English teacher John Keating uses unorthodox methods at an all-boys prep school to reach his students. Earning an Oscar nod for his performance, and inspiring us to seize the day, the role will forever remain one of Williams' most memorable.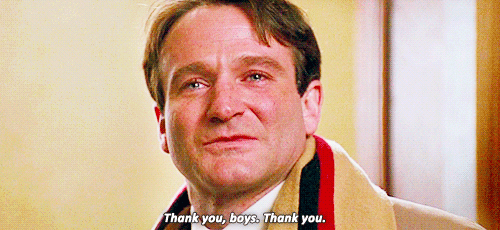 Jaime Escalante, "Stand and Deliver" (Played by Edward James Olmos)
Inspired by a real-life educator, this 1988 film follows Los Angeles high school teacher Jaime Escalante, who refuses to give up on his dropout-prone students. Despite being hassled by his rowdy kids, Escalante sticks to his guns, teaches them calculus, and they ace the California's state exams. However, when the majority of them are accused of cheating, they're forced to retake the tests and prove themselves. The film stars Olmos, Lou Diamond Phillips, and others, and is shown to aspiring educators everywhere.
Miss Honey, "Matilda" (Played by Embeth Davidtz)
Filled with as much sweetness as her name hints, Miss Honey is the best teacher any magical little bookworm could have dreamed of. She and Matilda (Mara Wilson) battle a world of cruelty and ignorance that can be seen in both the book and the Broadway adaptation. Kindness is her main policy, and her students simply adore her for it.
Dewey Finn, "School of Rock" (Played by Jack Black)
No one rocks a school uniform quite like Dewey Finn. In the "School of Rock" film and subsequent Broadway musical, Dewey builds his students a reality around rock 'n' roll. He imparts questionable wisdom in unconventional ways, but in turn gives his students something to be wholly passionate about: music. And while performing the roles of substitute teacher and band frontman, his zeal shines through just as youthfully.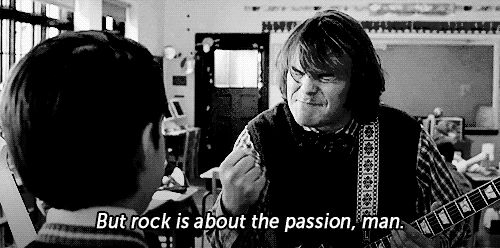 Inspired by this post? Check out our audition listings!