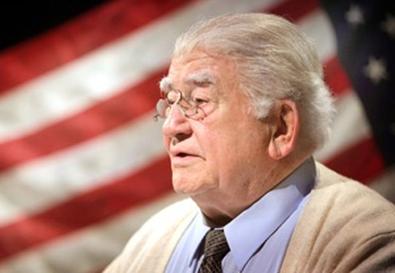 Ed Asner is a draw. His acting career has spanned decades, with notable achievements in television, film, and radio. So it should follow that the combination of a fine actor portraying a laudable president would be a sure-fire winner. In this case, though, the production becomes a mix of events from Franklin Delano Roosevelt's life, pointing to his achievements and drawing parallels between our current political climate and Roosevelt's challenges during his presidency.
Wheeling himself onto the stage in a wheelchair, Asner, as Roosevelt, begins by talking about his early days in politics as governor of New York, a job suggested to him by presidential candidate Al Smith. Early on, Roosevelt alludes to his bout with polio in 1921, and throughout the show Asner moves about with canes and his chair, standing briefly to deliver speeches.
Adapted (work uncredited, as is the director) from the play "Sunrise at Campobello," by Dory Schary, the production travels the path Roosevelt takes as he serves his unprecedented four terms. From the Depression, when millions were out of work, through World War II, one of Roosevelt's strengths became his decisive leadership. Asner uses such props as Roosevelt's familiar cigarette holder and pince-nez to give verisimilitude to his characterization, but it is hard not to see Asner rather than Roosevelt, particularly as he chooses not to use FDR's upper-crust accent.
Roosevelt calls forth a parade of people he worked with during his tenure, some names recognizable still, but also presidential confidants whose names would be more familiar to 1950s audiences than to those today. He speaks with affection about his wife, Eleanor, whom he calls Babs. He briefly mentions his involvement with Lucy Mercer. But he uses most of his time onstage to reference greedy bankers, dealings with Winston Churchill, and Pearl Harbor and its aftermath.
Asner's ability to remember the plethora of names and incidents in Roosevelt's story is impressive, especially as they are delivered at a brisk pace. Even so, the actor is better than his material and is less than effective as the squire of Hyde Park.
Presented by Campobello Theatre Productions Inc. and Gero Productions LLC, with and at the Pasadena Playhouse, 39 S. El Molino Ave., Pasadena. Oct. 13-Nov. 7. Tue.-Fri., 8 p.m.; Sat., 4 and 8 p.m.; Sun., 2 p.m. (626) 356-7529. www.pasadenaplayhouse.org.