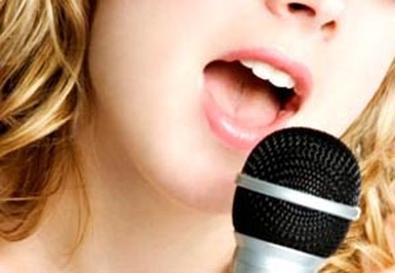 In Jennifer Hamady's extremely thoughtful and commendably helpful how-to guide,
The Art of Singing
:
Discovering and Developing Your True Voice
, she writes this:
"When working with new clients, I always begin by trying to ascertain what it is about their voices that they perceive as problematic or would like to improve. Their desires run the gamut from increased power, range, and pitch accuracy to cultivating a more relaxed and natural tone. Although the factors that prevent them from achieving these goals may, on the surface, seem entirely related to the voice (throat tension and discomfort; inadequate, poor, or disconnected breath support; unattractive tone), I estimate that over 90 percent of vocal problems are caused and/or exacerbated by some form of fear, insecurity, or lack of self-confidence."
That's the kickoff to Chapter 6, "Fear and the Psychology of Singing," but perhaps more significant, Hamady doesn't get around to working directly with the voice until Chapter 7, "Putting Theory Into Practice." That's because "fear, insecurity, or lack of self-confidence" is her book's basic concern. She maintains that everyone can sing, except those who believe they can't. And that incorrect belief, she contends, was likely drummed into the unsure and the reluctant from an early age. "Societally conditioned beliefs abound in the areas of work, relationships, and beauty, to name only a few," she writes, and such beliefs also affect people's attitudes toward their singing ability.
Hamady doesn't exactly relegate her discussions of vocal technique and exercises to footnotes, but she does delay them until she has laid a broader foundation. With indisputable common sense, she writes, "You have only one vocal mechanism: one set of lungs, one set of vocal cords, one mouth, one tongue; together, one voice. The system you use to speak is the same and only system you have with which to sing. Logically, if you are doing one thing right (that is, speaking), with no problems, fatigue, or tensions, then singing should be no different."
Hamady also spends time going over the left and right sides of the brain—the creative-technical divide—and discourses on how that separation affects various approaches to singing. In addition, the book includes a CD on which she discusses vocal practice rather than dispensing what she considers traditional lessons.
A Coach in Spite of Herself
Hamady agreed to elaborate on her voice ideology for Back Stage, though she won't name the artists with whom she has worked. (On her
Finding Your Voice
blog—a catchall of bright, inspirational short essays —she mentions "performing and working with artists and companies including Stevie Wonder, Def Leppard, Patti LaBelle, Renée Fleming, Christina Aguilera, Lee Ann Womack, and Cirque du Soleil").
"Never did I ever consider being a coach," Hamady reports, but soon after leaving the University of Maryland, where she did her voice studies, she began performing regularly and impressing co-workers with how organically she did it. "How do you sing that way?" she was often asked, and the result was that "in spite of myself, I started working with people," she says. In time, she was "more fulfilled working with people than singing myself."
About her coming to look at singing from a different, if not entirely radical, perspective, she says she's "amazed at how desperately needed it was." Over the years, she'd looked around for writing about the psychology of singing but couldn't find any. Her explanation is that society tends to stress the technical aspects of mastering disciplines and "it's very difficult to get people to change."
Because Hamady focuses so strongly on a psychological approach—without neglecting the importance of technical understanding—"every session looks completely different," she says. Yet, working with singers primarily in New York, Los Angeles, and Nashville, she concedes there are underlying similarities, such as the frequent obstacles created by the desire to succeed for success' sake and the fear of failure. "Those issues stem from various family experiences," she says, and she relishes the "aha moments" when clients finally understand that.
Hamady also works with actors who are not primarily singers. "Their story is very similar" to that of youngsters who were told, " 'You really shouldn't be doing this,' " she says. "The majority really can sing…. I think everyone can sing." The problem is "the way we've been educated: that only a select few can sing. That's a fallacy."