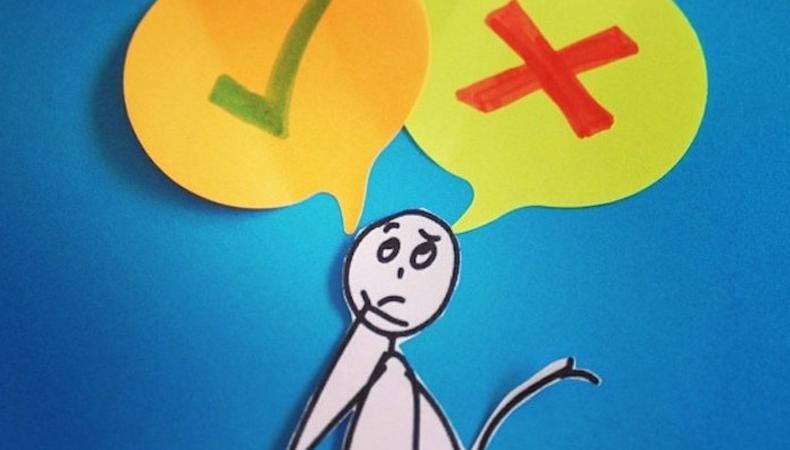 As a recent guest speaker at an Actors Expo, I met several actors who were freaking out over feedback they received at a pay-to-meet seminar with agents and casting directors who were paid to give advice.
But here's the thing: when actors trust a professional to give advice, they make the assumption that 1) the feedback will be good or at least constructive and 2) that they need the feedback. While we all love admiration and praise, feedback can be a double-edged sword if it skews on the more negative or constructive side of the spectrum, creating confusion, hurt, and self-doubt.
Actor-entrepreneurs live in a vacuum, not knowing why a role was cast, what someone thought of us after an audition, or if what they said to our agent was accurate. "Really? They thought I was great? Then why wasn't I cast or at least called back?" It's hard to decipher the reality from the hopeful wishes and misinformation or wrong advice.
But feedback is also a necessary part of growing as both actors and humans. We can only rely on our opinions of ourselves so much before we also must look to trusted outside resources for constructive advice.
That said, the first thing you need to know about feedback is that you should be careful when seeking and receiving it. Figure out who you trust to tell you the truth about whether you're talented, when you're ready, and whether you have the professional tools to be successful.
Top professionals at some pay-to-meet seminars often feel they have the responsibility to tell you something, whether it's accurate or not because they're being paid to give advice. And while it may be viable, it's sometimes not. Be sure to sift through it all to find the useful stuff.
READ: The Powerful Art of People Skills
You also need to learn to trust your instincts. If you love your website/monologue/headshot/audition outfit, you're comfortable with yourself and you should honor that. However, if over time, several respected professionals offer the same advice—that your choices aren't great, that your headshot needs updating, that your reel doesn't represent you, etc.—you also need to learn to honor that feedback. Rethink your choices and update your tools if you decide the feedback is warranted and feels good instinctually.
This also applies to positive feedback. Acting teachers are renown for telling actors they're great in class, that they nailed their scenes or monologues. But that can build false hope and confidence if the teacher is just "yessing" everyone. The real world of auditions and casting won't be as kind.
When it comes to finding the right people to ask for feedback, you want someone who is experienced in that specific area. You wouldn't ask a photographer if your monologue is on track or the camera guy if your audition outfit is appropriate. Instead, talk to fellow actors, trusted teachers, and your agent—aka people who know you—about your audition reel, your outfit, your resume, etc. They may not be "experts" but they have similar, shared experiences.
You wouldn't trust someone you just met to give you an accurate appraisal of your career choices—they don't know you. Even if you're paying "top professionals" for advice, if you just met them at a seminar, their feedback won't be the personalized, targeted kind you need.
Just because someone is labeled a "top agent" or "major casting director," they do not get the last word about your career and your choices. It's astonishing what cruel and insensitive things some so-called professionals say to actors when they're asked for advice and feedback—no one person in the industry has that much power! There are thousands of other professionals who will disagree or at least give you constructive criticism.
You need to put it all into perspective; EVERYTHING is an opinion. And things change: a new headshot, an updated demo, a new outfit or haircut. But you'll do those things because you're developing as a professional and it's your choice to do so, not because someone told you that you'd be a failure if you don't.
Put things into perspective and keep going. Keep developing and polishing your craft and product. It's a business, not a head trip.
With coaching clients on both coasts and internationally working in all medias Gwyn is the premier role model and marketing coach with winning strategies and first-hand knowledge of the TV, film, and theater industries which she generously shares to help new actors succeed. Gwyn offers actors a complimentary 15-minute career consult upon request: gwyngilliss.com/contact.
Get all of your acting questions answered by peers and experts on the Backstage Community forums!
The views expressed in this article are solely that of the individual(s) providing them,
and do not necessarily reflect the opinions of Backstage or its staff.