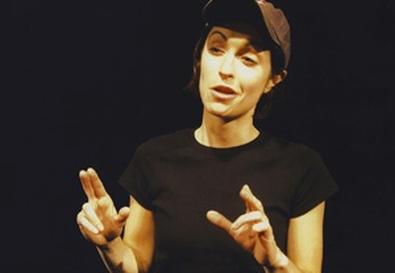 You may think you've already heard everything there is to know about how Hurricane Katrina devastated New Orleans and the Gulf Coast, as well as how our federal government failed to aid the storm's victims, especially now that the region has been hit with another catastrophe in the form of a titanic oil spill. But "23 Feet in 12 Minutes," written by Mari Brown and performed by Deanna Pacelli, transforms a five-year-old story into a dynamic hour of theater.
Taking a page from Anna Deavere Smith's book, the script offers a kaleidoscopic view of the disaster, based on more than 60 interviews conducted by Smith and Pacelli. The characters—all played with stunning specificity by Pacelli—range from a gutsy blues singer to a Hispanic photographer to a cantankerous husband fussing with his wife all through the hurricane. By simply and directly telling their stories, avoiding sentiment and cliché, the author and actor, supported by David Travis' muscular direction, re-create the devastation and eventual triumph of these survivors.
Presented by Word on the Street Productions as part of the New York International Fringe Festival at the Players Loft, 115 MacDougal St., third floor, NYC. Aug. 23–29. Remaining performances: Wed., Aug. 25, 5:15 p.m.; Thu., Aug. 26, 8 p.m.; Fri., Aug. 27, 7:45 p.m.; Sat., Aug. 28, 3:30 p.m.; Sun., Aug. 29, 1:15 p.m. (866) 468-7619 or www.fringenyc.org.