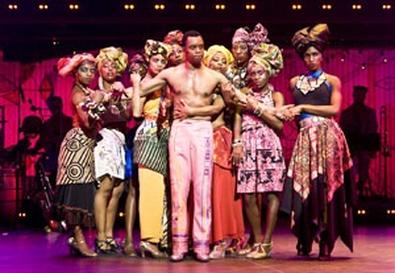 When it opened Off-Broadway for a limited run last season, "Fela!" did not quite coalesce into a compelling portrait of the fascinating Nigerian musician-activist Fela Anikulapo-Kuti. The production by Bill T. Jones, who directed, choreographed, co-wrote the book with Jim Lewis, and co-conceived with Lewis and Stephen Hendel, was way too long and loose. The inspiring and harrowing story of the rise of Fela's Afrobeat sound and his challenging of his country's military dictatorship was somewhat lost amidst too much extraneous material and too many clichéd scenes in which the conflicted artist lashed out at the onstage band and then launched into yet another monologue. For this Broadway transfer to the Eugene O'Neill, Jones has cut the excess and delivered a tight, sizzling staging that hits you with the force of a tidal wave. But are Main Stem audiences ready for it?
This is highly political theater presented in an unconventional manner. There is no plot per se. The premise is that we are attending a farewell performance at the Shrine, Fela's nightclub in the Nigerian capital of Lagos. Fela tells us that his compound has recently been raided by government troops. His followers have been brutalized and his mother viciously murdered. Harassed by the military, he plans to close the club and leave his native land. But the spirit of his mother, a political activist in her own right, urges him to stay and continue the battle. Video and photographic images by Peter Nigrini flash across Marina Draghici's detailed set, transporting the audience from safe Broadway to a dangerous Third World country in the midst of revolution.
As it was Off-Broadway, the concert format is punctuated with explosive dance numbers performed with an uninhibited joy and intensity by a fiercely talented ensemble. The highlight of the evening is an exhilarating challenge sequence, with each member of the chorus delivering a stunning solo.
Sahr Ngaujah repeats his exciting performance from the Off-Broadway version. Not only does Ngaujah project Fela's wicked sense of humor, charismatic sexuality, and fiery temperament; he also inhabits several other characters, including an annoying British journalist and a sadistic Nigerian general. He even plays a mean saxophone and trumpet. The new version benefits from the casting of Tony winner Lillias White as Funmilayo, Fela's departed mother. Though the character appears as a ghost, White endows her with passionate nobility, as her soaring voice cries for justice and urges her son to remain true to his principles. Saycon Sengbloh is equally intense as Sandra, Fela's American love interest.
There are no box-office names associated with "Fela!," with the exception of Shawn "Jay-Z" Carter and Will and Jada Pinkett Smith, who recently joined the producing team. Can a dynamic, moving musical on a difficult subject make it on Broadway in trying economic times? I hope the answer is yes, but when even the well-received revival of Neil Simon's "Brighton Beach Memoirs" folds after a week, "Fela!" faces a stiff challenge.



Presented by Shawn "Jay-Z" Carter, Will and Jada Pinkett Smith, Ruth and Stephen Hendel, Roy Gabay, Sony Pictures Entertainment, Edward Tyler Nahem, Slava Smolokowski, Chip Meyrelles/Ken Greiner, Douglas G. Smith, Steve Semlitz/Cathy Glaser, Daryl Roth/True Love Productions, Susan Dietz/Mort Swinsky, and Knitting Factory Entertainment at the Eugene O'Neill Theatre, 230 W. 49th St., NYC. Opened Nov. 23 for an open run. Tue., 7 p.m.; Wed.–Fri., 8 p.m.; Sat., 2 and 8 p.m.; Sun., 2 and 7 p.m. (No performance Thu., Nov. 26.) (212) 239-6200, (800) 432-7250, or www.telecharge.com. Casting by Mungioli Theatricals, Arnold J. Mungioli.