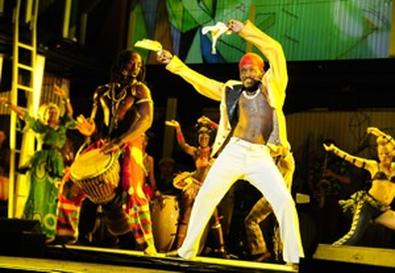 It's part biography, part spiritual revival, and part defiant political diatribe, but, more than anything, "Fela!" is probably the most unusual cabaret entertainment you'll ever encounter. Reinventing the conventions of every dramatic device it incorporates, this ingenious musical theater piece invites us into the world of charismatic musician-activist Fela Anikulapo-Kuti (1938–97), who galvanized crowds at his nightclub: the Shrine, in Lagos, Nigeria. Persuading audience members to be involved throughout—jumping to their feet, shaking their booties, and singing and clapping along—actor-singer Sahr Ngaujah, as Fela, knows how to work a room.
Fela was a highly driven folk hero who invented a form of dance music called Afrobeat, which achieved worldwide popularity. Combining elements of traditional Yoruban music, jazz, funk, and spoken word, the musical style draws us in with its infectious energy and jubilant spirit, only to deliver punches to our gut with lyrics that attack the inhumane acts of a corrupt government. The evening in Fela's club that this musical so vividly imagines seems to be on safe ground at the Ahmanson, but the real Shrine faced the ever-present danger of governmental forces wanting to curtail Fela's subversive efforts, which is why the building was surrounded by guards and electric wire. Despite these precautions, the club was eventually raided by soldiers in a brutal attack. Fela describes these harrowing details at the play's climax.
Masterfully conceived design elements lend a thrilling and majestic ambience to the depiction of the club: Marina Draghici's scenic and costume design, Robert Wierzel's lighting, Robert Kaplowitz's sound, and Peter Nigrini's projections. An enthusiastic salute is due to librettists Jim Lewis and Bill T. Jones, who have skillfully drawn from Carlos Moore's biography, "Fela: This Bitch of a Life." The marvelous score is Fela's original work, augmented with additional lyrics by Lewis and additional music by Aaron Johnson and Jordan McLean. Johnson's music direction and coordination, orchestrations, and arrangements are also impeccable. The choreography of director-choreographer Jones (also listed as co-conceiver, with Lewis and Stephen Hendel) is a crucial element in the production's success, thanks to its lyrical grace and crowd-pleasing exuberance.
"Fela!," which would benefit from judicious cuts to reduce its indulgent three-hour length, might be out of the comfort zone for viewers fixated on musical theater that's traditional, safe, or frothy—or all three. For those willing to savor the show's passion, inventiveness, musicality, and zest for life, it's a breathtaking roller-coaster ride.
Presented by Center Theatre Group at the Ahmanson Theatre, 135 N. Grand Ave., L.A. Dec. 14-Jan. 22, 2012. Tue.-Fri., 8 p.m.; Sat., 2 & 8 p.m.; Sun., 1 & 6:30 p.m. (Also Mon., Dec. 19, 8 p.m.; Thu., Jan. 5 & 19, 2 p.m. Dark Sat., Dec. 24, 8 p.m.; Sun., Dec. 25; Sun., Jan. 8 & 22, 6:30 p.m.) (213) 972-4400. www.centertheatregroup.org.