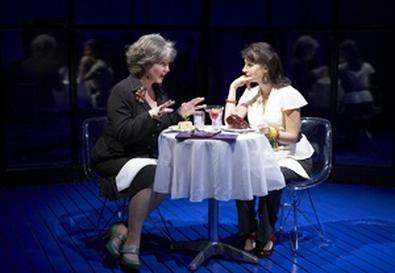 For nearly two centuries—since Mary Shelley's "Frankenstein" defined the genre—science fiction has been our most forward-thinking medium. Protected by an easily dismissed veneer of seeming frivolity, its practitioners have persistently probed social, moral, and political questions long before the mainstream. It is then sad, if not surprising, that increased literary cachet should lead to works such as "What Once We Felt," Ann Marie Healy's dumbed-down yet tarted-up new play, from LCT3. This portentous batch of dystopian tripe takes itself so seriously that it leaches all fun from the genre, a criminal bit of hubris considering the work has absolutely nothing of interest to say.
The story's movable parts are all familiar. We pick up during "the transition." Humanity is learning to carry I.D. cards to separate the Keepers from the Tradepacks. Men don't exist; babies are downloaded; books are dying. The last one is to be penned by our heroine, Macy (Mia Barron), who feels the pain of the oppressed Tradepacks in a sensitive, writerly way. At first her editor, Laura (Marsha Stephanie Blake), is a sympathizing dissident. Later Laura hijacks the book and changes its point of view. It's unclear whether this is a deliberate plot or a spontaneous change of heart. Either way, it doesn't matter.
The physical production is awkward and unattractive. Apparently, the future is neither sleek nor hellish; it's a giant corrugated quarter pipe, at least as envisioned by set designer Kris Stone. He's done no favors by director Ken Rus Schmoll's visually clunky transitions, though a greater problem is Schmoll's seeming inability to hear the poetic cadences to which Healy's writing often aspires. The result is five stilted performances, and a histrionic one from Barron, an actor whom I've previously observed to be quite nuanced.
Healy's only bit of creativity is her recombination of recycled semiotics, but this just turns out to be subtraction by addition. The allegory here is blunted with ponderous babble meant to pass for profundity. All of Healy's themes—genocide, worker oppression, eugenics, media manipulation—have been worked over by sci-fi writers for decades. At this point, they've been worked over by the mainstream media too. Rarely has a vision of the future been quite so dated.
I have no doubt that what once we felt by the mere invocation of these themes was some sort of awe, but eliciting such feelings today requires wit, humanity, and at least a flash of insight.
Presented by Lincoln Center Theater/LCT3 at the Duke on 42nd Street, 229 W. 42nd St., NYC. Nov. 9–21. Mon.–Sat., 8 p.m.; Wed. and Sat., 2 p.m. (646) 223-3010 or www.lct3.org. Casting by Daniel Swee.