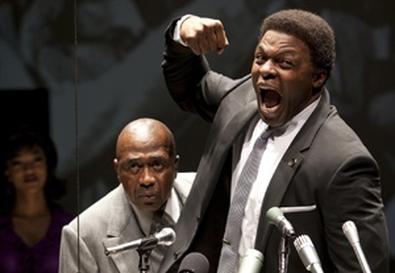 Will Power's flawed but fascinating new play tells the true story of the improbable friendship that sprang up in 1965 between Lincoln Perry, better known as the black film star Stepin Fetchit, and Muhammad Ali, formerly Cassius Clay, then heavyweight champion of the world and a new convert to the separatist Nation of Islam. A bracing look at the politics of identity and reconciling public and private personas, it features five terrific performances, led by the incandescent work of Ben Vereen as Fetchit.

The story is simple. In Lewiston, Maine, for his rematch with Sonny Liston, Ali has Fetchit brought to him because the actor was once friends with the great fighter Jack Johnson. Ali has heard that Johnson had a secret weapon, an "anchor punch," and he wants Fetchit to tell him about it. Fetchit, long a has-been vilified as an onscreen Uncle Tom, sees a chance through an association with Ali for public rehabilitation and a resuscitation of his film career. As each man tries to use the other, they develop mutual respect and friendship. In the mix is Brother Rashid, Ali's Nation of Islam bodyguard, who deeply disapproves of the integrationist and Catholic Fetchit, and Ali's first wife, Sonji Clay, a former cocktail waitress who is struggling with her husband's demand that she convert to Islam.

Unfortunately, "Fetch Clay, Make Man" stumbles early in Act 1. Two flashback scenes between a young Fetchit and movie mogul William Fox feel shoehorned in, with Fox there only to supply needed character exposition. The play's momentum is slowed, though it eventually gathers a good head of steam under Des McAnuff's muscular direction. The problem certainly isn't Richard Masur, who makes a compelling Fox; the character simply isn't a part of the story being told.

Evan Parke, a fine Reuben in "Zooman and the Sign" last season at Signature Theatre Company, wisely avoids impersonating Ali, successfully distilling his essence instead. As convincing physically as he is emotionally, Parke zeroes in on Ali's boyishness, always reminding us that the pressures of fame, success, and racial and religious pride are being put on the shoulders of a still-maturing youth. Smart, sharp, and sexy, Sonequa Martin lights up the stage as Sonji and delivers a heartbreaking final scene. As Brother Rashid, the excellent John Earl Jelks is all coiled energy, hiding his seething disapproval behind a professional mask that nevertheless cracks on occasion.

But it's Vereen's work that shines brightest. His Fetchit is a riveting mixture of calculating intelligence, festering resentment, innate personal dignity, bold self-confidence, and irrepressible energy. The musical theater veteran is perhaps expectedly successful in replicating Fetchit's onscreen character, the lazy, shuffling black man avoiding doing the white man's work while still getting paid for it. But for a textbook lesson in acting, watch how Vereen is suddenly younger for his two scenes with Fox: The voice lightens; the eyes shine; the body expresses a different energy. He's also unafraid of silence: The long look Vereen's Fetchit gives Ali in the moment before deciding to finally give up the secret of the anchor punch is filled with as much information as a page of dialogue.

McAnuff's handsome production is all in whites, blacks, and grays until dramatically effective splashes of color appear in Act 2 in Paul Tazewell's well-observed costumes. Riccardo Hernandez's metallic set, lit expressively by Howell Binkley, is evocative of a boxing ring and incorporates Peter Nigrini's projections admirably. If Power and McAnuff solve the first-act problems and find a way to make the admittedly dramatic final curtain more thematically satisfying, they're going to have a real winner on their hands.


Presented by and at McCarter Theatre Center, 91 University Place, Princeton, N.J. Jan. 15–Feb. 14. Tue.–Thu., 7:30 p.m.; Fri., 8 p.m.; Sat., 3 and 8 p.m.; Sun., 2 p.m. (609) 258-2787, (888) 278-7932, or www.mccarter.org. Casting by Laura Stanczyk.