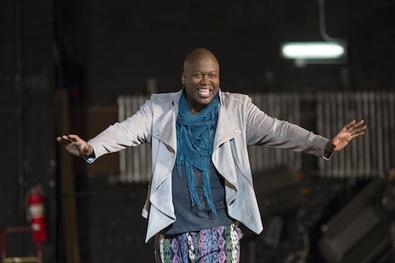 Can the small screen ever really capture the life of an actor? There's no shortage of television shows about acting—maybe it's all that drama?—but these 13 fictional performers are (for better or worse) some of our favorite fake actors on TV. Can you relate?
Titus Andromedon ("Unbreakable Kimmy Schmidt")
Played by the formidable Tituss Burgess, Titus Andromedon is a fairly realistic portrayal of the working New York actor. His survival job (waiting tables at a spooky-themed singing restaurant for tourists) keeps him busy in between auditions. And he sees his rival (played by Tony winner James Monroe Iglehart) at every single open call. Being an NYC actor as tough—Titus knows!
Jack McFarland ("Will & Grace")
Who could forget "Just Jack?" Sean Hayes plays the loveable (if not-so-talented) Jack McFarland on this hit series, an over-the-top actor-singer-dancer (and caterer, sales clerk, and more). While Jack is a caricature to most real-life performers, his passion and ability to multitask hit the nail on the head!
Joey Tribbiani ("Friends," "Joey")
Famous for his (hilarious) "smell the fart" technique of acting, Joey's long-time acting career is filled with some fairly realistic ups and downs. Matt LeBlanc plays the ditzy performer, who finds his big break playing Dr. Drake Ramoray on fictional episodes of "Days of Our Lives" before the angry writers kill him off.
Andy Millman ("Extras")
Ricky Gervais plays struggling actor Andy Millman on this BBC/HBO sitcom, offering a satirical peek at the lives of background actors on set. Like many actors, Andy is also an aspiring writer; his sitcom "When the Whistle Blows" goes into production after he shares the script with Patrick Stewart (playing himself, obvi).
Valerie Cherish ("The Comeback")
Lisa Kudrow plays once-hot sitcom actor Valerie Cherish on this HBO mockumentary, giving a knowing wink to her own real-life fame. A bit of a diva due to her early-career success, Valerie struggles to regain the show business limelight to hilarious (and sometimes sad) results.
Vincent Chase ("Entourage")
Adrian Grenier plays this fictional superstar who follows his brother Johnny to Hollywood and hits it big with the help of top-tier agent Ari Gold and a tight-knit crew of lifelong friends. While the characters on the hit HBO show are all imagined, the plot is loosely based on executive producer Mark Wahlberg's own career.
Jenna Maroney ("30 Rock")
Leave it to Jane Krakowski to breathe life into this comically exaggerated "TGS" star. Jenna is everything people mock about actors, from her over-the-top neediness to her hilariously named body of work ("The Jenna Chronicles: A One-Womyn Show," "The Rural Juror"). And while her dramatics can be a bit much, we must admit...that the girl can sing.
Tracy Jordan ("30 Rock")
This hard-to-contain comedian and actor is played to perfection by namesake Tracy Morgan on "30 Rock," and operates as a foil to Krakowski's perfectionist Jenna. Jordan joins "TGS" as a bit of a wild card, and his crazy behavior (and films like "Samurai I Amurai" and "Hard to Watch: Based on the novel 'Stone Cold Bummer' by Manipulate") make him an unbelievable, if hilarious, pretend celebrity.
Tobias Fünke ("Arrested Development")
Though a therapist by trade, the hilariously awkward Tobias (played by David Cross) is pursuing his lifelong dream of acting after a career downturn. Unfortunately for him, the struggle to find work is (realistically) real: He faces far more rejection than success, including a tragic loss of a spot in the Blue Man Group after spending several episodes in full blue makeup.
Em ("Doll & Em")
Life imitates art in this sweet, semi-improvised HBO comedy about a successful actor and her best friend. Emily Mortimer plays Em, a London-based star working on a film shoot in Hollywood. Mortimer's real-life bestie Dolly Wells plays Em's childhood BFF and personal assistant, and both women offer realistic portrayals of fame and its effects on their relationship.
Morning Randolph ("Episodes")
Though LeBlanc plays himself on this show about a show, Morning Randolph is a fictional actor (portrayed by Mircea Monroe) co-starring on the made-up TV show "Pucks!" As famous for her appearance—(her age is unknown due to expert plastic surgery)—as for her acting chops, the character offers a comical (if unflattering) commentary on the perception of females in Hollywood.
Karen Cartwright & Ivy Lynn ("Smash")
Katharine McPhee plays a young breakout star in this hit NBC show about the making of a Broadway musical; an innocent up-and-comer from Iowa, her job waiting tables (#actorslife) comes to a close when she enters the audition process to play Marilyn Monroe onstage in the fictional "Bombshell." Megan Hilty plays rival actor Ivy Lynn, a Broadway veteran who begins the series as a presumed shoo-in for the role of Monroe. Both women have serious chops, and their career struggles, though very dramatized, speak to those of real-life actors.
Inspired by this post? Check out our television audition listings!