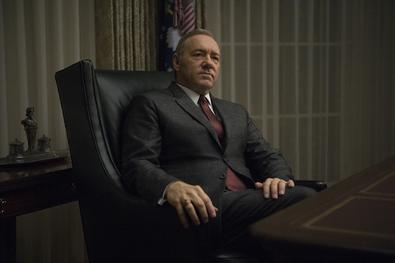 The 2016 presidential race may have some real-life characters of its own, but some of our favorite politicians have been created by actors. Before you gear up to elect the 45th president of the United States (and celebrate Presidents Day on Feb. 15), remember these 14 great— and not-so-great—film and TV presidents.
President Josiah Edward Bartlet (Martin Sheen, "The West Wing")
Leave it to Aaron Sorkin to create one of television's greatest presidents. A main focus of long-running series "The West Wing," Josiah "Jed" Bartlet was portrayed by Sheen with a stately blend of honesty, humor, intelligence, and strength. This Democratic president served two terms (with a brief break due to the kidnapping of a relative), and faced many political, personal, and physical battles with the help of his staff.
President James Marshall (Harrison Ford, "Air Force One")
Shortly after working with Russian Special Forces to capture and detain a high-powered terrorist, this president's airplane was hijacked with his family on board. Though rushed to an escape pod, the super-cool leader (played by Ford) stayed on the flight to take down the bad guys in this 1997 blockbuster.
President Selina Meyer (Julia Louis-Dreyfus, "Veep")
Definitely not your typical president, Selina Meyer (played by Louis-Dreyfus) went from "the people's Vice President" on the first three seasons of HBO's "Veep" to the big seat itself on Season 4. Louis-Dreyfus is her usual wry, hilarious self on the show—even as the president—and a strong supporting cast makes this one very funny presidential portrayal.
President Allison Taylor (Cherry Jones, "24")
President Taylor became the United States' first female president in Season 7 (aka "Day 7") of the successful Fox TV show "24." The great Jones portrayed the strong but conflicted politician, whose short term as president ended with dire results.
President David Palmer (Dennis Haysbert, "24")
Many seasons before the inauguration of Jones' President Taylor, President Palmer served as the first African-American president of the U.S. on "24." The strong and honor-driven president was played by prolific actor Haysbert, and his presidency was (of course) plagued by past secrets, terrorist plots, assassination attempts, and more.
President Tom Beck (Morgan Freeman, "Deep Impact")
This sci-fi thriller featured Freeman as the president, a no-nonsense leader tasked with announcing that the majority of his citizens may be wiped out by an NYC-sized comet. Oh, and, "If the world does go on, it might not go on for everyone. Good luck to us all." Now there's some rhetoric-free political speak! President Beck fought to save the country against (of course) nearly impossible odds.
President Fitzgerald Thomas Grant III (Tony Goldwyn, "Scandal")
We're glad that the hit show's dishonest and philandering President Grant is purely fictional, but "Scandal" would not be the same without Goldwyn's presidential performance. With his passionate love affair, murder plots, and more, Fitz Grant is not the most believable TV president, but he is one of the most interesting.
President Thomas J. Whitmore (Bill Pullman, "Independence Day")
We know there's more to a presidency than battling aliens and raising an adorable child, but on those two issues President Whitmore was covered. Pullman played the dashing president in this 1996 action movie, a leader who, despite personal tragedy, inspired his troops and lead the world back from the brink of extinction—on the Fourth of July, of course.
President Jackson Evans (Jeff Bridges, "The Contender")
Bridges portrayed a charismatic president in this topical political drama centered on the sudden appointment of a vice president after the previous VP's untimely death. Bridges' President Evans aimed to make history with a female vice president, but tangled with manufactured controversy when it came to confirmation.
President Mackenzie Allen (Geena Davis, "Commander in Chief")
This female president on the ABC series "Commander in Chief" ascended from the vice presidency after the sudden death of her predecessor. Davis played President Allen as a smart and capable leader despite inheriting the office, and we saw Allen's personal life in addition to her politics.
President James Dale (Jack Nicholson, "Mars Attacks")
Nicholson played President Dale in Tim Burton's 1996 "Mars Attacks," a hilarious, screwball take on the "end-of-the-world" alien invasion genre. President Dale is a bit of a slimy leader—("I want the people to know that they still have two out of three branches of the government working for them, and that ain't bad…")—but it's worth watching this 1996 flick just to see his last scene.
President Andrew Shepherd (Michael Douglas, "The American President")
Another Sorkin take on the White House, this romantic 1995 drama followed a widowed president who fell in love with an environmental lobbyist on the eve of his re-election campaign. Douglas played the lovestruck president forced to choose between a new relationship and his own political capital.
Dave Kovic as President Bill Mitchell (Kevin Kline, "Dave")
In this 1993 comedy from Ivan Reitman, presidential doppelganger Dave Kovic found himself in the Oval Office after the real president's sudden death. Kline played the loveable everyman Dave (and the unliked President Mitchell), who made welcome changes to the former president's policies.
President Frank Underwood (Kevin Spacey, "House of Cards")
Spacey's snake-like, power-hungry Underwood on Netflix's hit series "House of Cards" made his way to the White House through two full seasons of evil plots, manipulation, and more. (No spoilers!) Once again we're glad that this president's reign is purely fictional.
Inspired by this post? Check out our audition listings!