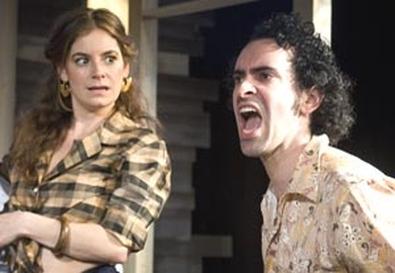 Fifth of July
, Lanford Wilson's classic play about the disillusionment of flower children in the aftermath of the Vietnam War, is currently receiving a sparkling revival courtesy of T. Schreiber Studio.
A witty and clear-eyed examination of a group of formerly idealistic friends gathered at the farmhouse of gay paraplegic Kenny (David Villalobos) and his lover, Jed (Edward Campbell), in 1977,
Fifth of July
is a perfect showcase for actors; under Peter Jensen's snappy direction, this talented cast finds ample opportunities to showcase its skills. Jamie Neumann in particular is mesmerizing as the burned out Gwen, the role that made Swoosie Kurtz a star in the original production. Slightly unhinged and talking a mile a minute, Neumann exudes the dangerous glamour of Ann-Margret in
Carnal Knowledge
, a seeming floozy who actually knows more than she's letting on.
And though no one else on stage can match Neumann's manic energy, most of them find their own moments to sear themselves into your memory. As beloved Aunt Sally, Lucy Avery Brooke nails the feisty spirit of a 60-year-old who has always done just what she wanted, no matter the consequences. And as Kenny's angry and disappointed sister, June, Ellen Reilly proves she could easily step into Amy Morton's role as the eldest Weston daughter in
August
:
Osage County
.
But Villalobos' performance as Kenny is a void in the center of the play, one that the talented ensemble mostly manages to fill. After losing both his legs in Vietnam, Kenny has become dry and detached, and though Villalobos easily conveys Kenny's hard-won cynicism, too often he comes across as an intelligent actor making all the right choices without ever fully inhabiting the character. Luckily, there's always Neumann somewhere on stage, ready to supply all of the necessary fireworks.
Presented by and at T. Schreiber Studio
,
151 W. 26th St
.,
7th floor, NYC
.
May 22
–
June 21. Thu
.–
Sat
.,
8 p.m
.;
Sun
.,
3 p.m
.
(
212
)
352-3101
, (
866
)
811-4111, www.theatermania.com, or www.tschreiber.org
.