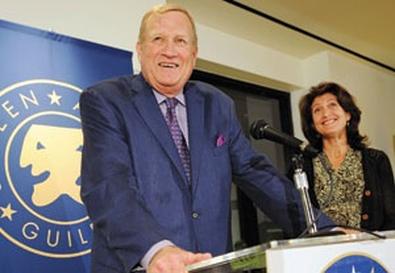 They were supposed to be the least exciting
Screen Actors Guild
elections in recent memory. Guild president Ken Howard—riding a wave of support for efforts to merge SAG and the
American Federation of Television and Radio Artists
—faced no serious challengers in his bid for re-election. His political partner, Amy Aquino, would run unopposed for a second term as secretary-treasurer. MembershipFirst—the Hollywood faction traditionally skeptical of merger and locked for the last few years in a political struggle with Howard and Aquino's Unite for Strength party—declined to endorse a slate of candidates for officer and board of director positions. In New York, the pro-merger group United Screen Actors Nationwide would no doubt, as it had for more than a decade, continue to dominate.
Then the end of July came, and with it something unexpected. A new political faction calling itself One Strong Union emerged, announcing its desire to shake up the status quo, alter the direction of merger talks, and field a slate of 10 board candidates. The surprise was where the unrest surfaced: New York.
USAN, led by incumbent division president Mike Hodge, had seen challenges before—most recently in 2009, when a group of actors supported by MembershipFirst ran for board of directors but failed to secure any seats. But this was different. One Strong Union was composed of actors who had previously been aligned with USAN and was backed by several players in union politics. Boasting endorsements from Holter Graham, president of AFTRA's New York local; former SAG president Melissa Gilbert; and several of the actors who helped found USAN around the time of the 2000 commercials strike, One Strong Union looked to be a rival with teeth.
But appearances were deceiving. When election results came in Sept. 22, Howard won as expected, Unite for Strength made gains in both the national and Hollywood boardrooms, and USAN did what it usually does. Of the five national board seats up for grabs in New York, only one went to an OSU candidate. That post was won by Sam Robards, who was unsuccessful, however, in his bid to unseat Hodge as president. All 11 USAN candidates won division board seats, with the remaining three going to One Strong Union. No revolution occurred. But fault lines within SAG's political establishment were revealed.
United Front
Howard, Aquino, and members of the Hollywood-based Unite for Strength were vocal in their support for Hodge and USAN during the campaign. "Mike Hodge is not going to lose," Howard bluntly told Back Stage just weeks before the election's end. Aquino, speaking on the evening that results were announced, interpreted USAN's electoral success as an endorsement of the guild's Hollywood and national leadership as well.
"We've been working as a team for the past year and a half," Aquino said. "So it's very gratifying to see that both the members in New York and Los Angeles are happy with what's going on and want it to continue."
What's going on, of course, is the movement to merge SAG and AFTRA. Merger has been the traditional dividing line between SAG political factions. What was curious about One Strong Union's challenge was that the group was composed of actors who support merger, and endorsement of merger with AFTRA was part of OSU's platform. The group also expressed support for Howard and Aquino, even though both candidates campaigned for USAN.
With One Strong Union's stance on the most pressing issue facing SAG sounding almost indistinguishable from its rival's (the merger portion of OSU's campaign mailer was unique only for its insistence that a final merger plan also include details on combining the two unions' pension and health programs), the group focused on the process.
"I would just say that we have different perspectives, different approaches," Robards told Back Stage in August. "The main thing is that who is elected to the board will have a direct effect on the shape and the success of the merger effort." Robards did not respond to a request to be interviewed for this article.
Aftermath
With Robards having lost to Hodge by a margin of nearly two to one, the people who will go on to shape merger will be those who are already doing so. The SAG and AFTRA merger committees have mandates from their respective boards of directors to present a formal plan by January, and a membership vote on the plan could be completed by next summer.
"We are heavily involved in meetings and conversations with AFTRA and working through specific details," Hodge said. "We are mandated—and I put the emphasis on 'mandated'—to bring the plan before the board in January."
Hodge would not speak to the content of the merger meetings thus far. He did, however, address accusations of partiality and lack of transparency that he said were made by his opponents, specifically regarding the placement of board members on the merger committee. Hodge defended the decisions made in committee placement, noting that he and other leaders offered opportunities to two of his One Strong Union opponents to work on merger subgroups. One board member, asked prior to ballots being mailed, never responded. Another, asked during the election, accepted. "We've never done anything other than to try to be fair and open with anybody in the boardroom," Hodge said.
Phoebe Jonas is one of three OSU members to win a division board seat in New York. She was one of the only group members to have no prior experience on the board, but she said that the group formed to address what she called "a lack of inclusivity and a lack of transparency" in the New York board's proceedings.
"I could see that there were very qualified people, board members, who were experts in a certain venue, be it new media or emerging technology, who were not put on certain committees," she said. "When that person or persons are left off or left out, that's when my personal little Phoebe alarm starts to go off."
Now Jonas will be one of the only members on the New York board to have challenged the institution's leadership. But she said she's optimistic about the future: "My feeling is what's done is done; now we have work to do. I know personally that I'm not going to be happy going in there if there's a combative attitude. That's not what I plan to bring. And I truly don't believe that's what anyone else plans to bring. So I'm excited."
Hodge indicated that work is already being done to smooth relations between the two factions. He confirmed that he will be meeting informally with Robards to discuss the concerns that led to the campaign challenge: "Sam Robards was gracious enough, and I absolutely appreciate it, to send me a congratulatory note on Thursday night."
With the division presidency secured and his party still firmly in control of the boardroom, Hodge will once again be in the position to make leadership decisions—and to draw fire from those displeased with those decisions. He said that he does not intend to change his approach.
"I do not believe in being punitive," he said. "I don't think that it serves a purpose. I think as long as you show a good-faith effort to do the job at hand, then we can move forward. If there is some kind of behavior that is aimed at undercutting or undermining, yes, I have to respond to that. I would not think of that as being punitive. I would think of that as being responsive."