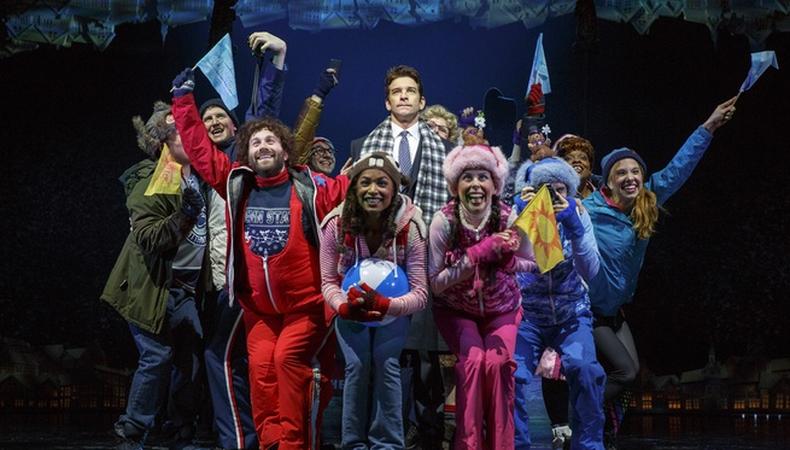 For decades, Danny Rubin considered turning his 1993 masterpiece, "Groundhog Day," into a Broadway musical, and in 2016, he finally did.
"I always felt that the story would work in a variety of ways and I was willing to push it," Rubin, the film's screenwriter alongside director Harold Ramis, explains. But the stage adaptation had to be much different than the source material—bringing Murray's deadpan to a full-blown musical production had to be much more than a revisiting of the initial script, the manifestation of hurdles presented when implementing a familiar story into a new format.
"I wasn't trying to adhere to the movie; I wasn't trying to recreate the movie itself. I didn't try to avoid anything, but I also, as the original writer, was not pushing for it to be just like the movie. I knew what the strengths were, what it could withstand, and what things could change."
The stage version of the Bill Murray–starring film opened at London's The Old Vic and later on Broadway in spring of 2017 to great reviews. Critics praised Rubin and collaborators Matthew Warchus and Tim Minchin's vision, which delves much deeper into the movie's cast of characters, expanding the smallest bit parts to important players.
Rubin's experience beefing up his own story twenty-plus years later is, of course, unique, but his willingness to adapt a widely adored movie to the stage is reflective of a larger trend. "Based on a true story" has long been a Hollywood cliché, but increasingly, "based on the film" is becoming a norm on Broadway.
READ: How to Get Cast on Broadway
Musical adaptations of beloved films and TV shows have been exploding in popularity in the past few years, becoming some of the most successful Broadway productions in recent memory. The trend is likely to continue: "SpongeBob SquarePants" opened recently to rave reviews and the next few years already have a slew of stage adaptations planned, from "Frozen" and "Mean Girls," this season, to "Beetlejuice," "The Devil Wears Prada," and "Pretty Woman" next season and beyond. And these are just some of the upcoming screen-to-stage adaptations that will succeed "Groundhog Day" (which itself followed a handful of others in the preceding years).
While the theatergoing public may be clamoring for new stage versions of famous movies, the trend presents a challenge for those in charge of writing each musical's book. Creating a successful Broadway adaptation requires searching for the thin line between presenting something new and pandering to loyal fans of the original. Going too far in either direction risks being mocked as writing a retread of the original or trying too hard to distance itself from the source material.
"Especially when you're dealing with a beloved film, you have to make sure you have those tentpole moments that the fans love from the movie and expect to see onstage," Chad Beguelin, book writer for "Aladdin," "Elf," and "The Wedding Singer," amongst others. "On the other hand, you can't just put the exact replica of the film onstage because then what's the point? People would just rent the movie, so why bother? There's a delicate balance you have to find so fans of the original film are satisfied and people who don't know the film at all can walk into it, get wrapped up in the story and characters, and have a great experience." There are a few aspects writers have to keep in mind when taking on the challenge of adaptation.
Specifically, when Beguelin began work on "The Wedding Singer," he knew he had to keep certain aspects of the Adam Sandler–starring film—the rapping grandma and the destroyed wedding—in the show. But he deconstructed each element slightly to throw fans for a loop, even altering famous moments like the Billy Idol airplane scene to a full-blown celebrity look-alike one including Cyndi Lauper and Mr. T impersonators.
Beguelin also faced a challenge when adding new music to his "Aladdin" musical, which featured many songs cut from the Disney cartoon, including tunes about Aladdin's friends and his mother. As a result, he was forced to add new characters and nix fan favorites, like the protagonist's monkey sidekick, Abu.
"We originally started with Babkak, Aladdin, Omar, and Kassim entering the stage and singing "Arabian Nights" and starting to tell the story," explains Beguelin. "We found that people were confused because they didn't know who these people were and they wanted the Genie character in the movie to start it off. You can go a little far afield of the film, but if you go way too far, people get confused, especially with a beloved title. Once we've got them on our side and they know what's happening, then you can introduce new elements."
READ: 12 of Our Favorite Screen-to-Stage Adaptations

While Enda Walsh didn't have to insert much new music for his first musical, "Once," he was tasked with a much different issue, bringing one of the most soft-spoken and intimate films of the 21st century to the stage. As a result, he had to rewrite one of the main characters almost entirely, writing her as an energetic personality with a lot of attitude, almost a polar opposite of Marketa Irglova's take on Girl in the 2007 Irish film.
"I knew that to put it on stage, there had to be more dynamics to it," Walsh says. "So of course, the characters were going to change. There had to be a little more muscle to them, not so much in Guy's character, but certainly in Girl's character, which needed to be completely rethought."
And in those altered characters, which are sometimes similar to the source material and other times completely rewritten, lies the key to a successful Broadway musical adaptation of a film. The overall plot and main characters must stay relatively close to the original story, but in those secondary pieces, be it exploring a throwaway line or beefing up parts without much development in the movie, is where these adaptations succeed or fail. For example, Walsh's inclusion of the music shopkeeper or Rubin making Phil Conners' love interest, Rita, much more important and three-dimensional. The best book writers experiment until they strike that balance between satisfying fans of the film and those who had never seen it.
At the end of the day, Broadway stage versions of popular films or TV shows occur so that an audience can experience the story in a different way.
"What I did want was to give people the same experience they had with the movie, but you want to surprise them in good ways because they're coming in with a little bit of cynicism of "ugh, another movie turned into a musical, how lazy and money grabbing!" " Rubin says. "But it's an opportunity to re-experience something wonderful in a new way with an audience, not in your living room. I didn't want it to be too familiar. Sometimes I'll take them to a familiar place and instead of giving them the familiar outcome, I'll give them something unfamiliar so they get that "aha!" and that surprise of being drawn in by something, even though they've seen it a million times."
It's easy to be skeptical of this growing trend of bringing Hollywood to Broadway, but when done correctly, the results can be astounding, pushing the barriers of what we thought was possible in the theater. So actors take note, every time you see an adaptation announced, don't assume casting directors will be looking for a copy of the source material's characters and actors. Changes have to be made, including in the characters and the type of actor playing them, so if you wouldn't have fit a role in the film, it might be your chance to create a new version for the stage.
Check out Backstage's theater audition listings!