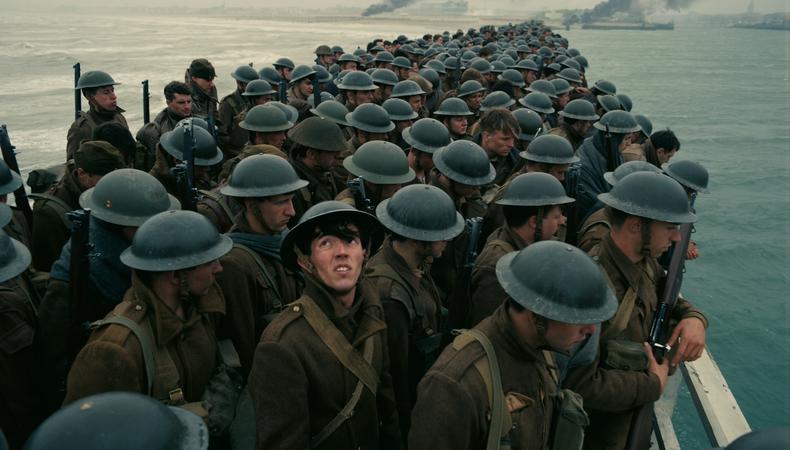 The 2018 Oscar race is finally winding down, but nothing is set in stone until that Best Picture winner is announced (hopefully correctly this year!) at the end of the 90th Academy Awards ceremony on March 4. Awards pundits have marveled that this has been one of the most up-for-grabs film races in years. Theories have floated that pretty much any contender could take the industry's most coveted honor; will it be "The Shape of Water," "Three Billboards Outside Ebbing, Missouri," "Get Out," "Lady Bird," or "Dunkirk?"
The films' producers and distributors all have their proverbial fingers crossed. Awards season campaigns are an alchemical combination of politics, word of mouth, and sheer luck, and there's often no telling where the chips may fall. Below we're breaking down which major distributors have which horses in which races. Best of luck to the nominees!
20th Century Fox
Fox has best picture and actress contenders with "The Post" and Meryl Streep, respectively, but perhaps its best chance at a win lies in original song. Last year's winners for "La La Land," Benj Pasek and Justin Paul, are back with the rousing anthem "This Is Me" from "The Greatest Showman." The studio also has two competitors in the animated feature fray: "The Boss Baby" and "Ferdinand."
A24
A24 followed up its Best Picture win for "Moonlight" by releasing another sleeper hit: "Lady Bird." Greta Gerwig's take on an idiosyncratic Sacramento teen is in the running for picture, director, actress, supporting actress, and original screenplay. Should Gerwig win the directing trophy, she will become only the second woman to ever do so. Elsewhere, Willem Dafoe—who collected a number of accolades early in the season from critics groups, including the National Board of Review, for "The Florida Project"—could upset in supporting actor. The distributor's comedy "The Disaster Artist" is also in the mix for its adapted screenplay.
'In the Envelope' Podcast: Willem Dafoe Unpacks His Oscar-Nominated 'The Florida Project' Role
Focus Features
Focus, with a total of 14 nominations, is one of the studios this year with more than one best picture nominee: "Darkest Hour" and "Phantom Thread" are both in the running, as are their stars, best actor nominees Gary Oldman and Daniel Day-Lewis. Despite Day-Lewis' stellar track record with Oscar, Oldman is the better bet, nearly sweeping the lead-up prizes—including the SAG, Globe, and BAFTA—for his transformative performance as Winston Churchill. Speaking of that transformation: Focus could collect the Makeup & Hairstyling statue for that film. "Darkest Hour" won Best Period and/or Character Make-up and Best Special Make-up Effects from the Make-up Artists and Hairstylists Guild.
Fox Searchlight Pictures
It's an incredibly good year for Fox Searchlight, which has two of the Best Picture nominees, both of which, according to track records this season, could very well win. "The Shape of Water" has 13 nods, the most of any film this year, while "Three Billboards Outside Ebbing, Missouri" has seven. "Shape" helmer Guillermo del Toro seems on track to take Best Director, having won the Golden Globe, BAFTA, and DGA prizes. He also has won as producer, since the film also took home the top Producers Guild of America Award. Meanwhile, "Three Billboards" is likely to take home some acting prizes with leading actress Frances McDormand and supporting actor Sam Rockwell having cleaned up at the Globes, BAFTAs, and most significantly, SAG Awards.
READ: 'Three Billboards,' 'Veep,' 'This Is Us' Win at 24th Annual SAG Awards
NEON
New kid on the block NEON made a splash this year with "I, Tonya." Though it didn't manage to snag a spot in the best picture race, Margot Robbie is in the running for best actress and its editing was honored. However, the film's most unstoppable player has been Allison Janney, the supporting actress frontrunner. Janney has won a slew of precursor awards including the Golden Globe, the SAG, and most recently the BAFTA.
Netflix
Netflix won its first Oscar last year in the documentary short category for "The White Helmets." It's back there this time for "Heroin(e)." Don't rule out its full-length offerings, though. The streaming service-turned-studio has two nominated documentaries, "Strong Island" and "Icarus." The narrative feature it bought last year at Sundance, "Mudbound," collected four nods including two for supporting actress and original song writer Mary J. Blige, and a historic honor for cinematographer Rachel Morrison, the first woman ever recognized in her category.
Sony Pictures Classics
Sony Pictures Classics' main competitor is "Call Me By Your Name," the romantic best picture nominee that's also up for actor, adapted screenplay, and original song. While star Timothée Chalamet was the recipient of adoration from critics organizations for his emotionally intense performance, Oldman has been edging him out as of late. The legendary writer and director James Ivory won the WGA Award for his adaptation of André Aciman's novel, which could translate into Oscar love. SPC has also released "A Fantastic Woman," the Chilean nominee for Foreign Language Film.
Sony Pictures Releasing
While Sony's indie arm had more success this year, the studio found a surprise supporting actor nominee in last-minute "All The Money in the World" replacement Christopher Plummer. Denzel Washington, whose "Roman J. Israel, Esq." flew under the radar this season, landed, for the second year in a row, in the actor category. The soundtrack-driven "Baby Driver" is in the running for sound mixing and sound editing.
READ: Your Handy Voting Guide to the 2018 Oscar-Nominated Actors
Universal Pictures
Universal's deal with Blumhouse Productions was expected to yield horror hits, but now it's produced a major Oscar contender. "Get Out," the genre game-changer, is up for four awards, including best picture. Writer-director Jordan Peele won the WGA Award, so original screenplay might be where the movie takes home a statue. Peele also was honored by the DGA as a first-time filmmaker, so in this race his creation could very well end up the night's big winner too.
Walt Disney
Disney is most likely to dominate in a familiar arena: animated film, where Annie Award and Globe-winner "Coco" is a contender. The sweet song "Remember Me" from Oscar-winning "Frozen" songwriters Bobby Lopez and Kristen Anderson-Lopez written for the Pixar flick also has a shot.
Warner Bros.
"Dunkirk," Christopher Nolan's structurally adventurous war epic released in the summer, is Warner Bros.' big hope for best picture, with eight Oscar nominations total. But "Dunkirk" may also walk away with below-the-line categories like editing, having won the ACE for Best Edited Feature (Dramatic). Additionally, "Blade Runner 2049" cinematographer and ASC Award recipient Roger Deakins could finally win—on his 14th nomination!
Check out Backstage's film audition listings!