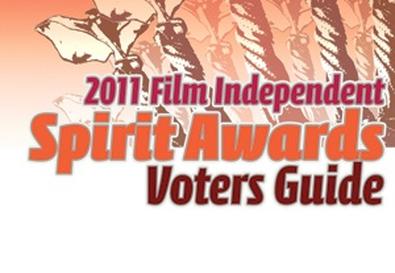 Back Stage takes an in depth look at all the nominees in every category of the 2011 Film Independent Spirit Awards. We also feature behind the scenes insights from those people who have played an integral role in making the Independent Spirit Awards possible.
Independent Means
A Q&A with Film Independent's executive director, Dawn Hudson about the organization's mission to nurture and support independent filmmakers and celebrate their work.
Creating a 'Community'
Spirit Awards host and star of the NBC comedy "Community" Joel McHale reveals his thoughts on playing himself, finding his voice, and his greatest fear.
Spirit Awards Nominations: Part 1
Spirit Award nominations for Best Feature, Best Director, Best Screenplay, Best First Feature, and Best First Screenplay
Spirit Awards Nominations: Part 2
Spirit Award nominations for Best Male Lead, Best Female Lead, Best Supporting Female, Best Supporting Male and Best Cinematography
Spirit Awards Nominations: Part 3
Spirit Award nominations for Best Documentary, Best Foreign Film, and themed awards